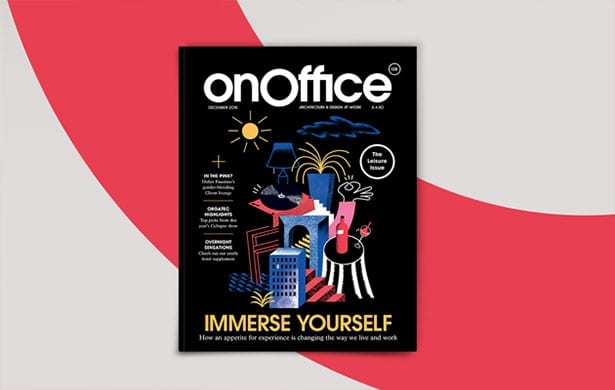 |||
Borrowing from the Baader-Meinhof phenomenon whereby something that has recently come to your attention now seems to be everywhere, once the word 'experience' sprung up in early conversations for this issue, it kept coming back. "Millennials would rather have experiences than things," "workplaces need to reflect desirable experiences," "design is the differentiator between good experiences and great ones" – these are just a handful of industry leader insights you'll find in these pages, starting with our cover story.
In this edition themed around Leisure, we look at the rise of the experiential economy in the hospitality sector and its influence on the workplace. Opening with Airbnb Experiences and closing with hospitality-infused workplaces, we navigate through what it means to design for experiences and why the Experience Beast is taking the industry by storm. Immerse yourself… on page 38.
Further into the issue, we have applied the concept of 'mixed-use' throughout with three case studies reflecting this hybrid breed. On page 46, Fora Borough blends co-working with a five-star hotel service. On page 53, Sella Concept shuns Mexican clichés for a retro-themed South American restaurant. And on page 58, Didier Faustino picks a gender-neutral pink for a lounge in the Belgian city of Ghent's conference centre. And if cafés are what you seek, then DontDIY's bijou coffee shop in my native Sofia (p94) should satisfy the caffeine craving – no bias, I promise.
Still holding a close lens to the hospitality sector, we also bring you our yearly focus on hotels with a mix of urban and resort offerings – including the new CitizenM in New York (p70), Andre Fu's Thai-infused Waldorf Astoria in Bangkok (p79) and Jestico + Whiles sympathetic Zuri Zanzibar resort (p82).
And last but not least, we went to Orgatec, we saw, we conquered, and of course, we reported. Check out our review on page 26, or should I say – experience it.
Subscribe to OnOffice here and be the first to receive our new issues!
Inside the latest issue of OnOffice: Didier Faustino's gender-blending Ghent lounge, our Orgatec highlights, plus a look at how a "lust for experiences" is driving the hospitality sector