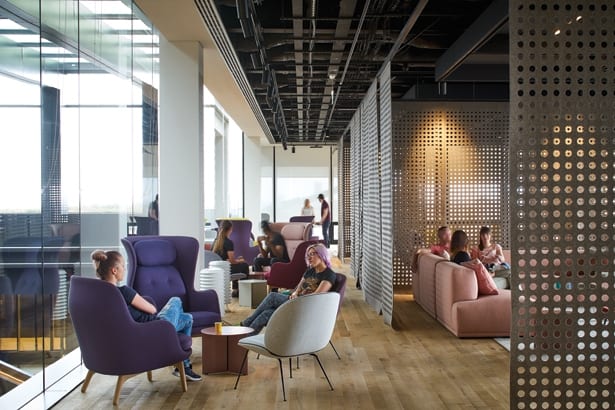 Used with ceiling tracks, cassettes form movable partitions|||
Even to the "civilian" outside the world of workplace, Google has long been a byword for the next big thing. Its latest development in interiors can be big or small, enclosed or open, and comes in a range of colour, texture and finish options that would make Henry Ford turn in his grave. It's a deceptively simple modular meeting room concept called Project Jack and is one of the central components of Google's King's Cross headquarters at 6 Pancras Square in London – with the potential to make an impact not just on the tech giant's locations around the world but also to have further-reaching implications for office design in other industries.
As Simon Allford, director at architect Allford Hall Monaghan Morris (AHMM), which was commissioned by Google, outlines: "The idea is to design and manufacture a room that can sit within the spaces of any office – a sophisticated 'seaside hut' that is acoustically sealed and taps into air conditioning as necessary."
The Jack meeting room is fabricated from easily assembled components
Joe Borrett, Google's director of real estate and construction, adds: "Jack is a hackable, pop-up room that can be adapted to Googlers' needs. The aim is to allow Google departments or individual Googlers to design and tailor their spaces to respond to their particular requirements."
The technology firm's London HQ is the first large-scale use of this prototype, with a total of 160 Jacks installed there. The concept grew out of a piece of research that lasted two years. Indeed this project is at the sweet spot of academic thinking and practical application – an everyday spatial solution to cater for complex workprocesses. Dr Kerstin Sailer, a reader in social and spatial networks at the Bartlett School of Architecture at UCL, was invited by Google to get involved in adding yet more research rigour to the scheme. "It was important to them that it was written from a neutral perspective," she explains.
With no need for underfloor access, Jacks are easily moved
"To have something so hackable has been an architect's dream for a very long time," Sailer says, adding that she was interested in whether the Jacks in the office would end up being moved or whether the human nature of leaving things as they are would prevail. "This being Google, I have high hopes!" she says.
Sailer's research explores the impact of spatial design on people and social behaviours within a range of buildings in the office, education and health sectors. Having written a white paper on Jack, she has now embarked on a project called Flexible Spaces, which is due to complete in March next year, taking a look at the satisfaction within the workspace, following through and working through the what ifs.
Surfaces can be customised for greater colour or transparency
The research references the modernism of Mies van der Rohe or Le Corbusier, as well as architect Cedric Price's 1960s Fun Palace, and cites US writer Stewart Brand's book How Buildings Learn on how different aspects of space have different timeframes of longevity. While walls last from 30-300 years, services might have to be replaced every 7-15 years and space plans can change extremely frequently – especially when your business is as fast-moving as Google's. With traditional fixed walls and partitions, a project requiring a different configuration might have moved on to something else by the time the internal arrangements have been made.
This is where Jack saves the day. As Allford points out: "It's made of a few key light and easily handled building components that can be readily and easily reconfigured to make a single room, a series of connected spaces and enclosures, all which can be linked to address different needs."
AHMM's steel and oak staircase provides visual drama
While flexibility has always been at the heart of how Google works – which has involved tents, igloos and caravans in the past – nothing else quite combines the look of a regular meeting room with its technological needs and evolving working habits. "The magic lies in its usability," Sailer says. "Other things don't offer such acoustic privacy, and it looks and feels sturdy."
Googlers can arrange the system's components like giant Lego – using various "cassettes" to form all sorts of creations. A front and/or back panel can be fitted to a plywood frame to form the cassettes, which are based on a 600mm x 600mm module. A range of different outer surfaces can then be incorporated to improve the acoustics, to allow for additional storage or to add elements of transparency, colour or identity. Another metaphor used for the concept is that of the office as theatre – with the furniture being the props.
Jacks can offer a variety of different-sized meeting spaces
As Andrew Martin, part of Google's workspace real estate team, explains during a tour of the King's Cross building: "The panels are all interchangeable: you can move the doors and see how people interact with the room. The next step is for Google employees to customise them."
Magnetised whiteboards or pinnable surfaces can be attached to the back and side walls of the room to provide a place to share ideas. These surfaces can also be drawn on, to personalise and identify the space to a particular project team. If the modules are fitted with perforated boards, they can be used with pegs and shelves as a place to put project-related items. As part of the concept, users also have the option of creating small desks – which could alternatively be used for display purposes, or using smaller occasional furniture which can be fitted with wheels.
The rooms simply sit on the floor – they don't need to go through the raised access floor. But if used in conjunction with ceiling tracks, taller Jack cassettes can become retractable partions that can divide or connect spaces on demand. Sailer says: "Placement of Jacks in the workplace can also highlight lines of sight and visibility, and foster bringing people together."
In King's Cross the Jacks are used as a layer between the perimeter and the atrium. AHMM associate director Ceri Davies says: "Acoustics was a key part of the briefing element; we worked closely with an acoustic engineer." As such, an acoustic level difference of 40dB for solid walls and 35dB for glazed walls and doors meets industry standards. She adds: "The rooms suit the lighting and acoustics required and are also compatible with Google's video conferencing." To complete the tick list for facility managers, the Jack design is fire regulation compliant.
Cassettes can be linked to provide breakout space
The cassettes can be linked to each other vertically, horizontally and back-to-back and can be built up in a range of sizes, to provide "booths" for one or two people, "huddles" for three or four, as well as "neighbourhood markets" used by up to six people at a time. "It's about what it gives back to the office," says Davies. "There will be other iterations in the future. Jack is able to provide quality [of meeting space] in a less wasteful manner."
AHMM's Peter Smith agrees: "The system is sustainable; assembly and disassembly is achievable with a minimum of skill and the materials are available anywhere around the world. They are open source, in that local joiners are used to produce the cassettes. From a CNC-ing machine in a local factory, Jacks can be delivered to the working environment at short notice. Then you can fit together the Jacks – whether that's in Dublin, Munich or Tel Aviv."
Google's primary colours are replaced by something softer
A "Jack Manual" explains how to change the configuration of the room, then disassemble it and have it pop up elsewhere in a matter of hours or days – rather than the weeks or months it takes to move a regular meeting room. If you've mastered Ikea flat-pack assembly then this shouldn't prove particularly taxing, AHMM claims. "It has an IKEA-like friendliness," says Davies. As for the rest of phase one of this scheme, from floors 6-11, Davies says it was about "maximising the space, maximising the height and bringing in the best finishes". As she explains: "Google have their own standard of quality, such as for air conditioning."
At the top of the building, floor 11 bears this out, with a cafe and informal meeting setups à go-go, as well as a teaching kitchen for staff keen to hone their culinary skills. Materialswise, the concrete tiles and oak flooring play out a need for honest, robust surfaces. Furniture is less look-at-me quirky and tends more towards the calming, contemporary and comfortable: mid-century inspired wooden chairs, upholstered chairs with pouffes in burnt orange, grey and purple. A heavy curtain separates off an adjacent area more akin to a penthouse suite, with a sleep pod the only indication that this is a tech firm rather than a luxuriously appointed hotel, with a colour palette of greys and dusky pinks in this sitting-room setup. There's no hint of the primary colours that are synonymous with Google's logo – this is workplace interiors for the tech workforce updated for 2016 and beyond: subtle and grown-up. There is, of course, the almost obligatory roof terrace.
Raw wood gives a warm, low-tech Scandinavian look
Level 8 of the building has been given over to a canteen and a desk-free place for socialising and events. A central room used for town hall meetings and presentations has room for 250, with an impressive wall of screens being set up during our tour, as well as a complicated-looking control room. A projector and PowerPoint company this is not.
But despite this grown-up version of Google, there remain a few nods to its youthful roots and contemporary culture. Floor 8 pays homage to the late David Bowie in the naming of rooms and spaces – the events/reception area before the town hall space is called Major Tom, for instance. Elsewhere, another floor references Harry Potter; Googlers can choose to gather in the Ravenclaw room should they so desire.
Connecting floors 8 to 11 is a winding staircase or "oak yellow brick road" as Davies dubs it. This is constructed from wax blackened steel with treads of treated oak, and LED underlighting along its handrails adding a touch of visual drama. It has been designed both to lighten the load of the lifts, getting people moving and interacting between floors, as well as adding a grand architectural gesture.
From large gestures we come back to Jack, a smaller yet impactful element of this workplace. Sailer sums it up: "It could be argued that Google is now making a move towards a more profound workspace innovation. After introducing the world to the office slide, the playful office and the full catered office, the Jack workplace revolution by Google is a much quieter one but possibly one with more and longer term impact on the way we work." Watch this (meeting) space.
As well as sorting out our online world, Google has played a big part in changing the way we think about workspace – not least as an early adopter of the office slide. Now, with Project Jack, its unassuming modular meeting room concept, the tech giant is starting another stealth revolution in the office