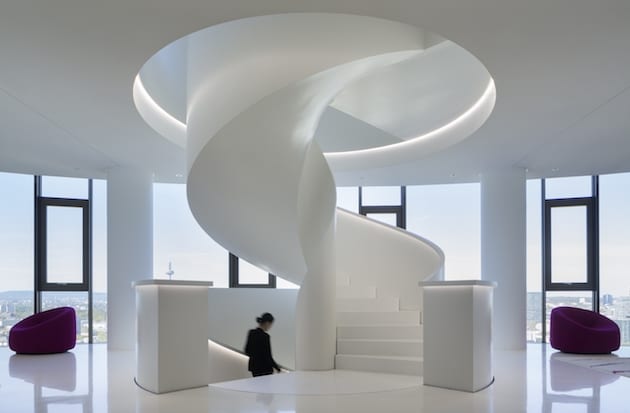 The Gensler-designed Hyundai Capital in Frankfurt|||
Gensler GmbH will open in Munich, looking to capitalise on the Bavarian boomtown's rep as a high-tech hub (business daily Handelsblatt recently proudly pronounced it as 'Germany's own Bay Area'), its celebrated design smarts and a buoyant local economy.
Focusing on the company's wide-ranging German-based client list (including the Adidas Group and Bayer), the Munich office will also establish something of a beachhead as Gensler looks to consolidate projects in Berlin, Frankfurt, Dusseldorf, Cologne and Stuttgart.
'Many multinational companies as well as established German brands have selected Munich as one of their regional hubs,' explains Duncan Swinhoe, Gensler Europe's managing principal.
'The city combines the infrastructure, business opportunities and creativity that these businesses need to thrive as well as a rich and diverse talent pool. Gensler is looking for this kind of environment and hence Munich was our city of choice when we were looking for the perfect city to open our first office in mainland Europe.'
Philip Tidd, Gensler's principal/ director, Germany added: 'Our Munich office will reflect our dedication to providing clients across the whole of Germany with unparalleled expertise, international knowledge and experience through our growing studio of talented staff.
'This may lead off with our consulting services, but we plan to offer the full range of design and architectural services from Germany in the future.'
Possibly not coincidentally, Gensler also released its 2018 Germany Workplace Survey at last month's Orgatec in Cologne. Just 27 per cent of respondents said they enjoyed a 'balanced' working environment.
Plenty of room for improvement there, and doubtless the company, who opened a playful new Adobe office in Dublin earlier this month, will be busily doing their bit to ensure a more harmonious workplace culture in their new adopted home.
Design firm Gensler is to open a new German outpost, their third European office after London and Birmingham (and their first on the mainland continent)