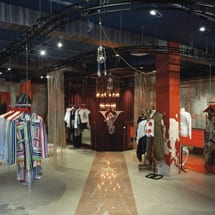 When Wayne Hemingway walked into the Institute of Directors (IoD) in Pall Mall in 2001 dressed in a woman's pinstripe skirt suit and court shoes, and earned a commission to redesign its offices, he showed that, in some cases, fashion design does infiltrate workplace design.

"At the time, we were fashion designers and I had just been turned away from the IoD for not wearing proper business attire," says Hemingway, who set up fashion retailer Red or Dead. The clash between this fashion rebel and the stuffy suits on the door at the IoD prompted an intriguing office design project.
"In fashion, we like to have fun," explains Hemingway. "We started to think about what could be fun in the IoD, and it was fashion inspired – bowler hats, brolleys and pinstripe suits. So we designed a lot of fun stuff such as upholstery fabrics in pinstripe and tweedy checks." Not forgetting the polka dot floor to "bring a feminine element".
"It was a very playful interior, and that comes from our fashion background, which helps make things entertaining, as well as functional," says Hemingway.
But it is not often that fashion has such as obvious influence on office design. An exploration of how clothing and buildings echo each other in form and appearance, Skin + Bones: Parallel Practices in Fashion and Architecture, ran at Somerset House over the summer. It suggested that cross-contamination of the disciplines has allowed fashion designers and architects to create "new and enticing ways for the body to occupy both public arena and private space". The display of fashion designs from the likes of Hussein Chalayan, Issey Miyake and Eley Kishimoto, alongside architecture by Future Systems, Herzog & de Meuron and Zaha Hadid, challenged whether boundaries do exist between design disciplines.
A collaboration between Eley Kishimoto and 6a architects, the Hairywood Tower, made its way on to Covent Garden piazza. It used shapes from the fashion duo's clothing range on the outside of a periscope-shaped building that could function as a home, office, studio or whatever. The tower was made of plywood, with the embellishment – a feature of many a fine piece of clothing – of an intricate carved pattern. Hussein Chalayan's Afterwords collection of dresses that transforms into furniture was also on show. Then there is Future Systems' dramatic Selfridges building in Birmingham, which was apparently inspired by a sequin dress from the 1960s.
The use of pattern and textiles to generate form is a strategy shared by workplace designers. Tokyo-based design agency Nendo was influenced by fashion when it created an enchanting workspace on the fifth floor of an old office building on the Meguro river in Tokyo. Nendo has created a complex interior that fits fun in alongside functional necessities, by dividing the space with walls shaped like pieces of cloth pinned up and left to flop. The office looks like a set of temporary changing rooms erected behind the scenes of a cat-walk fashion show. This effect is heightened when employees start to move between the spaces by stepping over parts of the walls that sag almost to the ground, employing a cat-walk strut, with feet lifted high, to do so.
Nendo has also designed a chair with fashion in its DNA. The Cabbage chair was created when Issey Miyake asked Nendo to make a piece of furniture out of the pleated paper that is a waste product from the process of making Miyake's dresses. Nendo created a chair by peeling away the outside layers from a roll of the pleated paper.
Jo Sampson, co-founder of interior architecture and design firm Blacksheep, says: "I don't think we take anything particularly from the world of fashion. Yet everything inspires us, and popular culture and fashion are around us every day."
The firm has recently completed work on the UK head office of luxury fashion brand Hermès. The company wanted its offices to reflect its chic, modern and high-quality character. "For them, it was all about quiet detailing," says Sampson. "They said: 'We are not Gucci. We put the label on the inside.'" So the results are subtly fashion led, not obvious like a logo on a T-shirt screaming its fashion credentials.
Fashionable bags were the starting point for the firm's redesign of a bar in Kensington. "When you open up an expensive handbag, the lining and stitching on the inside can be incredibly beautiful," says Sampson. "Kensington is an area where the girls all have their Balenciaga bags, so that take on fashion fitted there."
And for office design, she argues that fashion ideas can help persuade clients to take brave choices. "Even if you are doing a mainstream city office, you can explain ideas to them in terms of fashion design," adds Sampson. "City boys love a smart suit with a contrasting colour lining".
Hemingway agrees that office designers shouldn't shy away from including fashion references in their work. "I think we can bring elements of fashion to all disciplines of design, just as long as we keep in mind that the office has to last abound 10 years," he says. "That is not to say that fashion can't last more than six months. It just has to be the right fashion for the company and its brand."