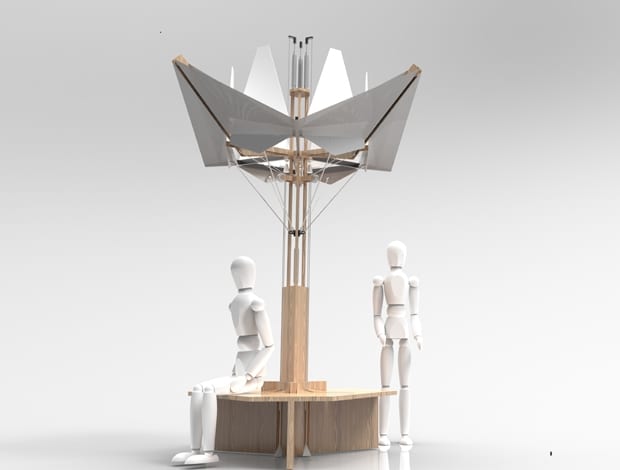 Lotus: A passively deployable canopy by Fang Han and Min-Shan Tsai|Lotus was a final project by Fang Han and Min-Shan Tsai for MArch Graduate in Architectural Design at the Bartlett in London|Cloud Capsule by Arthur Mamou-Mani and Andrei Jipa will be 3D printed at Sto Werkstatt||Al Bahr Towers' automated shading facade mimics traditional Arabic architecture||
An upcoming exhibition at Sto's Clerkenwell showroom examines the underplayed environmental side of digital design technologies through a series of conceptual models and talks programme
Though you would be hard pressed to find a member of the public who was aware of parametric design tools, most people are pretty familiar with the spectacular building shapes the software has enabled. There is another side to parametricism, however, away from the swooping curves of Zaha Hadid that focuses on the potential to create sustainable, conscientious buildings.
This is the subject of an upcoming exhibition at Sto Werkstatt in Clerkenwell called Staring at the Sun: Desirable Effects of Digital Design. Curated by Amy Croft, who is slowly carving a niche for stimulating exhibitions alongside the hard-nosed business dealings that dominate London's contract furniture village, the exhibition highlights work from architects AHR, Arthur Mamou-Mani, Andrei Jipa and Bartlett MArch graduates Fang Han and Min-Shan Tsai.
Mamou-Mani and Jipa will create a series of two-metre-high 'micro pavilions' designed specifically for the exhibition that will measure changes in the levels of light diffused through their forms. The models are made using Silkworm – an open-sourced 3D printing plug-in for design software Rhino developed by Mamou-Mani and Jipa.
AHR, formerly Aedas, will present its Al Bahr Towers (onoffice 84) the headquarters of Abu Dhabi Investment Council, which features the world's largest computerised façade.
Bartlett graduates Han and Tsai will build a 1:1 model of an idea for shaded public seating, which responds to either air temperature or sunshine levels. The canopy, which resembles a Lotus leaf, will also react if someone pulls down one of its folded seats.
A series of talks based around ideas presented at the exhibition begins on 20 November.
Staring at the Sun: Desirable Effects of Digital Design runs from 24 October to 14 December.
More information can be found here: http://werkstatt.sto.com/en/what-s-on/news-detailview_34496.html