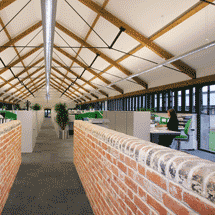 When The Duke of Marlborough called on property and construction consultancy Ridge to renovate a derelict model farm on the grounds of Blenheim Palace, the Oxford-based firm jumped at the chance to tailor the space for exclusive use as its own headquarters.

Considering that we're talking about completely dilapidated structures that Ridge has described as "rat-infested, overgrown and suffering from years of neglect", this enthusiasm may seem curious at first.
"It was in a real state – it was basically a great big mess," says Ridge marketing director Mark Nieuwenhuys. But in the current conversion-crazy climate, where shiny new office spaces materialise from the likes of old warehouses, disused tube carriages and industrial storage containers, why not add pigsties and milking pens to the list? Judging from The Cowyards' surrounding parkland and the lovely period detailing that has withstood the elements for almost 150 years, the more pertinent question might be, "Why did this not happen sooner?"
Dating from 1860, the farm was the first large-scale property venture for Blenheim Estates as it looked to make the most of its assets and guarantee its future as a World Heritage site. Ridge had been working with Blenheim for 25 years on various maintenance projects in the palace grounds and so seemed the natural choice for the renovation. The company had outgrown its lacklustre office in Oxford and was looking for a space to expand in to – but it also had the trust of Blenheim, which was keen for the Grade I listed buildings to be restored sensitively and with sustainability at the top of the agenda.
"Everybody wants to be green but we do things holistically," says Ridge partner Richard Thorpe. The team decided against ground-source heat pumps for cost-efficiency reasons and instead focused on sustainable materials and other ways of reducing the environmental impact of the project.
With that in mind, existing building materials were reused wherever possible – timber was acquired from sustainable sources, carpets from recycled material and, most importantly, the building has been fitted out with natural ventilation and under-floor heating systems that work hand in hand with the bulky Cotswold stone walls.
Planning permission dictated that the original layout of the barn buildings be maintained, so architecturally not much has changed.
Four long, cavernous buildings that once accommodated herds of sheep, pigs and cows – and somewhat unimaginatively renamed units 1 to 4 – have been converted into open-plan offices for various factions of Ridge. "The pigsty now holds the quantity surveyors – quite an appropriate place for them I would have thought," quipped Nieuwenhuys.
The single-storey farm buildings run parallel to each other and are connected at one end with a "glazed link", or walkway, which leads into reception, staff coffee rooms and an additional meeting room. Each building has been designed with the flexibility to be occupied by different tenants, although Ridge has no plans to give up its lease, as the space has proved immensely popular with staff and has led to improved productivity.
In line with current trends, Ridge wanted to capitalise on the inherent openness of the buildings and encourage communication and "transparency" among its teams. Aside from two small offices behind glazing at the far end of each structure, the firm avoided putting in any new walls or obstructions that would interrupt this idea.
"We didn't want anything that would hinder this idea of openness," says Thorpe. "We wanted people to walk in and feel part of it – we wanted to resist a closed-door philosophy." In fact, the only doors in the building lead to meeting rooms and external openings. Informal meeting areas dot the office and the main conference room is situated in what must have been a hayloft, which has a view of Unit 3 (previously the main milking pen) and all of its original steel and timber trusses. This core workspace still features part of the retaining wall, now stripped back to red brick, from the days when the building held cows instead of simple white desks and task chairs in vibrant green – Ridge's company colour. A similar aesthetic runs throughout the entire space.
An obvious bonus for the 110 employees at the Cowyards is that natural light pours in through vertical timber slat windows from almost every direction – and should someone fancy a bit of fresh air, he or she can step out into one of the newly created courtyards between the farm buildings, where they'll find grass and picnic benches created from materials reclaimed elsewhere onsite.
Employees experience another mishmash of office and country in the designated fag-break area, which flanks a corral where the Duke's stallions graze. So, despite the fact that the buildings have been scrubbed up almost beyond recognition, there are still some remnants of days gone by.