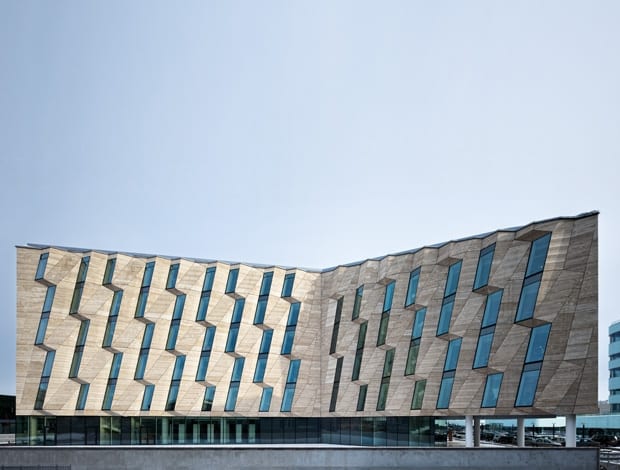 3XN's travertine-clad building needed to be forward-looking, but not too forward-looking|Resembling a giant marble run, the central stair plays a pivotal role in separating public and private space|Each office features slotted windows|The ground floor reception opens out into a large canteen and library|Despite its height, the canteen/library has a soft, intimate feel. A light sculpture is suspended from the ceiling|The building's layered facade shields the individual offices within from direct sunlight||
3XN combined innovative technology with a classical sensibility to create a new headquarters for Danish law firm Horten
Leaving their old HQ cannot have been an easy decision for Danish law firm Horten. Nestled next to the Danish Parliament in a solid neoclassical structure, the firm upped sticks at the tail end of last year, migrating north to the Tuborg Haven district, formerly home to the world famous brewery.
In an effort to persuade the country's top legal talent to follow suit, Horten recruited Danish architectural practice 3XN to design a building that reflected both modernity and the firm's 60-year heritage.
3XN was already very familiar with the area having completed a RIBA International award-winning new build for online bank Saxo Bank on the adjacent plot. Not wanting to be overawed by their high-profile neighbour, Horten insisted on something equally impressive, but at the same time completely different.
"They wanted a modern, but still very classical building," explains 3XN's principal Kim Herforth Nielsen. "They're a serious law firm so in some ways they don't want to be seen as too modern. So that was actually our challenge – to make it classical and at the same time modern."
This was not the only concern. With Danish green legislation among the toughest in the world, sustainability was also a major factor. These aims were to prove formative to 3XN's eventual design.
In response, the practice created an innovative stone facade by sandwiching an insulating foam core with fibreglass composite and an outer layer of travertine. Mounted on a zig-zagging floor plate the 3D geometry effectively acts as a sun block, preventing the legal eagles within from overcooking, while allowing natural light into each office. The result is a sculptural, textured facade that is both aesthetically pleasing and fiercely practical.
"If we didn't have to think about sustainability then we wouldn't have designed it this way. Not only does it have function but it becomes more interesting," says Nielsen.
The proximity of the Saxo Bank building makes it hard not to draw comparisons, but in reality the two buildings are different sides of the same coin. Saxo Bank's glass reflects its commitment to cutting-edge technology and the fast paced world of international finance.
In contrast, Horten's natural stone exudes a solid, dependable air, the sort of thing law firms love to be associated with.
"There is no question that it's one of our buildings, but we tried to give them something that is theirs, which has their identity," says Nielsen. Without the need for external shading and by incorporating thermal-mass floor plates, Nielsen calculates that 25 per cent less energy is lost in cooling the building, and 10 per cent less energy than is stipulated by Denmark's building code.
"Horten wanted a modern but at the same time very classical building, so that was our challenge"
Once visitors have negotiated their way past reception the ground floor opens out into a large staff canteen and breakout area. The numerous bookshelves on the periphery give away the space's dual purpose as a library. Suspended from the ceiling hangs a simple light sculpture, that helps to define what would otherwise be a cavernous space.
"They wanted a sort of intimate atmosphere and the depth of ceiling makes the acoustics feel it like a living room in here," says Nielsen.
The canteen/library is one of two semi-public spaces in the Horten HQ, the other being the client meeting rooms on the top floor. Demarcating these areas was done by a clever use of the staircase, which forms the core of the building. Observed from above it resembles a giant marble run, the staircases criss-crossing the circular structure halting just shy of the top floor, thus preventing access to the private offices below.
At the foot rests a small water pool, which forms a subtle natural barrier to the canteen and library.
Staircases are 3XN's signature move and the Horten HQ is no exception. Anyone using the stair is gently coerced into visiting each floor, encouraging greater staff interaction and helping to eliminate the need for corridors, something of a bete noire for Nielsen. "I hate corridors. I don't want to make corridors. Those things are everywhere. When you get rid of corridors you have the chance to interact in a different way. Even in a law firm the staff have to get inspiration from one another."
The top floor is dedicated to meeting rooms, which are accessed by a lift in reception. Due to height restrictions laid out in the masterplan, the building couldn't achieve a uniform height. Turning this to their advantage, 3XN constructed a rooftop terrace on the south elevation while clients and staff pow-wowing in the north are treated to views of the canal and surrounding areas.
The often confidential nature of Horten's work prevented the firm from completely dispensing with old style hierarchies, therefore the 200-plus staff are housed in a series of private offices bordering the building's central atrium. Photocopiers are located in circular stations at the centre of each open-plan floor and, in something of a throwback to the 1950s, secretaries' desks line up outside their corresponding office, retro task lamps completing the look.
As with many projects of this scale, the design was a collaborative process between client and architect.
"It was a dialogue. We had a lot of workshops," admits Nielsen. "We wanted to include some of Steven Scott's light art (something 3XN always try and include) around the walls, but they wanted to keep it classical."
Similarly, 3XN curbed its use of perforated gypsum on the ceilings at the behest of Horten.
"The thing about offices is that they always want to rip down the ceilings. I would've liked to use it everywhere, but it is give and take."These are minor quibbles and Nielsen says the project was ultimately an enjoyable one. Shaped from opposing aspirations, classical yet modern, private yet public, 3XN had to walk a particularly fine tightrope, a balancing act they pulled off with great aplomb.
"You know, anyone can build something and its like 'whoah' – a noise," he says. "We didn't want to make just noise, we wanted to make a statement. But it had to be their statement and I think it fits very well into the overall architecture."