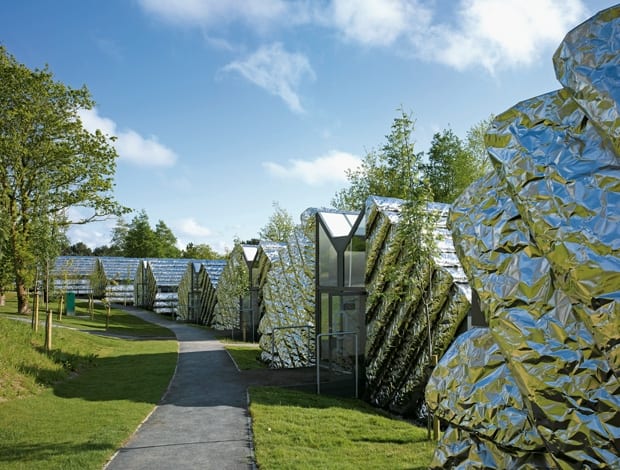 Sixteen bungalow work units sit on the grassland just above the university's Arts Centre|The thin, crinkly, metallic skin reflects the natural surroundings of the work studios|Textie designer Becky Knight gets plenty of natural light in her long, narrow workspace from windows and a skylight||
Wales is determined to nurture its creative industries and turned to Heatherwick Studio for help in creating spaces for them to thrive
When traditional industries fall into decline this sometimes heralds the end of prosperity. Mid Wales can count itself lucky that alternative sectors are being supported.
As Nick Capaldi, chief executive of the Arts Council of Wales, says, "The creative industries are big business in Wales. I'm convinced that it is creativity that will pull us out of the recession."
In fact, according to Creative and Cultural Skills in Wales, total employment in the creative industries is over 24,000, an increase of nine per cent between 2006 and 2008.
Some of this activity is being supported by Aberystwyth University, in particular by its Arts Centre, which is the biggest in Wales.
The Arts Centre is thriving and buzzing with activity, but much of the art is transient – temporary installations and performances. The centre's director, Alan Hewson, is keen to capitalise on the buzz and promote continuity: "We wanted to link with the community and to grow a cultural cluster in Aberystwyth." Hey presto, a new row of work units to appeal to these creative types, sitting in grassland just above the arts centre.
Designed by Heatherwick Studio they are intended to make the most of the setting and the £1.1m budget. "Alan (Hewson) wanted low-cost and special," says Thomas Heatherwick. His solution was to structure the buildings to make them relatively cheap, and to hunt down a fancy cladding to make them special.
So rather than building a single tall block, the 16 units are housed in eight 80sq m bungalows, meaning there was no need for costly disabled access to the upper floors. And rather than a conventional skin, this one is metallic and crinkly. "Stainless steel is brilliant because it lasts forever, but we couldn't afford it," says Heatherwick. "Then we found a rolling mill in Finland which rolled it just 0.1mm thick, the thickness of a coke can." That meant that they could secure all the metal cladding for just over £20,000.
"We wanted to link with the community and to grow a cultural cluster in Aberystwyth"
Back in Heatherwick's London studio, designer Tom Chapman-Andrews worked on building a machine that would create a natural 'crinkled' quality in the stainless steel. That machine was then installed on site, and could 'crinkle' the 100m-long rolls of 1m-wide strips, which were used whole on the buildings.
The idea is that the series of little waves down the roofs and sides of the buildings reflect everything around them, from the sky to the leaves on the trees. "When you get the reflection with the leaves, the units sort of vanish," says Heatherwick, "and they grab all the light and the colours of the sky and throw them back." And the leaves will be more present once the 100 saplings which have just been planted grow.
To insulate them, the steel cladding was sprayed inside with the same CFC-free liquid foam used to insulate pigsties.
Inside, these units are a simple, white-washed affair. As Heatherwick points out, "Our role was to make a simple, flexible space. When we were designing, we didn't have a brief for who the tenants would be."
But what each occupant does have is plenty of light from the windows and skylights, a long narrow workspace, sink and shared WC.
For some tenants, this is luxury indeed compared with their previous set-ups. Perhaps the most high-profile is the painter Mary Lloyd Jones, who before this, was working out of a basement. "In the summer, sometimes the natural light was OK. But it was a bit dusty," she says.
The benefits of being here is the light, she adds, "and the distance from the back to the front wall, because to consider a composition you have to be able to step back".
Her studio is full of her large canvasses, just as textile designer Becky Knight has pinned her wall hangings on the walls of her space. She too was in a basement, which she shared with mice. "Here, I can be more organised and professional about my work and enjoy coming to the studio rather than fighting against the space," she says. Along one wall on shelving, boxes of colour co-ordinated fabrics are stacked; they are no longer being eaten by rodents.
Both Lloyd Jones's and Knight's studios are bedecked with the tools of their trades – pots of paintbrushes standing on a desk sourced from a theological college in one, and a sewing machine in the other.
Some of the other businesses based here are more conventionally office-like, such as Honno, the women's publishing cooperative, the Arts Agency (which has taken a double space), and Pixel Foundry.
The latter is a TV and video production company, which was formerly run from a forestry commission shed that had been an Italian prisoner of war camp. "It was very cold," says Pixel Foundry founder Pete Telfer. Their new space is decked out with contemporary blond shelving, grey carpet and red fabric armchairs. And unlike the artists, they have put blinds up at the windows, for the sake of their computer screens.
For social enterprise Phoenix Cymru, this is the first time they've had a space to call their own. "It's been a real revelation to have somewhere to call home," says Mark Giddens. The enterprise records promos for local bands, hence the home-made sound absorbers on the wall, and the rolled-up duvet in the sink. "When the rooms are empty they have a lot of echo," says Giddens. The plan now is to build a booth to isolate drummers.
The units were completed before Christmas and all are now occupied. While tenants appreciate the benefits of their new location, it's early days for any cross-fertilisation, but as Lloyd Jones says: "There are people with different skills here and that makes it interesting."
And perhaps if phase two – a communal meeting house – gets the go-ahead, such exchanges of creative ideas will be even more likely. However, given that these units took three and a half years from design to completion, and six years from when the arts centre started planning, these tenants shouldn't hold their breath.