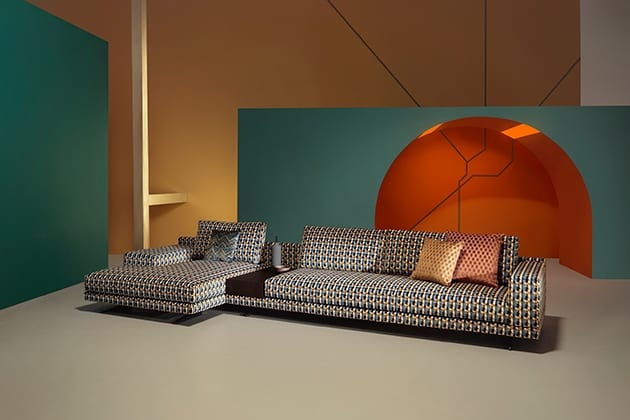 Kirkby Design|||
As 100% Design gears up for its 25th anniversary during London Design Festival, from 18 – 21 September 2019, OnOffice joined the celebration early to uncover this year's head-turning designs, thoughtful conversations and imaginative installations.
A celebration of new and established names, as well as an exploration into colour psychology, sustainability and how design can and is making a difference, 100% Design is set to be a thoroughly dazzling affair.
Detail London
Des Cercles Midnight Blue, Studio DeSimoneWayland
Detail London, housed within one of Olympia's lavish Victorian reception rooms, will showcase all must-have, high-end soft furnishings and wall coverings. Expect to see renowned international brands including Amsterdam-based Studio DeSimoneWayland, headed by Italian and American design duo Marcello De Simone and Bruce Wayland. Boasting a rich background of studio art and art history, as well as the realms of textile design and culinary art, the studio is widely known for their elaborate wallpaper, wall art, ceramics and visual merchandising. To further enhance the experience, the exhibition will feature its own entrance on Olympia Way, specifically created to provide an exquisite new destination for the luxury interior design community during London Design Festival.
Design Fresh
Atticus Durnell, That's Caffeine
New talent and ground-breaking designs can be found at Design Fresh. Featuring a celebration of emerging talent selected by 100% Design at New Designers, this year sees the show welcoming back previous Design Fresh creatives to nominate the next wave of talent, all chosen for their explorative ideas and unparalleled pulse on community. One designer returning to nominate new Design Fresh participants, and who has already caught our eyes last year, is award-winning industrial designer Atticus Durnell who passionately crafts contemporary objects that meet our daily needs. Believing designers hold responsibility for the future of our planet, his work aims to influence future energy and waste reduction globally, most notably with his innovative project That's Caffeine – a product made with used coffee grounds and biodegradable resin. With an unwavering commitment to create purpose-driven designs, these young visionaries know how to make an impact.
Inspiration Kiosks
Glamora s.r.l.
Is Instagram changing the way we design? As the social media platform continues to provide a daily source of artistic inspiration for creatives the world over, increasingly, designers have also been tasked with creating Instagrammable interiors. 100% Design has responded to the trend and invited seven interior designers, among them notable figures like British designer Lee Broom and interior designer Suzy Hoodless, to craft 'inspiration kiosks', whereby each individual selects images from their personal Instagram feeds that reflect their own inspiration. Beyond that, the installation highlights how designers use the platform to dream up beautiful spaces, which have the power to connect and inspire people the world over.
West Kensington Design District
da a
The fair's vibrant West Kensington Design District is a must-see during 100% Design. Back by popular demand, the lively design hub will feature exciting design brands, globally recognised cultural institutions, such as the Design Museum, and unmissable events. One of our highlights include the transformation of an original 1967 Victoria Line tube carriage by renowned textile studio Kirkby Design. Sprucing up its interiors using the firm's upholstered Underground Volume II fabrics, a new collection of velvets that recreate iconic moquette designs used across the underground from the 1930s to the present day, the textiles promise to add a sophisticated touch to this playful and immersive venue.
Material Studio
da a
Material Studio, a collaboration between 100% Design and MaterialDriven, the latter a a platform for designers and artists showcasing their innovation with materials, will present 22 innovative materials; some of these shown in the UK for the first time. Focusing on pertinent issues of our time including, sustainability, performance, energy efficiency, waste, health and wellbeing, the exhibition will offer extensive insight into innovative and sustainable materials to help build a better future that will benefit both humanity and the planet.
100% Design will take place across four days at Olympia London, from 18-21 September, concurrently to London Design Festival.
London's preeminent design show announces its wondrous programme of design delights