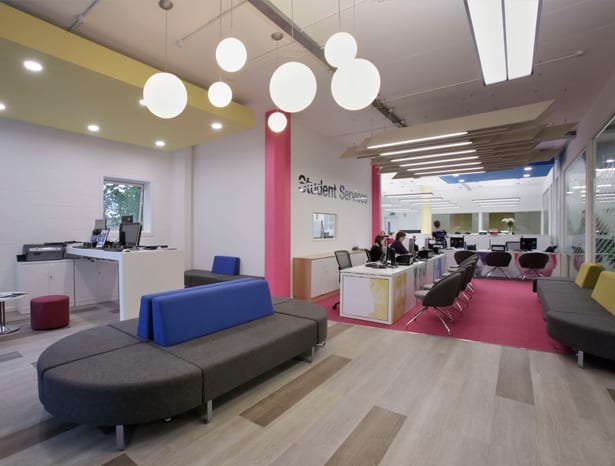 ||||
Gloucestershire College has transformed its student services and library area with a helping hand from luxury vinyl flooring manufacturer, Moduleo.
The college, which provides further and higher education and welcomes thousands of students on a daily basis, opted for the manufacturer's Verdon Oak in a variety of shades, and in the brand-new parquet option.
Sarah Payne, senior designer at OEG Interiors who worked on the project, explains: "The quality and detail of Moduleo is second-to-none, which is why we went with the product. We also had to ensure that the flooring was durable, safe and on-trend making the Verdon Oak the obvious choice.
"We also went with Moduleo's brand-new parquet option, which enabled us to construct our own bespoke design – which was again a big factor in our decision."
Moduleo's parquet flooring is available on all products in its Transform and Impress collections. The Impress collection includes five wood designs, in 22 colour options, while the Transform collection was recently extended with the addition of eight new designs, in 42 colour options.
David Bigland, managing director of Moduleo UK and Eire, comments: "Our products have been incredibly popular within the education sector, particularly within areas such as libraries, which experience high levels of footfall.
"The library and student services area at Gloucestershire College looks fantastic and we're thrilled that Sarah and the team at the college are as happy with the flooring as we are."
As a global top three manufacturer selling 100m sqm of LVT every year since 1997, Moduleo has a strong heritage. The company handles every stage of the design and manufacture process from start to finish at its state-of-the-art, eco-friendly facility in Belgium.
Sarah concludes: "The finished project looks fantastic and we would definitely recommend Moduleo for any similar environments."
For further information, please visit www.moduleo.co.uk or contact the Moduleo team on 01332 851 500.