Mara returned to the Salone del Mobile, Milano with an immersive setting that intended to surprise in terms of proposals and scenography
Mara's return to Salone del Mobile Milano centred around the display of the Protagonist collection, which become ideal representations of contemporary design trends as well as of the principles and values that are shaping the company's new image.
Several of Mara's collections were presented at the fair including the Follow family, the world's first collection of mechanical sit-stand tables. Composed of five versions (Desk, Tilting with tilting top and castors, Bench, Meeting, Break and Follow Me), it expands to include two new models. Follow Meeting Large, characterised by a large height-adjustable top and a steel double base; a design that generates not only a piece of furniture, but a true space for interaction and conviviality, around which to meet, work, create relationships and projects.
To accompany the Follow collection, Timmy Libro, a space-saving folding table, is equipped with a mechanical locking system which, together with castors, making the product easy to handle and move even within small spaces. And thanks to Mara's patented anti-shock system, maximum safety is ensured during opening and closing. The Timmy Libro H1050 model, which can be folded and is characterised by an under-top height of 1050 mm, has been awarded the German Design Award 2023 for its innovation, functionality and quality: the structure makes it possible to create dynamic workstations, both standing and sitting, as well as to host quick meetings, briefings and social rendez-vous.
Icon is the company's new entry that has conquered the public and professionals, to the extent of winning the German Design Award 2023. The collection was designed with the creative contribution of Marcello Ziliani, and conceived from the outset with a transversal identity to fluidly cross hospitality as much as residential.
Icon has a well-defined, linear aesthetic: clean profiles that define it, the receding armrest pointing backwards, and the upward rising edge create an attractive, modern product. But the abundant cushioning (in moulded foam) and especially the movement of the backrest (detached from the seat) make it light, ergonomic, enveloping, and suitable for even the most committed work moments.
Icon is a complete collection: the chair is accompanied by stool, desk (with integrated writing tablet) and lounge versions, the latter characterised by a different seat inclination and base height (an absolute novelty presented at the Salone del Mobile).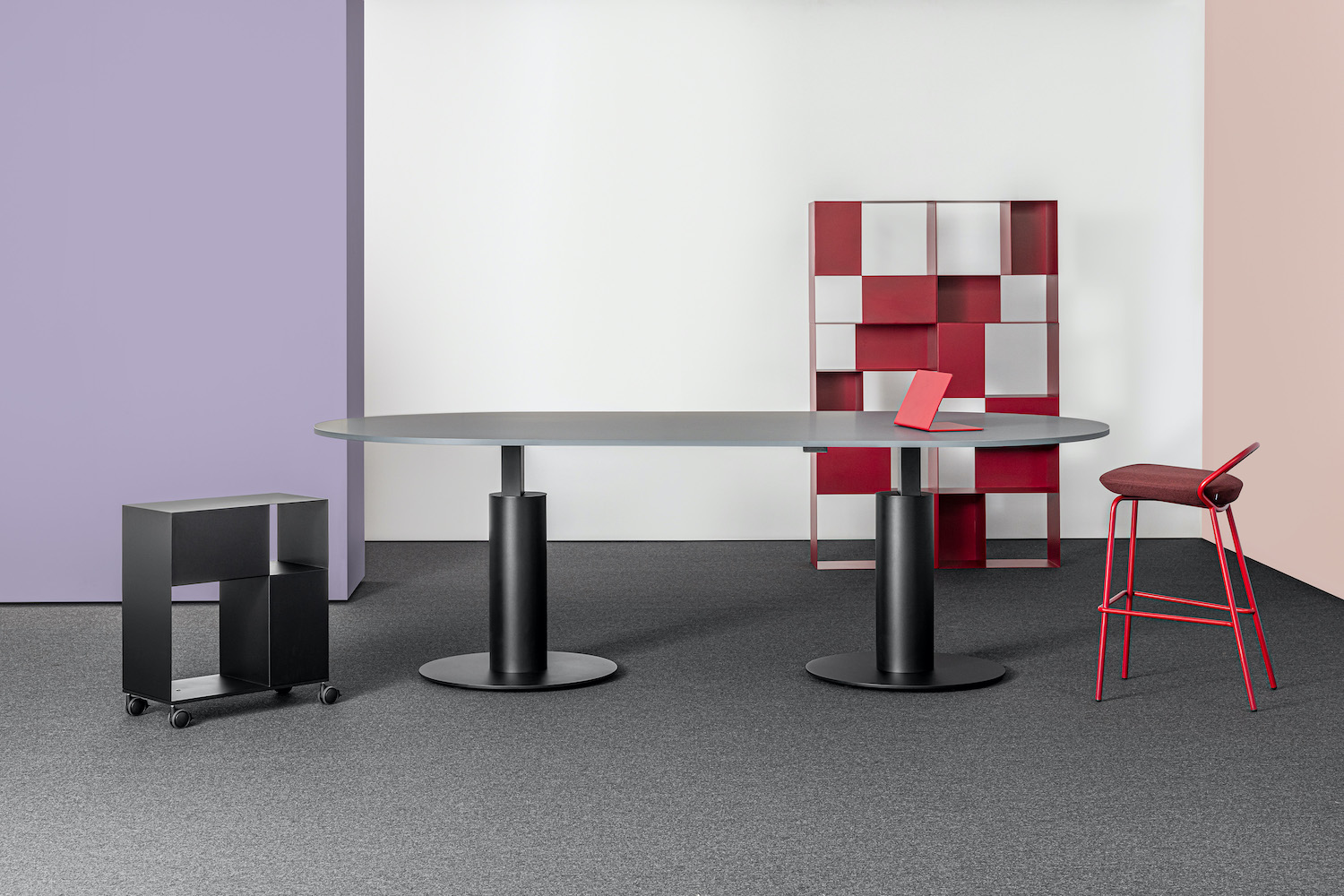 Finally, the B302 bookcase manifests itself in its architectural and furnishing value at the same time. B302, designed by Francesco Barbi, is a tetris of compositions and combinations: the single module can be endlessly replicated to create a modular, light and minimalist system. Made entirely of steel (therefore 100% recyclable), it allows the creation of both vertical and horizontal structures. If the single element represents a small furnishing accessory, the combined system becomes a scenic backdrop that separates, accommodates and gives a rhythm to the space, in a visual play of solids and voids.
Find out more here
All images courtesy of Mara