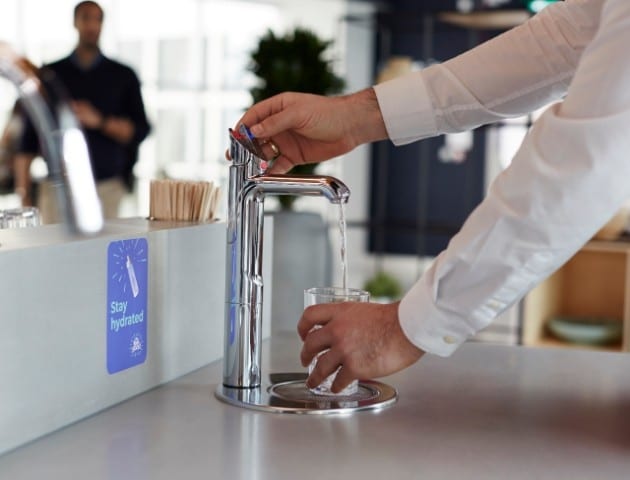 |||
Zip Water launches refreshed aftercare service, HydroCare
Workplace wellbeing is fast becoming a central focus for countless businesses. With more and more modern and flexible workspaces using new gadgets and technologies to improve staff health and wellness, facilities and office managers could easily find themselves overwhelmed with the upkeep. For busy office managers, time is a precious commodity. Bearing this in mind, Zip Water UK, creator of advanced drinking water system the HydroTap, has refreshed its HydroCare aftercare service plans to make sure Zip ownership is as simple and hassle-free as possible.
Zip's new service plans are comprised of two options; HydroCare and HydroCare Plus. These plans are designed to ensure businesses have access to a simpler aftercare service, meaning less time and energy is spent on maintenance. Plus, with a growing team of over 90 directly employed engineers based throughout the UK, Zip aftercare is quicker to organise.
Zip have a fleet of over 90 directly employed engineers, at least one in every county in the UK.
The importance of hydration in the office
Quality drinking water provision is essential in any office environment. Studies have shown poor hydration can affect cognitive function, contribute to negative moods and fatigue and reduce alertness. It's been shown that a one percent drop in hydration could lead to a 12 percent drop in productivity, so investing in a mains-fed, filtered drinking water solution could help promote hydration in the office. Well hydrated employees are much more likely to be happier and healthier.
However, mains-fed filtered drinking water systems need to be maintained to ensure they continue to deliver consistent, pure-tasting water.
Maintenance made easy
Around 60 percent of the UK suffer from limescale build-up in their products due to living in hard water areas. This can alter the taste and enjoyment of drinks as well as damage the performance, efficiency and lifespan of drinking water systems. To combat this – and ensure its systems continue to provide the cleanest, purest tasting water – Zip has introduced the unique HydroCare Plus plan to its aftercare services, which delivers additional tailored limescale management.
Limescale affects over 60 percent in the UK, particularly London and the south east of England.
HydroCare service plans provide greater peace of mind to those managing bustling office environments. The service plans, which are available in one to five-year-long agreements, include regular, pre-scheduled services, taste filter changes, system sanitisation, and unlimited call outs. Parts and labour are also included in the monthly fee.
The Office Group's 27 locations each house up to 13 HydroTap All-in-One Classic models.
With 70 years of innovation and expertise behind Zip, it has a trusted place in the water supply market. The expansion of the HydroCare system means offices can maintain continuously great tasting water, year after year. To find out more about the Zip Water commercial drinking water ranges and its HydroCare service plans, visit specify.zipwater.co.uk.
Maintaining an office water supply can be tough in hard water areas