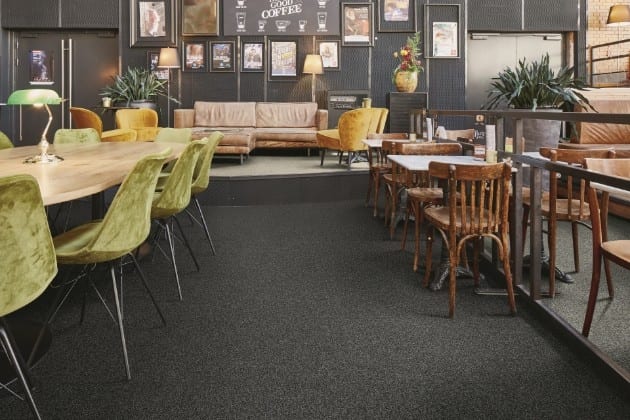 Tessera Chroma in mineral, coconut and platinum|||
Designing a dynamic workspace that combines visual interests and playfully clashed colours can encourage and stimulate a positive emotional response from employees. Jason Holmes, Head of Textile Design at Forbo Flooring Systems, explains more here.
A number of recent studies have highlighted how the design of an office can either impede or boost employee relationships and output – and it's not hard to understand why. Indeed, the design of an office can have an influence on the company culture and how your employees work and interact with one another. And if designed well, it can become a driver of performance. But how can designers achieve this?
Recently, there has been a new trend emerging on the workspace design scene: we are seeing schemes morphing into leisure and hospitality-inspired spaces, which are characterised by plenty of visual interest, texture, shape and the careful use of colour.

Tessara Chroma in camisole, tangerine and tuxedo
Alongside this, there is also the continued and increased desire to link interiors to outside spaces, as biophilic design is seen to help relieve stress, improve mental well-being and make employees more creative. Nature-inspired products are therefore the clear companion to this styling and as such, are becoming widely preferred over more graphic and linear patterns.
While there are many ways to incorporate both of the design trends mentioned above, one of the easiest ways is to specify a floor covering that allows you to fuse relationships between colours to bring out the desired personality of spaces.

Tessara Chroma in eucalyptus, botanical and evergreen
Forbo Flooring Systems has launched a new carpet tile collection, Tessera Chroma, which has been designed with this in mind. It fuses organic texture with chalkier colours, which offers a colour balance when combined to allow you to playfully clash shades.
Comprising 12 neutral and 15 bright colours, Tessera Chroma's palette has been selected to have a subtle blended effect, thanks to each colourway consisting of three different shades. This helps to provide a warm aesthetic and allow specifiers to design eclectic colour combinations and create a dynamic workspace.

Tessara Chroma in wisteria and camisole
The fresh colours found within the collection can be used as a more understated way of bringing the idea of the outside in and as such, specifiers will discover five modern hues of green within this collection, inspired by biophilic interior design.
For more information, please visit Forbo Flooring.