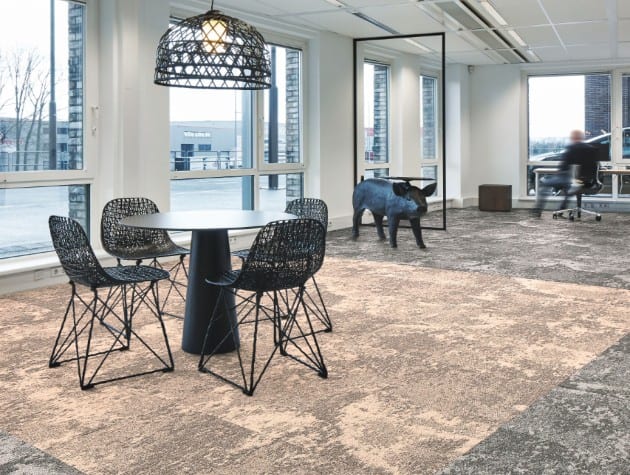 |||
There is a lot of overwhelming evidence that a poorly designed working environment can negatively influence our productivity, health and sense of wellbeing – but we are not always aware of its importance as a society. Here, Paul Pennington-Marshall, Central London Specification Team Manager at Forbo Flooring Systems, explores further.
According to the Office for National Statistics, in the UK, 137.3 million work days were lost due to sick leave in 2016. And with mental health issues on the rise, this means it is even more critical that careful thought goes into the design of an office in order to ensure that companies are doing all that they can to encourage a healthy, productive and happy workplace.
Air quality
One of the main problems in any working environment is the air quality. Poor air quality can result in respiratory illnesses and other diseases, which is often caused by poor ventilation and the evaporation of volatile organic compounds (VOC emissions) from cleaning detergents and building materials, for example. Therefore, it is vital that offices do more than just open windows. Indeed, a recent report by the UK Green Building Council has determined that using low volatile compound (VOC) materials can increase productivity by as much as 11%.
Something else to consider when it comes to indoor air quality is airborne allergens. With reports of over 21 million UK adults suffering from some kind of allergic reaction , the UK is one of the top three countries with the highest instances of allergy. So how does that translate into the building materials within the interior of an office? In terms of flooring, choosing a linoleum flooring such as Forbo's Marmoleum or a flocked floor covering, like Flotex, is a good option as they are both Allergy UK approved. This means that they won't harbour dust mites or allergens, contributing to creating better indoor office environments.
Acoustic performance
Acoustic performance is another factor that needs to be addressed in the design of an office environment – after all, poor acoustics in a working environment can lead to disruption and in turn reduce productivity. Ideally, the acoustic design of an office should be in keeping with the activities of its users but this is often not the case, as it has been found that a typical UK office generates sound levels of 54 A-weighted decibels or more, which is above the recommended 45dB (A). In the longer term, this effective acoustic design can help prevent the high costs of absenteeism of employees or productivity losses. The use of Forbo's Flotex flocked flooring and Tessera carpet tiles, for example, can contribute considerably to sound absorption, reducing walking noise in a neighbouring room by up to 10dB.
Taking a holistic approach
Studies also show that the interior of a working environment can influence employees' concentration, cooperation, privacy and creativity. With this in mind, buildings should be designed from a holistic point of view, which means thinking about the total picture of the office – not only from a working perspective. Creating informal breakout areas, where employees can socialise and relax, as well as flexible and connected workspaces can encourage positivity, motivation and satisfaction at work.
When designing an office environment, employee productivity and wellbeing should always be at the forefront of a designer's mind, as a strong office design that takes into consideration a wide range of impacts on workers can positively impact absenteeism and help reduce sick leave. By working together with a reputable and knowledgeable manufacturer like Forbo, specifiers and designers can select the most suitable interior materials that can improve an office space and create healthier indoor environments.
For more information on Forbo's work in the office sector visit the brand's website or download Forbo's full office white paper