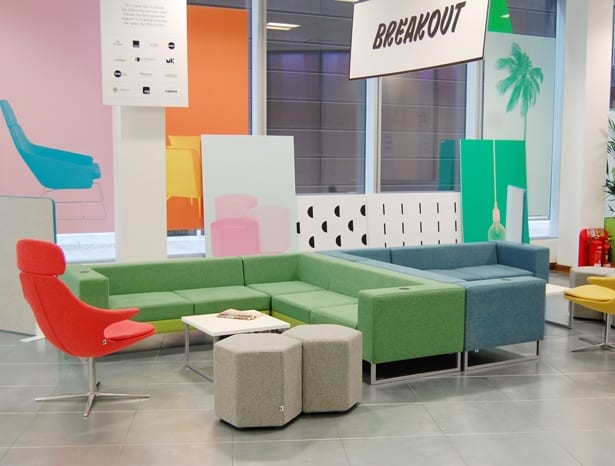 Erno and George|||
Office interiors have evolved greatly over the past few years and, with changes in technology and working styles, the landscape of workplaces has changed almost beyond recognition. A move from traditional desk-based activities has created the need for environments that allow greater flexibility – with the need to balance individual and group work, as well as incorporate appropriate visual and acoustic barriers.
Circe
sixteen3's extensive portfolio of products has been conceived to cover a wide spectrum of office interior needs in today's market. Simple soft seating ranges like Arny, Newton or Erno can be used in more traditional settings like front-of-house reception areas, or can be tailored for designated breakout and casual meeting areas by integrating practical elements such as power and data or wireless charging modules.
Modular systems, such as Adytum Space and Circe have been specifically developed to enable the creation of a large array of work zones, from individual-focused work stations to group meeting or even video-call meeting spaces.
Adytum Space seating
With the sixteen3 offering, flexibility is key, with products that combine to suit a multiplicity of needs, available in an extensive selection of fabric finishes and with a wide option of wood or metal legs across our product ranges, allowing for a further element of tailoring to complement any aesthetic. We work with customers to offer the best solution to their interior needs, and pride ourselves on the quality of our craftsmanship.
Adytum Space drop-in desks
For more information, call one of sixteen3's sales team or visit one of its showrooms – either in London, Oxfordshire or at its manufacturing site in Cheshire. sixteen3 will also have a presence at this year's Clerkenwell Design Week – showing at Project, Stand PR4, Garden of St James, EC1R 0EA and the Gallery, 21-22 Great Sutton Street, EC1V 0DY
Erno
In the modern workplace, says sixteen3, flexibility is key