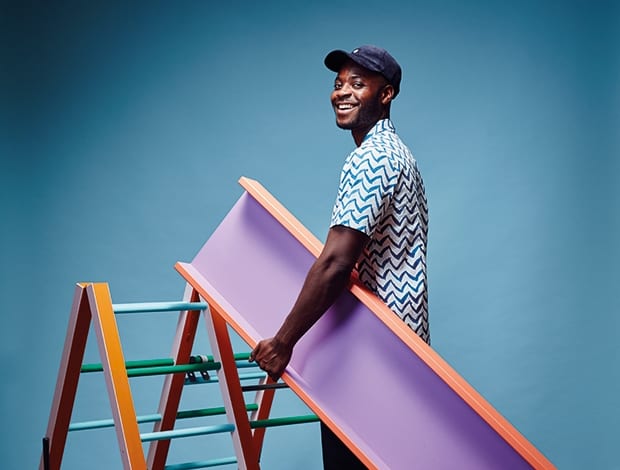 |||
When we meet in Yinka Ilori's Harrow studio – two adjoining spaces filled with half-made pieces – he is working flat out, partly in preparation for his installation called Estate Playground that will fill the entrance of hip London hotel CitizenM Shoreditch during September's London Design Festival (LDF). It's the lead-up to the festival, and he gives me a preview of the installation, which will feature a painted wood slide, seesaw and roundabout inspired by a colourful playground at the drab council estate in Islington where this rising star of the London design scene grew up. The roundabouts' bases remind me of drums you might see in a mid-century illustration. Their edges are painted with pink, burnt orange and white stripes – a put-a-smile-on-your face pattern that strikes me as rather Festival of Britain.
The playful installation mirrors the festive, sociable atmosphere of CitizenM – or should that be its work-hard, play-hard atmosphere? About 90% of the hotel's guests are business travellers, and as work becomes increasingly flexible and less tied to location, hotels like this are the new workplaces.
As we chat, Ilori is painting a black and white chequerboard pattern on a monumental throne-shaped structure, but the job is mechanical enough for him to give me his full attention. The structure is one of four vibrant pieces – joyous colour is one of the hallmarks of Ilori's work – created for his installation, A Large Chair Does Not Make A King, commissioned by the Africa Centre in London, to be shown too during LDF. "There will be four podiums with stairs leading up to a chair standing on each one," he explains. "The idea is that, once on the podium, you forget your ego – everyone's on the same level." It illustrates Ilori's interest in furniture with a strong narrative content, not to say a moral dimension, setting his work apart from a lot of other contemporary design whose main appeal is aesthetic.
He is second-generation Nigerian and key to his storytelling approach is its allusions to Nigerian parables, which his parents, who moved to London, once told him. These are generally positive, even utopian, and promote tolerance. "One, for example, says that you shouldn't throw stones at a bird that's flying," he says. "That's about not judging someone because they want to spread their wings." He feels these traditional, uplifting messages are relevant today: "They still resonate and I want to share them."
Kekere chair from the 2013 exhibition, It Started with a Parable
Ilori has been a bit of a below-the-radar designer for some time. He first came to my attention earlier this year when The Guardian ran a feature on designers besotted by colour. Yet he has exhibited widely, for example in the shows It Started With A Parable, staged in The Old Shoreditch Station bar by the JaguarShoes Collective in 2013, and Making Africa at the Vitra Design Museum in Germany, which showcased work by artists and designers with African roots in 2015. "The JaguarShoes show opened doors for me," he says. "The assistant of the founder of Lagos Social Media Week walked past its window and told her boss about it." He was promptly invited to show his work at the Whitespace Gallery in Lagos in 2014.
Sometimes his work's narrative content reflects reality, however bleak. He mentions a piece called A Trapped Star, shown at his exhibition If Chairs Could Talk at London's The Shop at Bluebird in 2015: "I joined two chairs together. It was about two brothers I knew: the smaller chair represented the younger one who was very intelligent but wanted to be like his older brother – a bully, who bunked off school. In London you have many boys with older brothers involved in illegal activities. This seems glamorous, and it's easy to go down that route. So the piece represents the younger brother trapped in the system, unable to see his full potential. In the end, the younger brother ended up like his older brother." I ask him if he thinks a narrative element is often missing from design. "Yes, people want to connect with objects," he says. "A chair is a chair but it also comes with an emotional attachment."
Do Good Because of Tomorrow exhibition, Milton Keynes, 2013
In the past, Ilori has mainly created upcycled chairs, which established his predilection for uninhibited, singing hues –sunshine yellow, emerald, fuchsia, turquoise, tomato red and cooler greys and lilac. Superficially, these shades recall the spell that 1980s design collective Memphis has cast on young designers who, for the past year or so, have channelled its jazzy colours and angular, geometric shapes. Fair enough, you might say, since many are reacting against the glut of pale, Scandi-chic modernism that has dominated interiors in the past decade. But, arguably, the Memphis revival is starting to look hackneyed. "It's everywhere, been overdone," says Ilori when we discuss it.
By contrast, Ilori's palette is unique, partly because it's personal. Memories of his parents and their friends at Nigerian parties dressed in gloriously polychrome outfits instilled in him a love of unabashed colour. "If my parents ever saw anyone in my family wearing black, they didn't like it," he recalls, while I note the irony of a rising star of the design world – where wearing black is the safe norm – preferring eye-popping hues. His chairs are often upholstered in vivid Dutch-wax printed fabrics, too. Artists Picasso and Francis Bacon have also inspired his passion for bright colour.
He initially wanted to study fine art, having been encouraged to do so by a teacher at school, but decided to opt for design because he liked the way it was more "hands-on". He did a degree in furniture and product design at London Metropolitan University; one piece he made there, his cobalt blue Welcoming Wardrobe – which opens like a person stretching their arms out to greet someone – was shown at the design graduates show New Designers in London.
Sideboard, shown at Now Gallery's Home Affairs exhibition, 2015
Ilori caught the upcycling bug when set a college project to transform old chairs into new products, inspired by Martino Gamper's 2007 exhibition 100 Chairs in 100 Days which saw the Italian designer fuse chairs in clashing styles to create witty hybrids. Ilori acknowledges that Gamper has hugely influenced him: "I don't mind saying he's been a big inspiration. Credit where it's due." Ilori's eco approach is also informed by the fact nothing goes to waste in Nigeria: "People use bricks or tyres even if they're battered: they'll fix them."
After graduating in 2009, Ilori did a stint as an intern in designer Lee Broom's studio. "He was very inspirational," remembers Ilori. "It shows what you can achieve through sheer hard work. He was doing the interior design of the restaurant Mandaloun in Westfield, west London. He allowed me to be involved in the design process. I then wanted to set up a design studio and worked out a business plan. I was given a loan of £3,000 by the Prince's Trust. I made my first collection in my back garden – a table and two chairs that I showed during LDF – based on Nigerian parables."
This year, he will have a much bigger presence at LDF. He is also taking part in Now Later: Design Salon at Now Gallery on September 21 (6pm to 10pm), where he will lead a conversation on "How collaboration can influence new ideas in design". And Shoreditch-based non-profit social enterprise Restoration Station – which runs workshops teaching people in recovery from addictions skills in furniture restoration – will be showing upcycled chairs made in partnership with Ilori, which will be sold to raise money for the charity.
Ilori is deservedly stepping into the limelight. "It's nerve-wracking. The CitizenM project is my biggest public installation ever," he confesses. On the plus side, he's thrilled that it will give him a chance "to tell his story": "At the estate where I grew up, you had people from Ghana, Senegal, Turkey… We all played together in the playground, regardless of what race you were." He sees the playground of his childhood as an enduring symbol of freedom and friendship, and hopes the CitizenM installation will echo its spirit.
Do Good Because of Tomorrow exhibition, Milton Keynes, 2013
From a series of thrones to a housing estate playground in a London hotel, furniture's rising star made a splash at LDF