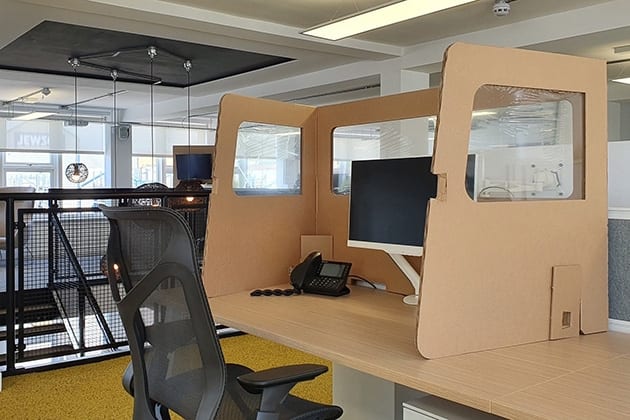 Office Principles have developed a cost effective, recyclable alternative to Perspect desk screens|||
The impact of COVID-19 appears to be generation-defining, and at this point in no arena more than this generation's relationship with work.
For those employers concerned about instating flexible, work from home policies over traditional workplace-based employment, the coronavirus has forced their hand, and for most, it's gone far more smoothly than initially feared. Not only have many employees proved their ability to harness digital communication tools to ensure productivity has remained high, but they've also found personal benefits in the adoption of a work from home routine.
Now, with a US study from research firm Gartner finding that three-quarters of chief financial officers believe that at least 5% of their workforce will work from home permanently from now on, and many more on a more flexible basis, it's clear that the way offices serve a workforce is in the midst of an evolution.
But with this change comes the need to re-evaluate the facilities a workplace offers – from changing layouts and set-ups to installing new fixtures, fittings and equipment that meet the requirements of public spaces post-pandemic.
"Aside from their homes, the workplace should be the next‐best location in which people can feel safe. But, for work to resume, changes must be made to instil a sense of confidence with those venturing outside," explains Kirsty Shearer, development director at Agilité Solutions. "Social distancing and hotdesking can be quickly established in the short‐term – but proper procedures will need to be implemented in order for it to work."
Jon Eaglesham, managing director of London architecture practice Barr Gazetas agrees: "This pandemic has brought to light the case for a whole range of other potential frameworks to be introduced: we may well see a move towards hygienic materials, germ resistant surfaces and increased air filtration and exchange."
While these new elements of FF&E may be considered essential by some in creating a comfortable office environment for those returning to work, it also suggests the replacement of perfectly functional, pre-existing equipment that was purchased in good faith in a world before the coronavirus.
The question of what happens to this surplus is a big question, as another perhaps more surprising side effect of the outbreak is an ever-deeper reach for sustainability. "The pandemic has been like a reset button for humanity," says Ashley Lawrence, head of interiors at Crown Workspace. "The positive impact our absence has had on the world around is clear to see. It's made us all think about what matters and that will only strengthen resolve to be sustainable in future and the circular economy principles will be at the heart of that."
For every working day in the UK, 300 tonnes of office furniture is thrown into landfill according to Dr Greg Lavery, director of Rype, a company that specialises in sustaiable office furniture. "This process of buying items made from virgin resources and dumping after first life means that furniture is the single biggest source of embodied carbon emissions in a commercial building (even greater than construction energy and operational energy)," he explains. "Over a building's 40 year life furniture and furnishings account for 46% of the greenhouse gas footprint."
While these two approaches to post-coronavirus offices don't necessarily align in their goals, there's room to meet in the middle. Offices need to responsibly redistribute existing furniture, or offer it up for recycling and remanufacturing. Likewise, investment in new fixtures can focus on sustainability.
One particular example of this that's yet to play out is of Perspex screens in offices, acting as protective guards for those working in close proximity where social distancing should still be in action. "There is talk of the introduction of Perspex screens to separate desks and workers – a potentially costly measure, particularly as the desire for screens may only last a matter of months," says Cyril Parsons, joint managing director and co‐founder of design and workplace consultancy, Office Principles. Its answer? A sustainable work station screen made from cardboard. ""We're developing a more sustainable, cost‐effective solution, made from cardboard, that costs approximately a third of the price of a plastic screen. Our cardboard desk screen is wipeable, easy to move about and fully recyclable. It can be tailored, simply by cutting, to fit any desk shape."
While these cardboard screens may seem only appropriate as temporary fixes, that's perhaps what is needed in the industry until the dust settles. After all, when spaces are designed for permanence, they can quickly outlive their use and lead to increased waste. The exact role the office has to play in the future working landscape is still evolving, so making decisions that safeguard employees but don't compromise on sustainability is a safe path forward.
The coronavirus outbreak may change how we use working spaces forever, but for those offices that need to adapt, what does this mean for our sustainability goals?