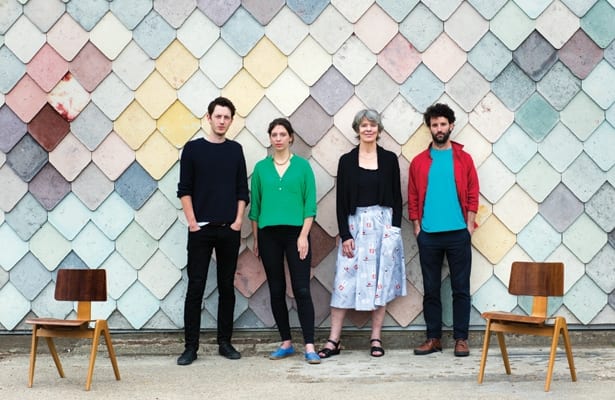 Annie Collinge||
Partly cloudy' is not an ideal weather forecast for a photoshoot, but fortunately Assemble bring the necessary colour and contemporary cool to proceedings, just as they have been doing in the design industry for a good while now.
Three of the 15-strong collective – James Binning, Paloma Strelitz and Adam Willis – are posing outside one of their creations, the Yardhouse in Stratford. They are joined by Paula Day, daughter of seminal design couple Robin and Lucienne, to promote an installation Assemble has designed at the V&A, which will appear at this year's London Design Festival to celebrate the centenary of Robin Day's birth.
Assemble's triangular tessellating chairs for Clerkenwell Design Week in 2013As to how this particular trio have come to work on the project, Willis says simply, "It's normally a balance of who has the right skills, time and availability." Making furniture has been a component for quite a few of Assemble's projects already, including flip-up seats made from scaffolding boards for pop-up cinema The Cineroleum, and a series of 200 stools to furnish public spaces around EC1 for 2013's Clerkenwell Design Week.
Robin Day in 1953: like Assemble, he was preoccupied with design's social contextLike Robin Day, Strelitz attended the RCA, and says: "Even though I studied architecture, there was a culture of designing products there; it really held up a magnifying glass to how people who design everyday objects affect the world. Robin Day had this ingenuity of playing with wood in the post-war period when resources were scarce, like making bent ply by using [the steam from]a kettle…"
Willis picks up the conversational baton at this point: "The most striking thing was that although Robin Day was an industrial designer with a sophisticated use of production techniques, he also drew a lot of enjoyment from taking quite a DIY approach in his spare time, making things like bird tables and catapults."
Although the designer is best known for his polypropylene chair of 1963, the V&A exhibition, Robin Day Works in Wood, sees a fresh appraisal of his 70-year career. It combines mass-produced timber designs such as the Hillestak chairs of 1950 (which also make an appearance in our photoshoot) plus, as Willis alludes to, a selection of more personal items made outside his day job (or should that be Day job?) for his family home and that of his daughter.
Seating made from scaffolding board at The CineroleumThe exhibition includes items as diverse as some bellows, a walking stick and a shoehorn within a 'forest' of timber columns designed by Assemble. It will also contain never-seen-before drawings and notes, revealing Day's deep affinity for natural materials. As the man himself said in 2001, "I greatly enjoy working in timber. Unlike synthetic materials, it has unpredictability, an infinite variety of texture and pattern, smells good when worked and is sympathetic to the touch – it has soul!"
The linchpin in all this is design consultant and curator of the V&A installation, Jane Withers. Having followed Assemble's work for a while she says that she admired their "dextrous experimentation with materials," adding that she wanted "somebody with a similar spirit and playfulness". And so the commission came in, in what is evidently an incredibly busy time. "This project is one of six we are currently working on between us," says Binning in an email exchange before the shoot. "It can be a bit tricky to get us all in the same place at the same moment for any length of time!" Despite a Tube strike, all three make it – and the sun's even come out by this time too.
Assemble came together as a collective of recent design and architecture graduates in 2010 for The Cineroleum, which took over a disused petrol station. It sowed the seed for projects with a thrifty DIY ethos and an interest in transforming the public realm. These philosophies have something in common with Day, who in 1999 explained how he had always been interested in "the social context of design and designing. What we call 'good design' is a social force that can enhance people's environments."
Goldsmiths Art Gallery, in a former Victorian bathhouse
Assemble conceived and built Sugarhouse Studios, its Stratford workshop and events space, in collaboration with the London Legacy Development Corporation. There's no hiding behind CAD on a computer screen here: the space includes a wood shop, a welding facility, a kiln and casting room, a small carpentry workshop and an area for stonemasonry. Strelitz explains how "the space provides an affordable way of prototyping," with Willis adding: "There's a huge range of skills here and that makes for fruitful collaboration and learning." Projects such as Theatre on the Fly, a temporary performance space commissioned in 2012 by the Chichester Festival Theatre, typify this hands-on, materials-driven outlook, constructed as it was from scaffolding, plastic pond liner and cable ties.
It's an interesting ten-minute walk from the shiny yet rather soulless metropolis of Stratford's Westfield shopping centre to Sugarhouse Studios. The manner in which Assemble's HQ actively engages with the ongoing development of the area is in stark contrast to the way the chainstore-heavy retail mecca most definitely does not. Since being retrofitted, this project has played host to a cafe and pizzeria, an arts cinema and workshops with local children.
The adjacent Yardhouse, with its oh-so-Instagrammable frontage composed of handmade concrete tiles in a multitude of pixelated colours, is another example of office life, Assemble-style. Behind the colourful facade, there is a timber frame enclosed by prefabricated insulated panels that combines individual studio spaces opening into a double-height communal area. With an economy of construction most in the industry would marvel at – just £291 per sq m – it demonstrates that London is still capable of providing affordable, creative workspace.
Goldsmiths Art Gallery, in a former Victorian bathhouseAssemble has continued its march of the makers a little further west at Blackhorse Workshop, a public venue in Walthamstow that offers workshop facilities for skills ranging from wood-turning to metalworking and basic DIY. There's a cafe and the now seemingly obligatory brewery too, with an events space for hire and monthly markets.
Among projects currently on the go are Goldsmiths Art Gallery, which will see Assemble build a network of spaces within a former Victorian bathhouse to create a new public art gallery for Goldsmiths, University of London. The baths' cast-iron water tanks will be preserved, along with a double-height project space achieved by cutting a void in the existing floorplate, creating an open, visitor-orientated centrepiece.
Binning is particularly passionate about a project he is involved with at the moment: Tottenham's Chicken Town. This initiative, opening in October, aims to serve a less calorific yet just as delicious version of fried chicken. Of our takeaway favourite, he says: "In terms of young people, it's a food time bomb. Chicken Town will offer healthier options, particularly for kids. It will also act as a safe place for them, between school and home. The business plan has also been designed to keep the price point special." It will open as a community restaurant in the evenings too, with diners offsetting the lower prices that the after-school crowd pays to keep it competitive.
Assemble's vision for a winter garden in a Toxteth terraced houseWorking on projects of this kind – albeit with a strong community focus in various parts of up-and-coming London – is one thing, but Assemble have also won the hearts and minds of some undoubtedly hard-to-impress Scousers. The Granby Four Streets project in Toxteth is an essential component of Assemble's nomination for this year's Turner Prize (the first time a design studio has ever been shortlisted).
In this notoriously tough part of Liverpool, the collective are working with Jersey-based social investor Steinbeck Studio to refurbish a cluster of terraced houses, built at the turn of the 20th century, which had fallen into disrepair following the riots of 1981. So where did it all go right in the rejuvenation of an area that had arguably been neglected for years? "It made a big difference that the community was our client," says Binning.
Assemble was commissioned by a local community land trust, set up by residents of the area as part of a decade-long fight to save their houses from demolition. The results celebrate the value of the area's cultural and architectural heritage, making the most of what is already there, such as the houses' high ceilings and large windows, not to mention using local apprentices to get the job done. Proposals for a second phase include installing a winter garden in one of the gutted houses, with palms and banana trees stretching up to a glass roof.
In a profile for the Guardian, the newspaper's architecture and design critic Oliver Wainwright describes the residents' delight in Assemble's work: how they listened and translated the vision of what was wanted into a reality. Wainwright is a long-time admirer of their work, and when I ask what sets them apart, he's quick to respond in glowing terms.
"Assemble are uniquely inventive on so many levels from the way they self initiate projects to the way they develop intriguing new materials for each site: transforming every day things with an almost alchemical touch."
Assemble's vision for a winter garden in a Toxteth terraced house
Assemble are not just the darlings of the design press, but have achieved a cultural crossover with their Turner Prize nomination. While I put it to them that it's about time architecture and design infiltrated the art world as well as the other way around, they are more pragmatic in their responses, Strelitz praising the "transcendence of traditional boundaries" by fellow nominee Janice Kerbel, who incorporates operatic work into her art.
Have they put bets on themselves? Cue a few bashful looks between the three as they admit they haven't (yet). Even if they don't scoop the £25,000 prize, the winner of which is announced in December, I bet there won't be any shortage of takers for their colourful, cool yet also cost-effective and approachable brand of architecture.
Paula Day is chair of the Robin and Lucienne Day Foundation, which is supporting the V&A's Robin Day Works in Wood exhibition. Set up in 2012, the foundation promotes public knowledge of, and access to, the Days' design legacies.
"My father grew up in the 1920s, among the furniture factories of High Wycombe, exploring the nearby beech woods. He even remembers the original 'bodgers' who worked in the area. In 1964, he found a cottage in the oakwoods of Sussex," she says. Day made all sorts of wooden items for the house, many of which appear in the exhibition.
Paula Day now lives in a converted barn in Cumbria, which is similarly furnished with pieces originally designed by her father. As part of their research, Assemble visited this rural retreat with curator Jane Withers. "It was important that they saw for themselves my father's love of wood," she says. "Actually, I do a lot of logging and normally use my axe, saw and billhook but I will have to do without them as they will be in the museum!"
The exhibition will form the focus of Day in London, a trail across the capital joining up various locations. These include John Lewis, which has a long history with the Days, engaging them as design consultants for 25 years (the retailer is also a sponsor of the V&A show). It will give over a section of its Oxford Street flagship to classic Robin Day designs. Other venues on the trail, such as the Royal Festival Hall and the Barbican Arts Centre, demonstrate how Day's designs are still in use in London's public spaces.
---
Nominated for the Turner Prize, art and architecture collective Assemble believe in design as a force for social good. Next up, it is reappraising Robin Day for the V&A