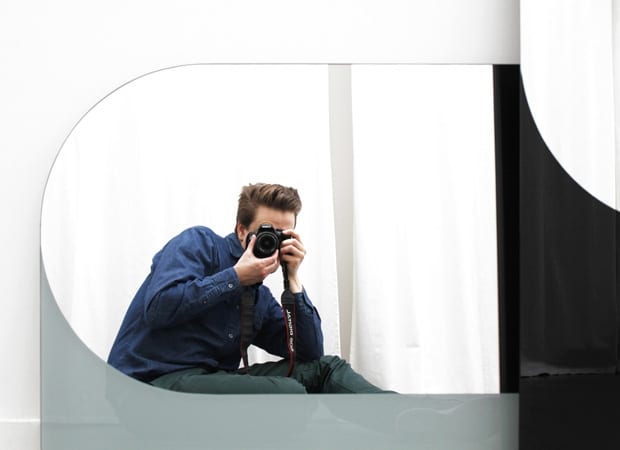 Belgian designer Sylvain Willenz|Homerun hair for Karimoku New Standard|Durlet's Moor chair|The Profile chair|The Drop bucket for Xala|The Print lamp for Established and Sons|Torch for Established and Sons|The Lock coat stand|Tamawa's Ray light|Willenz;s Brackets shelving units|Torch table lights|Block office accessories|Candy shelving|Objeckten's Matt desktop||
The Belgian designer's new hybrid office chair continues a steady history of creating playful, characterful products that are nonetheless built to last, and brilliantly functional
"I wanted to design a chair that had a strong character and identity: something special, but straightforward and simple," says Sylvain Willenz, the Belgian designer responsible for Radar, a new task chair for Objekten. Spied at Interieur – a biennial design show in the Flemish city of Kortrijk – Radar stood out as one of the few office-orientated products.
Objekten's CEO and co-founder Alain Berteau (who featured in onoffice 62 in 2012) asked Willenz to develop the piece. "One of my drawings was a chair with a large back, like an airport radar," he explains. "Alain thought it was interesting and had a lot of potential, so we developed it further.
The back then became the main focus of this design. We amplified it into a sort of large shield, which naturally creates a comfortable alcove that gives a sense of shelter for its user."
The result is generously proportioned and comfortable without being over-widgety. "It's exactly the way I like to design things: different but familiar; pure and elegant; soft and round; friendly yet serious," says Willenz.
Its various finishes do give a genuinely different feel: the upholstered leather version has a more masculine, executive effect, while the all-wood version with an ash back and the semi-upholstered version have softer silhouettes. It also has a base with four wooden legs instead of castors, which is more suitable for domestic or home-office environments.
This is the third collaboration between Berteau and Willenz, the first being the Matt collection of desktop storage items made of soft black plastic with a rubbery feel, followed by the Shadow collection of mirrors. "He's a friend and a colleague," says Willenz of Berteau. "He's a designer himself, and through the work I do for Objekten we share a lot on a daily basis."
Objekten's stand was one of the strongest at Interieur, with clever yet unassuming designs in abundance. "Because it's once every two years, the organisers really make an effort in the way it is presented: it is very studied and aesthetically very well put together," continues Willenz. "The brands are [carefully] selected and they are quite strict with how booths are presented. It is more than a commercial fair, and I really enjoyed it."
The Willenz-designed Moor chair by Belgian manufacturer Durlet is another recent product launch. This rounded, comfortable-looking armchair has a double stitch running along its smooth edges and curves and, to make it office-appropriate, it's also available with castors. To add a bit of playfulness, it also comes in dual-tone versions, with the backrest distinguished from the rest of the body, as well as solid colours in leather and fabric.
The Brussels-based designer has strong links to the UK. After school, he enrolled in a foundation course in Northampton and subsequently studied design at The Arts Institute at Bournemouth. "It was a natural step to then enrol on the Design Products MA at the Royal College of Art," he says, "I really wanted to finish my studies with this course."
Having completed his MA in 2003, the following year Willenz opened his own design office in Brussels. The British association continued, however, as his Torch light collection was produced by Established and Sons in 2008. It's now become of the brand's most recognisable products.
"I met Mark Holmes [of Established and Sons] in 2007 and showed him the idea. I guess you could say that with my education in Britain I have that heritage: a connection to the UK," he says.
His natural charm was clearly in evidence when he met another heavyweight of contemporary design, as he explains: "I was in New York in 2009, and I bumped into Giulio Cappellini. I had already developed the idea for the Candy collection of furniture for a gallery, and I said to him, 'I think this is a good product for Cappellini, don't you?' He immediately responded positively to the idea and said we should do it. Three years later, it was actually launched."
Willenz says he enjoys designing chairs and other furniture, and particularly likes lighting, but his portfolio speaks of a breadth of interests. He developed an injection-moulded plastic bucket called Drop for Xala and a mobile hard drive, XXS, for Freecom.
"I like the idea of doing one thing and then doing something completely different," he says. "I'm not one of those designers who has a very bold or loud style. I like the idea of designing things that are there to last; that are durable and classic. Different, but familiar. Elegance is also key.
"I like to define, resolve and work to optimise the way something is made: to make the process the best process." The Print lamp (also for Established and Sons), for example, looks like different parts put together, but in fact it's blown from a single bubble of glass. Only the light fitting is added in the second phase of production. And so it went with the Radar chair: "Originally the shell was two parts but because
of cost and process efficiency, in the end it was made from one part."
Willenz is continuing his interest in workplace design, and is considering extending the Radar range. "What's interesting is its hybrid potential; it's a product to suit various environments and contexts," he says. "Otherwise, we are also working on new lighting projects, various new chairs, a sofa, rugs, a plastic watering can, and an entire collection of furniture made from marble and wood."
Given the friendliness and efficiency with which this interview was arranged, I'm not surprised Willenz is proving popular. So much so that I'm sure he's on the, ahem, radar of many other major manufacturers.