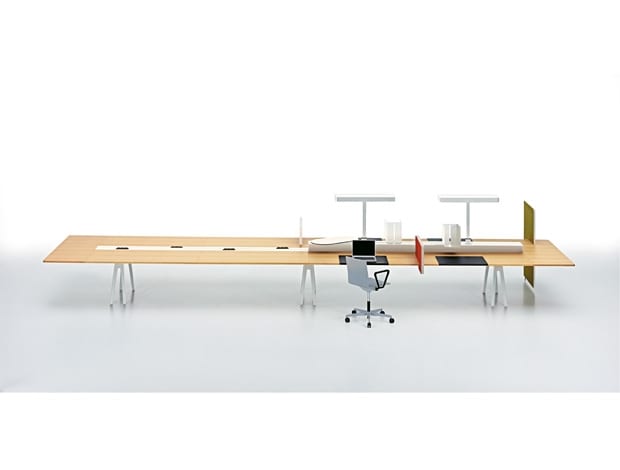 The Bouroullec brothers' Joyn bench system for Vitra|The Bouroullec brothers|Karim Rashid's Pinker range for Office Planner|Karim Rashid|Eoos' Filo table and chair for Bene|Austrian design trio Eoos|Design legend Phillipe Starck|Starck's BaObab desk, also for Vitra||
Helen Parton investigates what manufacturers, specifiers and designers themselves have to say on the matter …
An office desk surface is compared to an island of ice, another to an object in space while a conference table leg is inspired by antlers. Ladies and gentleman, welcome to the world of the signature designer. But do these esoteric ways of working really belong in an industry that normally speaks the language of mechanisms and widgets – gas lifts, castor wheels, pedestals, extrusions etc? Does the office furniture industry need more signature design?
Well Italian office furniture manufacture Della Rovere certainly thinks so. The firm recently enlisted the services of Karim Rashid, best known for his love of pink and suggestive organic shapes, which is where the ice and the spacecraft come in, obviously. As the designer himself immodestly puts it, "An inspiring object will always increase productivity. My desks inspire individuals who sit behind them to think in possibilities rather than limitations."
An initial meeting at trade show NeoCon in 2007 resulted in Rashid designing the Uno and Zero desks or "techno organic objects", as he describes them, which launched last year at the Milan furniture fair. Della Rovere's UK business manager Mike Stanton says: "They completely bought into what he had designed. It moved away from their core materials, veneer and laminates, instead using polypropylene and glass fibre. About nine years ago, Della Rovere made a business decision to move away from the lower to mid-level market towards the mid to high end and Zero and Uno have helped raise the firm's profile among architect and design practices in that marketplace."
The products not only gained column inches, but translated into all-important revenue too, with over 100 units snapped up at the show alone. "In the UK, the products have gone down well and worldwide sales have been high," Stanton adds.
The plaudits just keep coming for New York-based Rashid with his latest foray into the office sector coming courtesy of South East Asian company Office Planner, which launched a new collection this year at the Singapore Furniture Fair, including upholstered sofas and chairs, tables and desks. Managing director Gavin Woo says: "We met Karim last year after communicating via email. We wanted to develop a range of funky and functional furniture. The Pinker brand name was chosen and in addition Karim redesigned some elements of our desking system Itaca. Being a manufacturer of systems in a small country like Singapore, which is not particularly known for office furniture, our collaboration brings new opportunities and has helped us reach a new level in terms of design."
"An inspiring object will always increase productivity. My desks inspire individuals who sit behind them to think in possibilities rather than limitations"
Of course, this idea of signature design in the office isn't necessarily a new one. Vitra chairman Rolf Fehlbaum says: "Our encounters with George Nelson and Charles and Ray Eames in the late 50s and 60s had a formative effect – designers are not only creators of products but participate in the creation of the company, its values and its orientation. This not only applies to the giants of the past who have gone on to become classics of our time. It is equally valid for the contemporary designers who work for Vitra today."
But just like every fashion retailer on the high street is keen to get a top designer endorsement these days – think Giles Deacon at New Look, Karl Lagerfeld at H&M, or Stella McCartney at adidas – it seems that now everyone's at it in the office world too. Even a manufacturer like Koenig and Neurath, which has staunchly stuck to using its own in-house design team until now, has unveiled plans for 2010 that include a new office chair range with an as-yet-unnamed international design studio.
Bene has just lined up the UK's go-to design duo for contemporary design, PearsonLloyd, for a launch this autumn. This is after the company launched the Filo table by Austrian design practice Eoos at Orgatec last year, which was designed to complement Eoos' 2004 Filo chair. Having seen Eoos in action, it's clear why Bene wanted to work with them. Gernot Bohmann, one third of the design studio, demonstrates the product enthusiastically: "The important thing to remember is it is a system you can build in different shapes and sizes, you can create a clean, white surface while underneath this 'antler' here branches out to rails on the underside of the length of the table, giving maximum stability."
Signature designers don't just lend their name to a firm of course, they lend their whole way of thinking, or as Fehlbaum puts it: "They have the antennae to perceive the shape of things to come."
They question the norms of office furniture – why should the ephemera for today's technology impinge on the interaction between its users across a table top, when it can be stored in the Filo's special media boxes, hung from the underside.
"You also get to know new materials and new technology that you wouldn't if you just worked for one company," explains Christian Horner, who, along with Johannes Scherr and Kai Stania, form Bene's ironically monickered 'in-house design team'. "This is obviously expressed in the P2 Management programme, where we introduced high-gloss surfaces. The kitchen industry is always interesting to consider. Because the numbers are greater it's much more advanced in terms of mechanisms. In my work, it's very important to have close cooperation with the company. On the other hand, if we get too involved, it's just as important from time to time to be doing projects other than office furniture." To this end, when not designing office systems, Horner is involved in a number of domestic furniture and transport projects, while Stania, for instance, designs products as varied as watches, wine glasses and pens.
"Designers come in at very different levels, from the cliché of an idea jotted on the back of a cigarette packet to being heavily involved at every stage of the design process"
While Horner typically dedicates one to three days a week to Bene, signature designers' involvement can vary dramatically, as Jonathan Reed-Lethbridge of Ergonom, part of the Unifor group explains: "Designers come in at very different levels, from the cliché of an idea jotted on the back of a cigarette packet to being heavily involved at every stage of the design process. Unifor has worked with designers such as Richard Sapper, Michele de Lucchi and Aldo Rossi, but always three quarters of the design development is done in-house."
Many of those questioned believe it's a matter of the right person for the right manufacturer. John Fogarty, design director for storage specialists Bisley, is among them. He explains: "It's got to be a marriage of minds between the designer and the engineering detail of the product, so that the original design doesn't get diluted. I feel strongly that there's place for both in-house and signature designers with mutual trust coming out of experience."
Another consideration manufacturers need to address is that by taking a risk with a signature designer, you're never going to please all of the people all of the time. Joyn, for instance, the Bouroullec brothers' bench system, inspired by their grandmother's kitchen table and launched by Vitra in 2002, has practically become a contemporary workplace staple.
Flicking through past copies of onoffice, it can be spotted everywhere from Freud Communications London base (November 08), fashion emporium Reiss's headquarters (October 08), and the Penguin offices on the Strand (February 08). On the other hand, signature products such as Philippe Starck's BaObab desk – a boomerang shaped polyethylene number, also for Vitra, does not enjoy the same ubiquity. Karim Rashid's work also polarises opinion, and not everyone is going to want the bold shapes and loud colours of the Pinker collection. It's a calculated risk.
But, finally, what do those who are involved in specifying furniture think of the signature designers' involvement in the office sector? Tim Murray, director with former onoffice cover stars Moxon strikes a distinct note of caution: "While designer names carry a degree of kudos and will often finish off a space with the sophistication that the client requires, I think specifiers have become lazy and rely too much on the name instead of the product. Manufacturing and design quality coupled with the items' compliance to the project brief should ultimately be the overriding factors.
"Also, don't assume that designer names translate into quality service from the supplier. I have been caught out before when main factories are unable to cope and orders are sub-contracted out to smaller local workshops that are unable to deliver on the quality of finish or construction."
Joe Morris, director of Duggan Morris, which has completed workplace projects including the offices of Browns design agency in London Bridge, also has his reservations: "A brand name bringing in a signature designer to reposition itself is a little like setting off an incendiary device, those near it can't escape and the repercussions can be wide-ranging. These products often have inflated price tags, but if nothing else, it gives the specifier the opportunity to reacquaint themselves with the back catalogue of quality in-house designed products."
Meanwhile Steve McConnell, project director with Cartwright Pickard, which is currently working on projects including council offices in Doncaster and Wakefield, says that for clients who are keen to be seen to be prudent with public funds, placing an Eames chair in the reception wouldn't be right, but "we are trying to drive change in the sector, so we would maybe look at products by the growing crop of young British designers."
Office furniture manufacturers thinking of employing the services of a signature designers take note: "Ultimately," he adds "it's about value for money: a good quality product that still looks good ten years later."