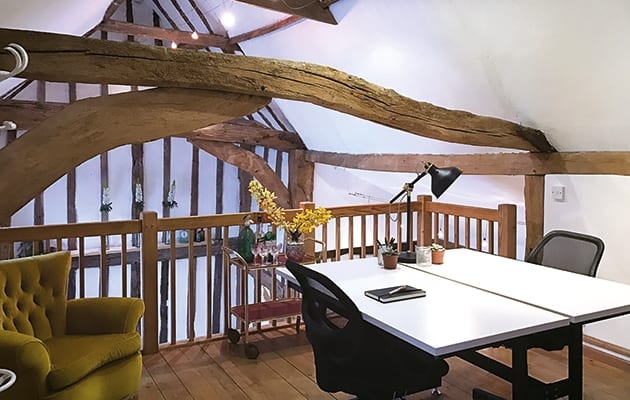 |||
The rise of collaborative working has become a notable social trend as companies divest themselves of offices, leaving employees to work from home. An estimated 3.8 million people were classified as working from home in the UK in 2016. Co-working spaces have jumped in to fill the gap, with more than 900 opening in London over the past few years.
What is less obvious is the extent of homeworking in rural areas. Out of all UK employees, 34% of those working in rural hamlets were homeworking, compared to 12.6% in cities. Not surprisingly, rural co-working spaces are opening around the country.
But are they just an urban import? Not quite. While urban co-working spaces aim for a hipster vibe, rural co-working often takes its cue from the rural vernacular.
An example is the Common Room, on the High Street in Newport, a village in Essex. It's smaller than co-working spaces in cities, hosting just eight permanent spaces plus flexible hotdesking, but it is every bit as in tunewith the ethos of social connection.
Holiday home company founder Emma Tumelty, who founded the Common Room with Karen Tait, a virtual assistant, saw a gap in the market after having something of a personal crisis: "I moved out from London seven years ago, and I remember my first commute back into London. I was eight months pregnant, walking along the road at 7am. It was pitch black and I didn't have a torch, and I just started sobbing. I couldn't see a thing – I felt so isolated and disconnected."
And she wasn't alone. "We were meeting loads of people who were experiencing the same thing. So we said we should get a space where we could develop collaborative working and help each other."
But they had trouble finding a place they liked: "Everything we saw was a serviced office or a white box, even in this area. And then we came across this space, and we both thought: it needs a lot of work, but let's do it. We didn't want a functional space. When people come into this building now, they say 'what a lovely space'. A beautiful space can uplift, relax and spark people."
Walking into the Common Room is like experiencing a sense of rural history, thoughtful design and comfort. It is housed in a historic barn, and when the partners first looked at the place, says Tumelty, "there was a lot of ivy growing through the ceiling".
Outside and in, it is all wooden oak beams and high, rickety ceilings. There is a central shared area with high benches for hotdesking and low desks for permanent residents: "We wanted different heights of desks to take advantage of the tall ceiling height in the main area," says Tumelty. With a nod to the ethos of sociability rather than profit, there is also a comfortable sofa area.
There are more desks in a small mezzanine space, while up a few steps from the central area is a meeting area where Tumelty and Tait also host monthly supper clubs. In the basement is a shared kitchen, and the Common Room offers free drinks and even cake on Mondays.
While the building feels traditional and rustic, the decor would be familiar to any hipster city-dweller. Tumelty and Tait favoured reclaimed furniture and vintage decorative items sourced by Kate Fletcher of Vintage Style Hire in nearby Thaxted – "though we do have some modern pieces," says Tumelty. The rural is brought in through foliage, plants and floral displays. Claire Ashman Smith from Waterbaby Flowers helps with the styling for the supper club. And they've even brought in rural tools, such as spindles, to style the space.
People often associate the rural with retrograde attitudes to the environment. But the new rural is all about embracing eco-awareness. The Common Room sees its mission as to conserve and recycle. Providing a local space to work, argues Tumelty, cuts down on car journeys and the daily commute. Reclaiming is central to the ethos too. The space has all the eco practices you might expect – recycling coffee pods, paper, and other disposables. And, to counter the problems of heat generation and loss from this historic but heat-leaking building, they want to install a glass wall at the back to let in more natural light and heat.
Tumelty and Tait have no plans to expand – the purpose was always to find a collaborative home for their own businesses. But the Common Room has done much to network them and other, and it offers new community in what was a quiet dormitory commuter village. As trends towards homeworking and the rural escape show no signs of slowing down, rural co-working might just be the solution to reinvigorate the countryside.
Subscribe to OnOffice here to have inspirational stories like these delivered to your doorstep!
Common Room, a co-working space in the Essex countryside offers a place to escape the isolation of rural homeworking and to network in an attractive historic setting