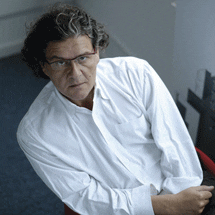 Michel Mossessian
If I saw Michel Mossessian pop up on Match of the Day, I wouldn't be at all surprised. He has the air of a Continental football manager: the self assurance of Mourinho, the contemplative strategising of Wenger, and if new England boss Fabio Capello grew his hair a bit longer, you could easily cast him and Mossessian as cousins.
This Parisian-born architect's way of working does not revolve around a game of two halves however, but rather a design process of black and white. During the interview, I'm presented with various diagrams to illustrate the figurative black box – which refers to Mossessian's desire for a sustainable urban model, responsive to the balance between economic performance, environmental impacts and social needs.
I'm later shown the literal version – a meeting space surrounded by black storage units at the far end of his office, which is covered with large white sheets full of sketches. These ideas are then worked up by Mossessian's team, who are all sat at desks that make up the "white space" – and, to continue the analogy even further, they all seem to be immaculately dressed in shades of grey. He takes pride in the international make up of his team – whose origins range from Sweden to Germany to the USA – unsurprising given that his own career trajectory has taken him across continents and back again.
Having studied in Paris and New York and subsequently completing a masters in design at Harvard, Mossessian worked on several international projects with architects Skidmore, Owens and Merrill – including Exchange House and 1 Fleet Place in London as well as the NATO headquarters in Brussels and the AXA Tower in Paris. He describes London, his home now for several years, as "the perfect compromise between New York and Paris".
Mossessian perceives architecture on a very human, almost anthropological level. He talks about the difference between eastern and western European standards regarding daylight in offices, and how the Spanish rural population has evolved from subsistence agriculture to a tourist economy to a service industry – referring to his work in the 1990s on the ParcBIT masterplan in Majorca – and how he hopes his Hoxton base does not fall victim to further gentrification.
As we turn to discussing Paddington Basin, where one of his latest projects is currently on site and is set for completion in September next year, he begins provocatively with "It was a pile of shit!" – referring to the area's former use as a literal dumping ground when horses were the primary mode of London transport. Several centuries on and the area in Merchant Square is a model of mixed use, with a covetable waterside location. "When I think of a building, I reflect on the identity of the urban architecture and the union of the project – you don't just add volume to a piece."
Terry Farrell's The Point and Richard Rogers' Waterside House – now Marks and Spencer's headquarters – are the site's immediate neighbours. "I continued the legacy of Farrell and Rogers and opened up the opportunities further north of the development, influencing what could be there after the building is built," explains Mossessian. In contrast to this more future-facing approach, he speaks of a decade-old office building he went to see in east London, which, despite its state-of-the-art mechanics, lacks the potential for the current client to keep or lease the building. "You have to have a sense of view, a sense of place and a sense of change through time, not just at one point in time but ten years afterwards."
At Merchant Square, an awkward rhombus-shaped plot has been converted into three triangles: two buildings broken up with a central atrium space clad in fretted glass, which appears as a deep red hue from the outside, black dots on the reverse and as patterns the further away you get, without tinting incoming natural light. This colour is how the project, entitled Carmine, gets its name. Each of the triangles has a different external surface treatment, not only to aid orientation, but also to produce the optimum level of protection from the sun. The opacity provides a level of privacy and protection for the users from the outside world.
Mossessian has a commercial sense that I must say I found both surprising and refreshing. "The agents are trying to attract clients from the West End," he tells me, "but these people don't want to feel enclosed in a hermetically sealed box – that's why we added outdoor balconies. It's also another way of knowing where you are in the building."
The 25,000sq m of lettable office space also offers floorplates of around 2,000sq m, again specifically for this West End market. Mossessian's longstanding interest in sustainability also proved a good fit for the project. "Every six months, there's a change of desire – people are getting more and more conscious of sustainability. We anticipated that, so before we started we were achieving above what Part L demanded," he says. The building is therefore designed with energy-saving services in place and glass is more sparingly employed as an external surface, but textures and patterns are more varied.
It's not all wall-to-wall worthiness though. There will still be the architectural flourishes such as the double-height atrium space with a partition of diamond shapes in front of the lifts, which create a "wave" pattern with the momentum of the lifts' movements.
"I believe designing is problem solving," he says. "It's a collaborative approach, it's not about sitting in your ivory tower. You can't go against what the agents are requiring. I also had very successful meetings with Westminster City Council."
Almost like a reverse Tardis effect, the architecture of the Carmine project aims to reduce the appearance of the scale, "to realise it on a human scale as well as a city scale", and fulfill Mossessian's architect-cum-anthropologist view that today's offices should create "new relationships between working, playing and living".