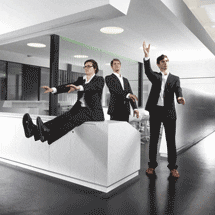 Once upon a time there were three architecture students: Karim El-Ishmawi, Chris Middleton and Martin Jacobs. They met at university in Berlin and created a label called Kinzo. They stuck their brand name on everything they did (literally, with a sticker), including club nights, short films, fit outs and costumes, until one day the big media mogul Axel Springer came along and asked them to fit out a new start-up's office.
They designed a workplace complete with furniture that was futuristic and monolithic. Soon their design was rolled out over 400 workstations and their custom-made desk design went into production. To seal it off they won the Red Dot Award 2008 for best office furniture and now look set to live happily ever after, designing what they want as they want.
It sounds like a young designer's fairytale, and the great thing is that it's all true. I flew out to Berlin to meet up with the Kinzo trio to investigate the story of their meteoric rise and get a glimpse of what we can expect to see from them at Orgatec 2008.
Their new desk range, Kinzo Air, stands out through its sculptural quality, a trend we saw a lot of at Milan's office show this year – such as Karim Rashid's design for Zerodisegno and Ahrend's wing-shaped desk. When entering Kinzo's studio, the sloping surfaces that are so characteristic of the Air range are echoed in their workspace, especially the kitchen. "Yes, we designed the kitchen with a spacecraft in mind, although it looks more like an ATM, just without the cash flow," El-Ishmawi jokes.
Judging by the props and furniture in their office –such as an old Japanese television shaped like an astronaut's helmet, or the original seating from Berlin's Tegel airport (pre-unification era) – the space/aircraft leitmotif of their current design has been running through their work ever since they first started working together back in 1998. Officially, Kinzo Architecture was founded in 2003, but the collaboration between El-Ishmawi, Middleton and Jacobs goes back to the days when Berlin was "still an adventure park for a new generation", as El-Ishmawi puts it, and the name Kinzo was always their trademark.
There is something distinctly Berlin about Kinzo's story, how the "anything goes" attitude of that period just after the city reclaimed its status as Germany's reunified capital led a group of students from party projects to the prestigious commission by Axel Springer AG and the resulting office furniture range.
To think it all began with a club, the Kinzo club, which was essentially a party night the three guys set up in an occupied cellar when Berlin was still full of empty buildings, and illegal parties happened on different weekdays to evade the authorities. "Our night was Wednesdays," says Middleton. Kinzo designed everything from the club's interior to the music collection (electro and big beats) and the notorious Kinzo Cooler cocktail.
After two years Kinzo had a mailing list that consisted of all the design and architecture talents that had flocked to the German capital in search of a flash of new European, East-meets-West creativity. Their studies were soon coming to an end and they realised they needed a workspace to organise the parties from.
Above what they call a "modern-age Hell's Gate", a typically garish Eastern bloc shopping mall with the attending sense of a time warp about it, they found a space overlooking Berlin's iconic Alex (the tower on the main square, Alexanderplatz). Soon friends were asking them to fit out odd shops and spaces, such as a candy shop or a pharmacy in Pankow, north Berlin. Word about their "do it yourself" approach – supported by Jacobs' skills as a trained carpenter – soon spread, and they found themselves consulting property developers in suits in the morning, then changing into builders clothes for the onsite construction work, and later the same day throwing on their party pants for self-organised launch events, all on the same project.
"Whatever we did, we'd put the Kinzo logo on. We always saw it as kind of a seal of approval," says El-Ishmawi. Competitions and short films about the "everyday hero" (a popular post-reunification theme) followed – essentially Kinzo did whatever they were interested in. "But it took us five years before we started to make money," Jacobs recalls. The big shift came with the commission to do the office fit out for two offspring companies of Germany's biggest publisher, Axel Springer (who publishes Bild, Europe's best-selling tabloid). "Due to the new start-ups being digital media firms, we went for a futuristic interior, everything coming as if out of one mould, to support communication and a modern workflow," El-Ishmawi explains. Aesthetically they went for a sci-fi look, all in white, with shapes echoing spaceships and tilted surfaces that seemed to almost float. Desks were designed to flow into the space and facilitate a journalist's daily work rhythm.
It was about encouraging people to move and break down static, territorial working patterns. That's why they placed a kitchen in the middle of the open-plan office. "We generally think workplace designers should recognise the kitchen as a central part of a well-functioning office," says Jacobs. "Why does it have to be hidden away in a corner?"
Kinzo count themselves lucky because the client gave them an open brief. "They wanted a fresh new look but didn't quite know what they needed in terms of space allocation, even the number of people we needed to accommodate was left open, so it had to be a flexible space," says El-Ishmawi. "In effect, we decided to build a UFO into a building. They love the result, and the CEO, Dr Mathias Döpfner, said, 'It almost looks like the inside of an iPod'." Indeed, the white monolithic interior, with its white sloping walls and angled surfaces, creates a contemporary space that visually echoes Apple design features. No coincidence then, Jacobs is sure, that the team has switched from PC to Mac since moving into the office.
This custom-made interior for Axel Springer Digital TV (ASDTV) was Kinzo's biggest project to date, but the best was yet to come. The Kinzo Air table that heralded their breakthrough into product design was originally designed as a one-off piece for the joint CEOs of ASDTV. "It was always meant to sit within the context of the whole office design, as part of the visual landscape," El-Ishmawi recalls. During the opening night – which once again Kinzo organised and conceptualised by designing all the party accessories, such as Captain Future-style costumes – Dr Döpfner walked up to the desk and said, "I want to see that table in my office first thing tomorrow." The company as a whole had recently moved from Hamburg to Berlin and the entire print department of the Bild newspaper, Germany's best-selling tabloid newspaper, was due an office redesign.
So without a moment's hesitation the three designers got to work and spent the whole night dismantling the table and re-assembling it in the chairman's office, as it was the only model they had. Against all the heavyweight competition, such as Vitra and Sellex, Kinzo went on to win the commission to roll out the Kinzo Air desk across the company's 500 employees.
"The challenge was that Springer wanted all the desks within two months," Middleton says. "Due to the prestigious nature of the project, many European office furniture manufacturers came to take a look at our prototype to see if it could be done – we're talking Vitra, Samas, Sedus – but none of them could do it within the given time frame and budget." Luckily they found a small local workshop with 20 people that took the project on.
"The advantage of this solution is that we keep all the rights and royalties for the design, and don't need to bend to the manufacturer's will," El-Ishmawi adds. "We don't need to compromise our design in any way and we stay linked to the product's further development."
Of course, Kinzo have had to make some modifications to the original design. "For instance Springer wanted desking pods to fit three people (as opposed to two as originally planned), so after long debates we came up with an origami solution – folding one side down to dock a further desk surface onto it," explains El-Ishmawi.
Apart from this office project, Kinzo have since fitted out the Lumen lounge bar in Chicago, a cafe in Berlin and the entrance hall of the Friedrichstrasse complex. Their next big plan is to develop the desk design into a full range of office furniture products.
Undoubtedly, Kinzo capture the style of their time, and the success and boldness of their interiors will soon see them ranked alongside the likes of their German peers, Graft. But Kinzo have big plans to go international and already have a partner, Ken Schönberg, who is organising projects for them in Seoul. In the way that Berlin's Love Parade initially advocated the free-spirit of its generation – party hard and love each other – but quickly mushroomed from 1,200 people in the late 1990s to over one million ravers within three years, Berlin's design scene has shifted from creative underground to hard commerce and mass production. But in a capitalist world, one needs to find ways of making money to survive. Kinzo, with their sci-fi fantasy design, are living proof that it's possible to achieve business success without compromising and dulling down the imagination in pursuit of a buck.