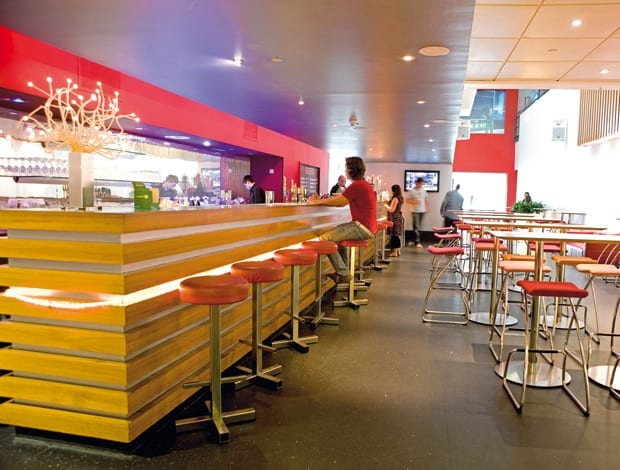 Ogilvy's 100-plus capacity bar in Canary Wharf|Freud Communications' multi-purpose club lounge area with a bar element|The bar at Shepherds Bush-based Shepherds Studios|The work bar at Battersea Studios in the heart of Battersea|The Blagclub at Canalot Studios|The Gallery in the Pall Mall Deposit|Sirena's Cafe Restaurant in Kennington||
Workplace bars at media and ad agencies helps employees relax, have fun – and even do a bit of business, writes Rachel Calton
While some companies associate alcohol in the workplace with accidents and absenteeism, others openly embrace the crossover between work life and bar life, and relish employees enjoying a pint together without leaving the building. For most ad agencies of a certain size, such as Saatchi & Saatchi, Grey Group and JWT, it's par for the course to have a workplace bar," explains Kevin Whitlock, communications manager for advertising agency Ogilvy's UK arm. "The BBC Club at Television Centre is a glorified work bar. A lot of the big newspapers used to have the same."
Ogilvy has a 100-plus capacity bar – subsidised by the company – at its office in Canary Wharf, where more than 800 of its employees are based.
"It's a welcome perk when you consider the price of drinking in Canary Wharf," says Whitlock. "And it's somewhere for everyone to meet up that isn't dominated by bankers. You could go for weeks on end without seeing someone in a building this big if it wasn't for the bar. Earlier in the week, the space serves as a place for everyone to decompress, unwind and avoid rush hour on the tube. But on Thursday and Friday evenings it's packed well into the night.
"In a people-based communications business where you work hard together during the day, it's important to have somewhere to unwind together at the end of it," he adds. "It's a morale booster. And as well as having a social brief, it's a great leveller. Everyone from the chairman down goes there. In past decades there would have been a directors' bar and a canteen for juniors.
"Even though ad agencies have a complex management structure, they are informal places to work. There's no longer that old-fashioned divide between work and normal life. BlackBerrys are a sign of that. One is always intruding on the other." Staffed by Couture, the agency that runs Pinewood Studios' catering, the Ogilvy bar serves draught beers, bottled beers, wines, spirits, and home-made pub grub – as well as hosting wine-tasting evenings, regular gigs and other events. And there is a jukebox and table football for employees to enjoy. "There was a nasty moment when we almost got a karaoke machine," confides Whitlock.
When Shed design agency was commissioned to oversee the plans for Freud Communications' Soho offices two years ago, a multi-purpose club lounge area with a bar element was part of the brief.
"The staff had already made a pub on the corner in Soho their local," Shed designer Daniel Dalziel, explains. "They wanted something for client and staff events. No money transactions take place, but one Friday each month different teams within the company are given ownership of the space to lay on drinks, perhaps as an extension of a screening night at the cinema on the floor below."
The mirror-backed bar, with fridges and ice well, has sliding doors so it can be hidden away or opened up as a backdrop to the lounge. "On showcase nights, the fridges are stocked and the place fills out," Dalziel adds.
Other firms nearby, such as communications agency Elvis and advertising agency Inferno, have bar spaces where, after 6pm, staff have the ingredients to mix themselves a cocktail or grab a beer, usually before heading into Soho.
A work bar is not right for every company – for Transport for London to ban drinking on the Tube and serve drinks in its HQ might seem inappropriate – and it remains a phenomenon that is much more common in a media and PR.
"In a people-based communications business where you work hard together during the day, it's important to have somewhere to unwind together at the end of it"
There are a few exceptions, such as built-asset consultancy EC Harris, whose bar is staffed by partners in the firm on Thursday and Friday evenings, or drink specialists Diageo who, true to brand, have high-spec bar spaces in both London offices, with in-house spirits mixed by expert bartenders.
Sony BMG boasts a large events and drinks space for showcasing new talent. And the most infamous of work drinking establishments, the bars and restaurants at the Houses of Parliament, have been around as shoulder-rubbing venues since the 18th century.
But it is a broadening trend, especially in mixed-tenancy buildings, according to Gary Evans, creative director of Gravity Design, who has fitted out bars at a number of workspaces, including Shepherds Bush-based Shepherds Studios, Westbourne Studios off Portobello Road and Battersea Studios in the heart of Battersea.
"The workspace is changing," Evans claims. "People are doing what they do because they enjoy doing it, and buildings need to become more enjoyable places to reflect that.
"You can put an infrastructure in place to make buildings more liked, including bespoke signage and environmental graphics, but a bar glues it all together, making it easier to let," he adds. "It's nothing new – ad agencies have a history of creating edgy, creative spaces for people to work and relax in. The concept is filtering through. In less well-served areas of London, it is important for businesses to have their own after-work environment."
Mark Freeman, head of Freeman Group, and letting agent for Shepherds Studios, has a strategy for letting a building with a bar.
"We have smaller offices on the ground floor, and as you go higher the companies get bigger," he explains. "This means that there are multiple companies next to the bar and cafe, keeping the space animated.
"Nice wooden-floored office space with an informal bar and a mix of brands communing means the building becomes much more than a sum of its parts. There is also the big fish, little fish effect," he adds, "where service providers will want to move into buildings that house larger brands, and ensure they bump into them. London is full of sterile, isolated, speculative office spaces. A bar creates a more lively offering."
At Shepherds' bar, on any given night, you may find ladies from FOX Networks flirting with Endemol programme producers, and Gü gourmet desserts experts chewing the fat with the editorial team from the National Geographic – with all these companies occupying offices in the building.
"Managing a bar in a workplace is different from running a regular pub, in all sorts of subtle ways, as every customer you have is a regular," bar owner and manager Tom Irvine explains. "Many office politics get played out here. But people come here to let their hair down and let off steam together. The average age in the building is late twenties to early thirties. It's a very switched-on crowd, and there's always a good atmosphere.
"We run comedy nights in the week, and staff often come to us to host fundraisers or screenings of something they've worked on. A lot of people who move to other jobs miss the place. The social aspect of the building all hinges around the bar and on Friday nights we are always full, even though people have been in the building all week.
"One of the challenges is that you have to find your weekly trade in the building, and you can't alienate any of the people who work here," he adds. "We tread a line somewhere between gastropub and Shoreditch hang-out."
Workspace Group manages a large portfolio of mixed-tenancy buildings that each have a bar at their heart. They include The Blagclub at Canalot Studios, The Gallery in the Pall Mall Deposit and, south of the river in Canterbury Court, Kennington, Sirena's Cafe Restaurant.
"They are open to the public but largely enjoy healthy custom from businesses in the building and their clients and visitors," explains Workspace operations manager Chris Pieroni. "They are thriving places and popular social venues in their own right on Friday and Saturday evenings." You've got to say cheers to that.