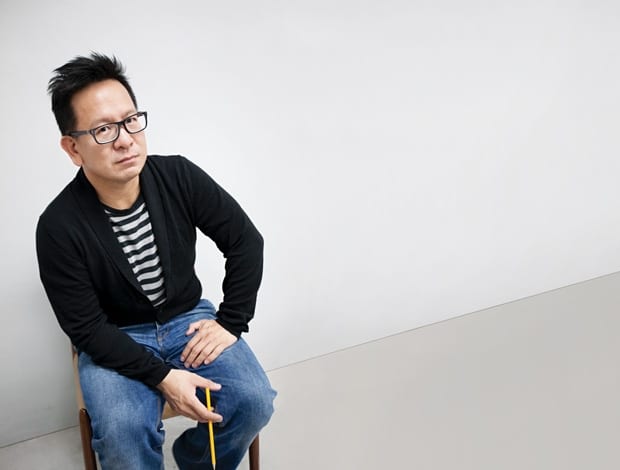 Singapore's rising star: Nathan Yong|Werk desk with glass top, walnut trestle legs and organisation box for laptops and cable management. Folks, 2009|Paperchase magazine rack. Grafunkt, 2010|Wonders storage unit, available in solid American walnut or oak. Wood edging with veneered MDF. Folks, 2009|Marcello chair for Ligne Roset, 2010|Cornerblocks display shelves/screen, Grafunkt, 2010|Primary desk available in solid American walnut or oak. Folks, 2009|Tweety chair, Grafunkt, 2010|Bolle stool, Living Divani, 2010||
Singapore's rising star talks to onoffice about his new label, Folks, and why nature is never far from his work
Nathan Yong grew up in the east of Singapore in a wooden hut by the sea. "I remember being surrounded with trees and beach, pretty close to nature," says the designer. "Me and my brother would wait for low tides so that we could pick up treasures from the shore. I made my own toys using whatever material I could find."
Years later, Yong seems to take a similar approach to furniture design, particularly his pieces for the domestic office that have garnered him attention in Singapore and on the international market.
"In Singapore some materials are hard to come by, so I end up working mostly with wood and steel, which is fine, but I'd love to use marbles and leather too," he says.
It's a blessing perhaps that Yong can't easily get his hands on the latter because, in part, the poetry of his tables, desks, shelves and chairs is down to what they're made of. Yong's collections are shaped by his experiences of Singapore as a place: the natural world of his childhood and the congested aspect of city living are evident in the materials he's drawn to and the scale of his pieces.
"My work is a reflection of my yearning for nature in a concrete jungle like Singapore. Spaces are smaller and people are busier," he explains. "It is about designing with dual functions and the reduction of superfluous details that might be tiresome in the busy, urban life." He feels that design is about making objects that offer comfort and improve how people live. "I am inspired by simple, visual memories of everyday life, and I like to pare it down to achieve lightness," he says.
As a designer, Yong, born in 1971, has his tentacles stretched in all directions in Singapore and beyond.
He first trail-blazed the Singapore design scene with Air Division, the company he founded with three colleagues in 1999 and for which he did all of the designs including the award-winning Liner sofa last year.
"We were the first company to sell to high-end chains like Ligne Roset. We basically changed the furniture landscape of Singapore," he says. "Before us, no one touched design and would never aspire to selling to a high-end furniture company."
"My work is a reflection of a yearning for nature in a concrete jungle like Singapore"
For Yong, designing furniture is about sharing an ideal. "I believe that a product has to serve a function and contribute to society as a whole," he says. "Good design objects need to play a supporting role rather than a lead role in a space, so that it allows the user to be freed from worldly matters."
Yong has since parted ways with Air Division to focus on other pursuits: presently he is design director for Grafunkt, an "up and coming" local company that will focus on Asian designers and products.
He has also launched a consultancy, Nathan Yong Design, and his own furniture label, Folks, which produces pieces that are simple and quiet, definitely beautiful, and the opposite of arrogant. Yong describes them as a homage to Asian furniture craft.
"The designs are craft-led rather than design-led, so it's a very honest and humble approach with wood and I think it shows in my final designs," he says.
There is also a democratic approach to Yong's work – he believes that users should have the chance to interpret and interact with furniture.
For example, the Divide shelf in the Folks collection can be used as a screen, for filing or as a record shelf. Likewise the Werk table, with its trestle legs and glass top, is meant to be either a dining table or a desk, depending on the inclusion of a cable organisation box.
"Again, that is probably the result of small urban spaces pushing me to design furniture that serves in any way that anyone likes," he says.
Beyond the Singapore market and a production base in Asia, Yong is securing steady work with some international heavy-hitters. He designed the Hemming writing desk for Belgian company Ethnicraft, the Section shelf for Opinion Ciatti, the Dieter table fan for Skanno and a number of pieces for Living Divani and Ligne Roset.
"We strive to look outwards rather than inwards when looking for inspiration and that is why I believe the work of Singapore designers appeals to international markets," says Yong.
Most recently he introduced a stool for Living Divani, an extension of the much applauded Bolle coffee table from last year. Marcello, a chair for Ligne Roset made of solid walnut that has a distinct vintage feel, was perhaps a nod to the modern classics from the early to mid 20th century that inspired Yong while he studied design at the University of New South Wales.
"I think at times like these, with the bad economy, people will tend to go back to the past to seek some solace," he muses.
The Marcello chair's debut in Milan had rave reviews, which only added to the buzz around the designer's collection, a clear stand-out in the SaloneSatellite. Ligne Roset snapped up Yong's magazine side table, Paperchase, and American manufacturer Design Within Reach will include the Primary desk and Line TV console from the Folks range in its 2011 collection.
There is still a long way to go in terms of securing design work from international clients though. Yong says he would love to do more work for manufacturers doing good research – one of his most memorable collaborations was with Magis in 2008.
"I thought Magis would be a big company with big buildings and shiny floors and hundreds of people running around, but it wasn't like that," he says. "They showed me how being a small, family-run business can be a global brand just with consistency in producing strong works. I was humbled by the experience."
In the future, Yong will continue to design for the domestic sphere (lighting and bedroom collections are in the works), although he's got his eye on entering the contract office furniture market.
"I would always ask the question: why do office systems have to look like offices? Can the office environment be more warm and friendly? I would love to explore those issues so that we feel better going to work every day."