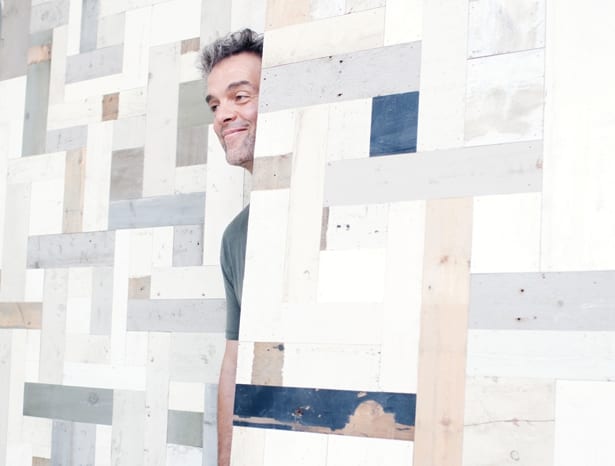 |||
For someone who's the subject of a retrospective, Dutch designer Piet Hein Eek is not one to look to the past for his future success. The Eindhoven-based designer and entrepreneur was the focus of a major exhibition during this year's London Design Festival at Shoreditch stalwart SCP. The show, which took over the first floor of the Curtain Road design emporium, included a wealth of his work, such as his 1990 Design Academy Eindhoven graduation project Scrapwood Creations.
"It's selling better than ever," he tells me down the line from Holland. Rather than a case of dusting down the archives, this is a living, working collection of products or, as the SCP blurb would have it, "a story of actions not words". Eek is relatively unusual in that he has a large-scale manufacturing facility to make his designs and the show is all about that combination of traditional woodworking skills and craft skills and how they can be industrialised to produce designs in great numbers.
Sculptural use of scrap wood at Eek's Eindhoven base
The Piet Hein Eek in-house production facility in Eindhoven
Not that Eek wants to be pigeonholed for just one material, as he's keen to point out: "I have some clients for special commissions who understand that wood is not all we do." On the commissions section of his website, there are projects as wide ranging as watches for Amsterdam-based firm Leff, a school in the Netherlands and a private home in Rotterdam. One of the most recent of these projects came from a Dutch banker in London, where Eek's team made his kitchen, and he has another project in the UK capital, which came as a recommendation from this original client.
"From the beginning I wanted to have my own company," he explains. It could all have ended up so differently. Tempted by studying economics, Eek found that in the end design won out instead, but the path to creative brilliance hasn't always been a smooth one. Given a painting assignment to create a self-portrait, he laboured over it but ended up scrapping it – having perfected one corner, but unable to make the rest work. This, however, taught him the lesson of moving on from a project at a certain point: "I learned from that moment that there's got to be a natural process. Never put that much time into a problem."
The ceramic Single Template Lamp used as a desk lamp
The Scrapwood stool shows Eek's focus on reusing materials
After finishing his studies at Design Academy Eindhoven, Eek decided to stay in the city. "Nobody else stayed. Everybody went to Amsterdam or Rotterdam. Everybody says you need to go to the city to be inspired but even if I'm in the forest or whatever, I can find inspiration. We just started our company and found a cheap building," he says.
What made things easier when building up a design business was the area's industrial history, "Amsterdam is focused on communication – and you don't make a lot of money by talking," he jokes. "Whereas Eindhoven is a production area – it's where things get made. It's like the German model of high-end manufacture. When [Dutch technology company] Philips left town, there were lots of facilities but, instead of dying, the area rose up and designers were able to provide work. Whereas Amsterdam is full, Eindhoven is always on the move." That's not to say it's been a walk in the park. Eek freely admits the challenges that any entrepreneur faces in keeping a business going.
Beam cupboard resembles a pile of wood on a brass plinth
The ceramic lamps are based on one simple design
Today the Piet Hein Eek empire encompasses a large working factory, showroom, restaurant,store and gallery and, though he's modest enough not to say so himself, he has made a valuable contribution to the city's cultural collateral – something Sheridan Coakley, founder of SCP, alludes to as well (see box, below). There is some synergy between the two: both are pioneers in the areas in which they set up. Coakley founded SCP in 1985, a time when Shoreditch was less pulled pork pop-up central and a far more rough and ready area of east London. There's some rather lovely imagery of the two of them in a Simcar rally car, of which Eek just happens to have a few lying around.
A whole raft of objects will be transported to SCP's space for the occasion including, shipping and space allowing, some rather striking looking busts, measuring between 2-3m high. "They were about making art from rubbish and increasing in value a lot." While managing not to sound preachy, Eek is passionate about reusing already existing resources rather than starting anew with raw materials.
Piet Hein Eek's Waste Waste reuses 40 x 40mm squares of discarded wood
Piet Hein Eek furniture on show at Milan Design Week
"The focus shouldn't be on consumption but on what the world can already provide," he says. In terms of OnOffice, one of the most relatable projects is the ceramic Single Template Lamp. Eek says he wanted to produce something that used the ceramic production set up he had in Eindhoven and create something that was "simple, yet there are possibilities for variety and the outlay is not too big – it's just one mould". This versatile product can be used as an uplighter or downlighter, a bedside lamp or a desk lamp. And what constitutes Piet Hein Eek's own desk? "I have one desk I found in a fleamarket 20 years ago and another that is five years old."
One of the many things that Coakley praises Eek for is his ability to match design innovation with commercial nous – something evident not just in the breadth of this show in London and his Eindhoven base but also during shows like Milan Design Week, where his presence in the Rossana Orlandi always draws a crowd.
TL Mesh Lamp in punched brass revisits the imagery of squares
But he insists that this combination of creative and commercial clout should not be viewed as unusual in 2016. "Gone are the days of the 1970s and 80s where if you're a creative and you get rich you're not really a creative," he says. "It's possible to have both. I am very process orientated and pragmatic; I am creative and commercial. I am looking and thinking, and it's always about focusing on what's there and what's available."
In keeping with the theme of repurposing, one of Eek's other current passions is renovating a holiday home in the Dordogne, which he started eight years ago – "When I was a child we went around England looking at castles. Because of this fascination with castles, I always wanted to buy a ruin."
He describes, as if on Grand Designs, how he thought this would be quite a simple, straightforward project but "this couldn't be further from the truth, with construction work, regulations, distance, business development and human circumstance – all ended up having an influence". Adding: "It would been easier to make a documentary about the whole thing, which would have attracted a whole flock of loyal viewers." But central to the project was this idea of taking what's there and making something new: "It keeps the history and at the same time, creates a future."
Which leads us neatly on to the retrospective show's title: Piet Hein Eek and SCP Forever. It would, we're told, explore the idea of past and future icons and how an icon is made, whether it's the design, the idea, how it's made or how it functions. With Eek's development of a manufacturing facility, his business acumen – that passion for economics came in handy, after all – and his creative flair, it seems that icon status sits pretty well on him.
Sheridan Coakley, founder of SCP
I remember when he first came on to the scene. What reminded me how good he was, was Milan around four years ago where there was a Design Academy Eindhoven show of their alumni. One of the best things about his work is that it is European made. He was a bit of a maverick in that he wasn't so much a designer, he liked the manufacturing process too – he even collects machines.
He was very much part of how Eindhoven has been reborn. It's now a destination – he has a restaurant, you can buy furniture. The value is in the labour not the materials; he often uses scrap materials and he'll pay a better price than reclamation yards. It still has a DIY look to it.
He is very talented and credit to him, for he has a knack as a businessman as well. The show will feature the breadth of his work from timber sideboards to ceramic lighting and fold vases. Some of his products he has licensed too, such as watches, clocks, sunglasses, tea towels and chopping boards.
But he maintains his integrity in whatever he does. His products revolve around a combination of craft and engineering on a very interesting scale.
The designer spoke to us in the lead up to a London Design Festival retrospective of his work