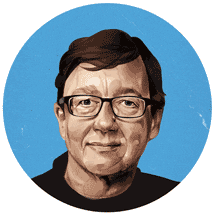 Sebastian Conran has design blood running through his veins. Son of Britain's design entrepreneur Terence Conran, he is director of the product and graphic design studio at Conran & Partners. He founded Sebastian Conran Associates, a product and brand development consultancy, in 1986, after working as head of product design for Mothercare. In 1992, he started a separate partnership with Tom Dixon, only to merge the SCA studio with the Conran Group to form Conran & Partners in 1999. Conran has written many books, judged numerous competitions, won even more awards and is an active member of several design-related bodies. He is currently working on 33 design projects ranging from tableware and bathrooms to hotels and luxury yacht interiors.
Click here to read our interview with Sebastian >
Linda Morey Smith is managing director of award-winning interior design practice MoreySmith, which she founded in 1993, specialising in workplace consultancy (see cover story, onoffice 03). Her clients include Sony BMG, EMI, Nokia and Arup. Morey Smith is celebrated in the industry for her use of colour and material that soften the workplace. Ever since her practice's fit-out of the EMI HQ off High Street Kensington, Morey Smith has been leading the contemporary office fit-out movement from the front.
Click here to read our interview with Linda >
Ben Kelly studied at London's Royal College of Art and founded Ben Kelly Design in 1977. From the start his projects challenged common perceptions of space, such as the Howie store in Covent Garden and the famous Hacienda nightclub in Manchester. Other projects range from museums and exhibitions to offices and residential design. Kelly's work has been consistently creative and described as being "a mix of the poetic and pragmatic". His current projects include Gymbox in Cornhill, Stubbs Mill in Manchester and the Public, West Bromwich.