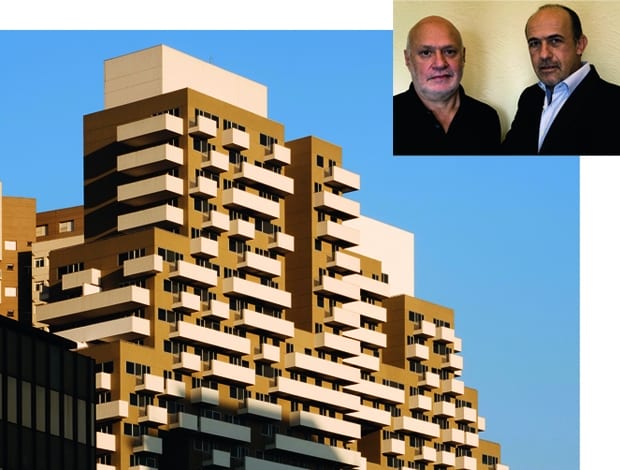 Architects Jorge Konigsberger and Gianfranco Vannucchi; Top Towers in Sao Paulo|Triptyque architects Guillaume Sibaud, Carolina Bueno, Oliver Raffaelli and Greg Bousquet; Loducca in Sao Paulo|Plants grow in the 'pores' of Harmonia 57|Mexican architects Pablo Perez Palacios and Alfonso de la Concha Rojas of DCPP; Bayon Artell's offices|Michel Rojkind of Rojkind Arquitectos; the Falcon HQ|Alberto Mozó; the timber and glass BIP building in Santiago|Chilean architect Guillermo Hevia; the Chile Express building in Santiago||
It's a mighty hulk of a region and home to countless talented architects, so it is no surprise that this part of the world is turning out some of the most spine-tingling and thought-provoking office builds we've seen of late.
With such a hefty area to cover, onoffice was forced to focus on three stand-out countries – Mexico, Brazil and Chile – to give a taster for what the region is offering by way of office design.
Konigsberger Vannucchi
Konigsberger Vannucchi is a long established Brazilian practice specialising in commercial, housing, urban planning and mixed-use buildings. Jorge Konigsberger and Gianfranco Vannucchi (both trained in Sao Paulo) have built up a portfolio of over 1,000 projects since opening their doors in 1971.
The recently completed Top Towers in Sao Paulo – two coffee coloured office blocks with slightly random white terraces – are fairly uncomplicated constructions and yet provide an arresting landmark for the city. "What was needed was a simple technical solution that wouldn't have an uninteresting formal effect but, quite the contrary, could become an architectural representation of the rich diversity of the surrounding urban landscape," says project architect Alexandre Hepner.
Conceptually, the towers aim to reference the modulated facades of many of Sao Paulo's buildings from the 40s, 50s and 60s. They are composed of compact office spaces that are flexible enough to be formed into larger units, while structurally the terraces work as small extensions of the wide concrete slab that supports each floor.
Although open terraces in commercial units are an uncommon occurance, the solution makes sense, says Hepner, considering the panoramic view they provide for tenants.
A consideration for climate and sustainability was also essential to the design. "Some developers visit the business districts of New York or London and then return craving glass-covered skyscrapers, without any regard for the fact that they could be considered an architectural crime from the viewpoint of environmental impact and sustainability in tropical countries," he says. "Here, we have perfect conditions for buildings to be efficiently naturally ventilated that are, unfortunately, more often than not ignored in favour of inefficient HVAC systems. The Top Towers is a conscientious attempt to show that office buildings can be different, that we can develop our own solutions and reach much better results than if we just copied what is being built abroad."
Triptyque

Triptyque, a French-Brazilian firm in Sao Paulo, is made up of architects Greg Bousquet, Carolina Bueno, Guillaume Sibaud and Oliver Raffaelli. The practice formed in 2000 and has developed a motto: "Triptyque is based on the idea of authorial dissolution, where the different participants mix ideas and debate."
Harmonia 57, an office building in the western part of Sao Paulo, is an example of what the group call 'live architecture'. Plants grow in the 'pores' of the façade, creating a sort of ecosystem tended by an irrigated misting system. The underlying idea for the structure (two concrete blocks connected by a footbridge, with an internal 'plaza') is of a living body that breathes, sweats and modifies itself – with the visible pipelines resembling veins and arteries.
Loducca, another Triptyque office project in Sao Paulo, uses an outer layer as a key part of the design. A brise soleil membrane diffuses the sound effects of busy street traffic while also protecting the building from the sun and providing a degree of privacy to the users. A concrete frame panel is attached to the façade and, at the back, double opaque and single translucent glazing give a view to the concrete staircase, which intersects the building's three storeys.
DCPP

DCPP was founded in 2006 by Mexican architects Pablo Perez Palacios and Alfonso de la Concha Rojas. Both are under 30 and completed their training in Mexico City, where they have started to make their mark with original and coherent architecture.
An office and warehouse for textile company Bayon Artell, finished in Mexico City two years ago, is an example of their abilities. The entrance is clad in white stone and a central patio organises the space and gives natural light to the offices. The main idea was to emphasise the entrance of the offices and create a meeting hub without competing with the existing warehouse.
In terms of workplace design, Palacios worries that offices in the western part of Mexico City have started to lose sight of the way Mexican people work, instead focusing only on economics and what is 'modern'.
"We should really sit down and analyse what kind of space responds better to the employees, having in mind that there are a lot of cultural aspects that define this," he says. "At DCPP, we design contemporary architecture that will adapt and respond to the unknown conditions of the future. We want our buildings to weather and become a part of the cultural landscape. We are not designing futuristic architecture, but we are building for the future."
Rojkind Arquitectos

Rojkind Arquitectos, with Michel Rojkind at the helm, produces the sort of buildings that rarely make it off the pages of an architects notebook; slick and futuristic – it is a real achievement that these forward-thinking designs have actually made it to construction.
Since 2002, the independent Mexican practice has designed a raft of contemporary buildings like the lauded Nestlé Chocolate Museum in Toluca and the Santa Fe residential and retail towers. Rojkind has a number of important projects on the go in Mexico and internationally, (in 2005, it was recognised by Architectural Record as one of the ten best Design Vanguard firms) but it is the headquarters for medical company Corporativo Falcon in Mexico City that caught our attention.
Designed to institute a radical image revamping for the business, the Falcon HQ was conceptualised as a crystal box floating in a garden. The buildings 'skin', a series of straws placed between two translucent sheets, floats outside the main construction to filter light and create an exterior space within the building. The interior windows are placed haphazardly to capture orange light during the day or the lit up panels at night. Rojkind's explanation tells a fair bit about his way of thinking: "The perforations are a response to editing the views and observing the outside mysteriously cut and illuminated, as looking through the branches of a tree."
Alberto Mozó
Chilean architect Alberto Mozó, 46, works independently on commercial spaces, furniture design and the renovation of houses and historic monuments.
After training in Chile, where he focused on bringing renovated public spaces into a modern context, Mozó then spent part of the 1990s working on interiors and furniture design for bars and nightclubs. It was a way to create new meeting places for the emerging generation of Chile's new democracy, he says.
Most recently he has been recognised for the unusual design of Bip Computers' office building in downtown Santiago, completed last year. The three-storey timber and glass structure encapsulates what Mozó considers to be the "next generation of buildings: environmentally friendly, easy to build, transitory and economically viable."
The construction can be taken apart and reassembled elsewhere in case the company needs to move or sell the land, he says, and the sustainably sourced timber and various other building materials have been specified for their scope to be reused later.
Chile's local architecture community took notice of Mozó's design for Bip but the building was also selected for the Venice Biennale 2008 and granted an award for emerging talent from the Architectural Review.
Guillermo Hevia
Chilean architect Guillermo Hevia is an established force on the Chilean architecture scene. His practice, formed in 1983, is known for its innovations in corporate, education and residential architecture – but especially for using new bioclimatic techniques (geothermic, aeolic, luminic) and pioneering sustainable solutions for big industrial plants.
The Olisur olive oil factory and offices, completed in 2008 and located about 200km south of Santiago, uses geothermic energy and natural light and ventilation. Prefabricated timber panels were used alongside glass and concrete for the two volumes – one housing the factory and the other the offices. "As an architecture studio we don't understand sustainability as a theory but as something concrete. We research into this concept and the most important thing is that we apply it," says Hevia. "I think Chilean architecture is going through an excellent moment. Shortage of resources forces the use of simple materials that give a unique advantage."
For the three storey corporate headquarters for ChileExpress in Santiago, Hevia designed glass curtain walls, or 'suspended skins', that screen light and ventilate during warm months, which is most of the year.
"I see architecture as work looking to make real dreams and satisfy people's needs. It is very hard for people to have emotional sensitivity but I think good architecture is able to cause emotion and generate something that has no explanation – that reaches the soul and enlarges the spirit," he explains. "Good architecture has no ideologies, it doesn't belong to any social class – it is for everyone."