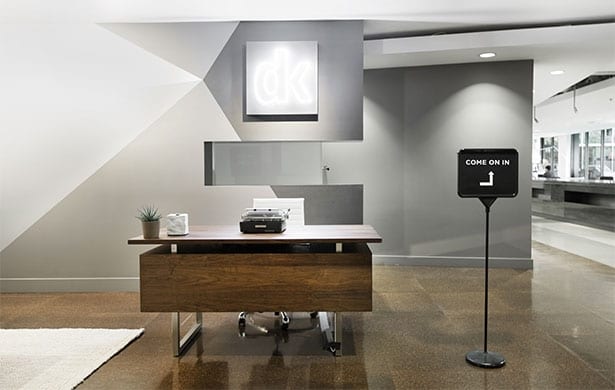 Digital Kitchen|||
"Three-dimensional storytelling is thinking about the visitor's experience of the workplace as their journey unfolds," says Kirsten Murray, principal and owner of Seattle design firm Olson Kundig. This is a trait that's becoming more common than ever in the working environment, with businesses using design to tell a story that conveys their mission and values.
Having taken cues from the use of graphics and branding principles typically deployed in retail, businesses are now creating workspaces that are instantly recognisable as part of their brand. Identifying with the space – and how the user navigates within it – is vital in determining what stories should be told and how the business should be represented.
Think of the workspace as a tool that can be utilised for recruiting and retaining the best talent, whose interests align with the company. Murray believes businesses should seize the opportunity to bring the company's story to life and applies this approach to her clients' built environments.
"What you see and interact with as you move through a workplace can convey the values, spirit and unique qualities of a business," she says. "I tend to think about workplace design the same way I would think about any public or civic building, or an urban planning assignment."
She continues: "What stories do you want the visitor or employee to walk away with at the end of their day? I look to highlight special tools, areas and methods of collaboration, or the process of making a company's product, whether a physical product or not. My goal is to make these stories visible to all users of the space."
Brand recognition is of high importance when it comes to workplace design, with employees increasingly choosing where they work based on company values and whether or not the workplace aligns with certain characteristics.
"It's a healthy thing. I personally prefer the brand identity of a workplace to be communicated subtly through its values, illustrating the nature of that identity in the design of the workplace itself," she says.
"Workplaces, like homes, need to have a balance between message and experience – where the worker feels like they 'get' the aspirations of their company, but also that they have a unique and personal stake in the environment and can influence it to some extent."
Three-dimensional storytelling is embedded in her practice. At one workplace project in Seattle, the client wanted a place that "spoke to this particular city". Murray and her team are working to create a "microcosm of the Seattle context, including its elevated freeway park, gritty grunge bars and busy market-places within the workplace".
Another example is a media HQ in New York. "I wanted to explore ideas that stemmed from the history of writing, which remains as the core activity of that particular workplace," she says. "So, we introduced areas that recalled the great rooms we all remember from the libraries and schools of our past: the lecture hall, the conservatory, the reading hall, and the classroom or salon-style rooms for project teams."
As workspaces become more populated with technology, Murray believes they are "more important than ever for creating a focal point that houses the spirit of the company". As she explains: "People are social and collective animals, and I think we will always look for places to gather with like-minded people. In our world today, the workplace is the centre of that."
Every workplace has a story to tell, and telling it benefits both employers and employees, says Olson Kundig's Kirsten Murray