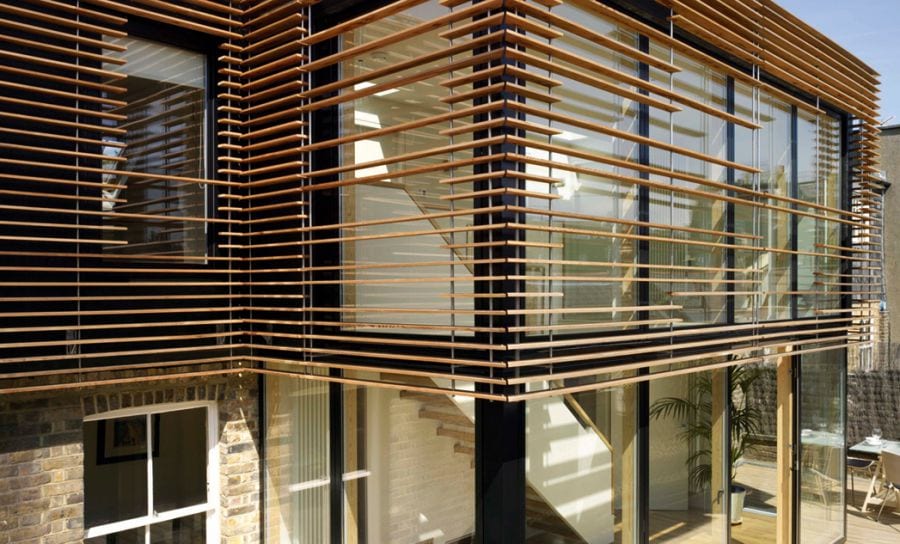 Moxon is a curious name for an architecture company, and when you go to their website the mystique continues: a concept design for a house in Japan is described as "living in a padded sock", funky bridges are explained by a ski jumping ramp called Holmenkollbakken and the directors participate in talks on sex in architecture.
Experimental design enthusiasts, you may think, and you wouldn't be wrong yet the core of Moxon's fee-earning projects are high spec office fit-outs.
When Tim Murray joined founder Ben Addy as joint director last year – they both used to work together at Wilkinson Eyre – he brought with him a long list of clients for high-end bespoke workplace projects. Adding to the already wide range of projects Moxon had been working across, from local residential projects, national bridges to creative competition entries. Their idea is "not to be specialised" but to do architecture – full stop! "Our business strategy, if you want to call it that, is to get and do as much work as possible," Addy says, only half-jokingly, when we met for coffee in west London. Yet what marks Moxon's ambitions is the conscious decision to ensure their workload always includes original briefs that challenge their approach to design. Moxon find that the best way to do this is regular collaborative brainstorms for competitions, and that was Addy's vision right from the start. "When I set up
Moxon in October 2004, at the time alone in my living room, my main incentive was to be able to take part in as many competitions as possible." That itch has never died down.
Moxon's entries for international design competitions from Kenya to Nepal caught the media's eye early on, they were the youngest among the 40 under 40 list AJ collated in 2005. But while most young architects may go crazy with competitions to make a name for themselves, bridging the gap until the big commissions come rolling in, Moxon continues to find time for unpaid entry designs even in busy periods. They go against the trend of the design community which has been calling for a halt to architects and designers giving ideas away for free in an attempt to gain recognition. At Moxon, the thinking goes that no idea is ever wasted. "Competitions are a process," Murray says, "we generate ideas as a team. Often they will lead to techniques that go into a commission and vice versa. If we didn't enter competitions how else would we express our ideas?"
Of course not all competitions are unpaid and there is always a chance you will win and get a big commission, such as the RIBA competition Moxon won for a corporate HQ in Preston. The striking design, due to go on site this summer, sports an array of anodized aluminium fins all around the building, changing the building's appearance from every angle. As a result of winning this 40,000sqft, £6m project, Moxon have also been asked to build the adjacent car park and do the landscaping. A perfect example of where a competition can lead. "Interestingly enough in this case the winning idea behind the Preston project came from a small scale residential extension we did in Belsize Park." The architectural expression of the £160K mews conversion is all about the timber screen while Preston is about the anodized aluminium fins but essentially it has the same underlining logic of construction.
Addy adds: "Even if we don't get short listed we don't hide our designs away, we put them straight on our website as it's part of our portfolio. We don't sanitise our work." The same counts for their 3D modelling, "It's important to think 3D from the start," Murray says. "It's less about software, more about speed of use. 3D visualising is a 'dirty tool' for us to show the client what to expect, it's not about creating the perfect image." The program is a quick way to help the clients visualise architectural effects in advance. "Like lighting studies for instance," Addy says, "we work out and model the reflective features of specific surfaces to prevent a bad surprise at a later stage."
"This is particularly important in offices," Murray points out. Most of Moxon's clients are legal firms or private equity firms looking for high-end bespoke offices. Moxon offers fit-out, build, customised furniture design and – and this is what makes them especially popular with clients – project management in one.
Clients with business models that require a high level of privacy can't work with the big open plan floor plate otherwise so common in London offices. "People always talk about trends in workplace design but the reality is that cellurisation is still very common and needed. The concept got a bad reputation, but the problem with cellurised offices is mostly due to bad architectural solutions, we have to reconcile by getting daylight into the building."
In a recently completed project for an American law firm in the Gherkin (30 St Mary's Axe) Moxon used glazing, partial glazed materials and clear storage to create a seemingly open space. Lighting studies are vital to eliminate glare in these glass frame buildings. As Moxon were brought in late stage (SOM had worked with the client on the first two floors) their main focus was to interlink the twisted atria with a stainless steel staircase. There was no floor plate, so they worked with cantilevered floor slabs. The client also required an arbitration room to mock up court rooms, again calling for enclosed spaces.
So are cellular offices back? "It depends on the industry. But fundamentally nothing radical is happening in workplace design, it's about the detailing. Adjacencies define your work," Murray says. "Flexibility is such an overused term in commercial fit-outs. Modular furniture systems aren't breaking the mould, neither is hot desking anymore. It's about creating a flexible space though furniture, freedom to reconfigure and hierarchy of space is very important. But the next big thing is going to be audio-visual. At present people are still being very unimaginative about placing technology. I think new design solutions will have a real impact on office design, emphasising the audio-visual rather than tucking it away like at present."
Moxon achieves a perfect balance through a mixture of scales and briefs, and keeps pushing architecture forward. Their own offices are a perfect example of their style. Moxon occupies the downstairs of a space they created for the car design firm Makkina. The office was Addy's first project under Moxon, it is based in an old railway station coal yard near Westbourne Park. The site has since attracted several design studios, their newest neighbour being interior designer Kelly Hoppen.
Clean cuts and slots in surfaces is a reoccurring theme in Moxon's designs. "It's called a shut line in automotive terms," Addy explains, "It addressed the vernaculars of surfaces, how you break and join them back together again." Looking at the wide range of projects Moxon have worked on in their relatively short time of existence, these clean finishes do tie together an eclectic mix of designs.
Moxon's competition entries make us wish there were more workplace design competitions. "Office design is self-contained by definition, it's not for public consumption and although clients view it as branding they don't push the publication of ideas," Addy sighs. Shame, just imagine what wacky things Moxon would come up with for an open office brief – just think of working in a padded sock!