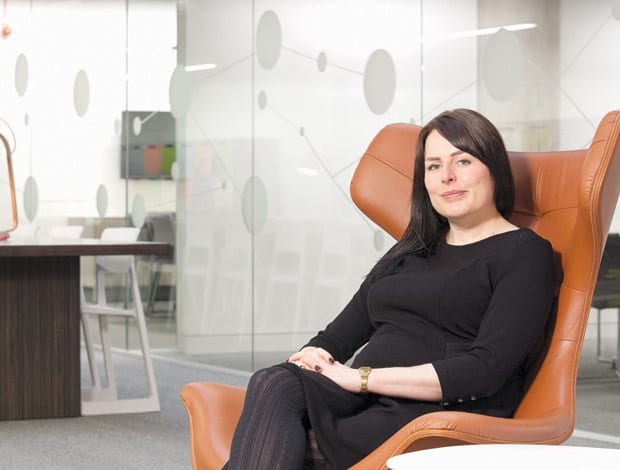 Abbott at her latest job, a revamped industrial building in Paddington|Atrium at the heart of i2i's offices, with glass brick feature and brand colours|Reception area reflects the building's roots, with exposed service details|Abbott designed Double Negative's Great Portland Street HQ while at MCM|Offices for 4C, part of Top Right Group: another of Abbott's first commissions|A secluded meeting hub at one of Abbott's recent projects for a media firm|Abbott worked on the fit-out for property firm EA Shaw's Covent Garden office|A break-out space and canteen area at IBM's Algorithmics headquarters||
Doggedly focused on her career, Lucy Abbott hoped never to have to explain her work to the public, but gave in to her professional instinct eventually
As designers become better known, they grow more accustomed to talking about themselves. Some let it go to their heads (we're not naming any names), but most don't, understanding that self-analysis and self-promotion is a necessary evil. Here at onoffice we're used to meeting those famous sorts, so meeting Lucy Abbott is as refreshing as it is surprising. Having only recently set up her own practice after years of being part of other firms, she has never been interviewed by the press about herself and her business, and in her endearingly modest way, she's terrified.
"I have no ambitions to be a celebrity," she laughs, when, after much persuasion, we eventually do meet at her most recently completed office project in London's Paddington. But it's soon evident that Abbott has two sides: fiercely shy at the centre of attention, but confident and articulate in her ambitions for her business. Luckily for us, it's the latter that pushed her to agree to this interview.
The project is a revamped industrial building that now houses the headquarters for i2i Events, a branch of the Top Right Group. Formerly a dark and segregated space, Abbott's design is a contemporary, industrial-look office that makes the most of the building's strong architectural language. Ceilings are left exposed, a glass brick feature is repeated around the scheme and metal handrails border key spaces, such as the double-height atrium with a spiral staircase as its centrepiece. The interior is now open-plan and bright, with added windows, modern furniture and splashes of brand colours, transforming the building (on a tight budget and timeline) into a flexible and enjoyable workspace fit for its young, vibrant workforce. All that, and it's still only Abbott's first client as a freelance designer. So, how did she land that? It's a story that needs to be told from the beginning.
Abbott's descriptions of her career beginnings are characteristically humble. While studying art at Harlow College in Essex, she applied to do a foundation at Central Saint Martins and was amazed to be offered an interview, never mind a place on the course. "I remember saying, maybe they got the wrong person!" she says. "I grew up in a small town culture, so it was a big thing for me." There, she honed her discipline, fighting a desire to become a fine artist in favour of a more pragmatic path. "I felt I needed something that was going to lead to more of a career," she explains. "I thought, I'm going to need to earn some money at some point."
"I needed something that was going to lead to more of a career than fine art"
Soon she moved on to Chelsea Art College to study a degree in interiors and spatial design, all the while holding down two jobs – undoubtedly a valuable lesson in budget-keeping that no design tutor can teach.
In fact, education is a hot topic for Abbott. Though she gushes that her degree was a limitless creative outlet, she admits it was less focused on preparing students for the big wide world of regulations and specification budgets, which added extra layers of difficulty to graduating in the last recession.
Still, 80 job applications and one Autocad course later, she landed her first job with the Office Design Partnership, a small practice that gave her immediate exposure to every aspect of projects. "I was thrown in at the deep end, and I think that set me up to become an all-round designer, which you have to be to own your own company. You can't just draw nice pictures – you've got to understand how things are built."
A spot at Swanke Hayden Connell architects soon beckoned, where she cut her teeth on big projects such as KPMG Canary Wharf – "the first real insight I had into what interior designer can bring to a building structure". A few years later she moved to MCM Architecture, where she was lead designer on the headquarters for IBM's software company Algorithmics and Oscar-winning visual effects producer Double Negative.
But it was the contacts she made at her first job that boomeranged into her big break.
Clients she had made an impression on back in her Office Design Partnership days had come back to her in various guises over the years, and had now become top dogs at Top Right.
The group was, for the first time, splitting into four separate headquarters, so asked her to pitch for the design of their new offices – while she was still working at MCM. Not one to miss an opportunity, nor to let down a client, Abbott finished her current project at MCM as a freelancer while setting up her practice and pitching for the job. "I didn't sleep much," she remembers. "But I think you get chances like this once or twice in your life and I didn't want to miss it." The rest is history.
Meeting Abbott early on in her career, it's evident how each step of her story has influenced her approach. Her business model is rooted in the strong relationships she builds, and is already growing from repeat business and recommendations. Her affable and unassuming nature will stand her in good stead for listening, adapting and earning the trust of demanding clients. When asked how she fares in a male-dominated industry, she brushes it off without a thought – "I've done this for so long, I'm used to walking into a site meeting with 12 men sitting round the table."
Most importantly, she is clear who exactly is at the helm. "It's my sole responsibility to make it a success. If it fails, it fails because of me. I think that's what keeps me going."
At the moment, she says her aims for the practice are restrained (which might be helped by its ungoogleable name, Create interior design), describing it as small and controlled. Good work, in a modest way. At this rate of success, though, she might have to prepare for more dealings with the press in the near future.