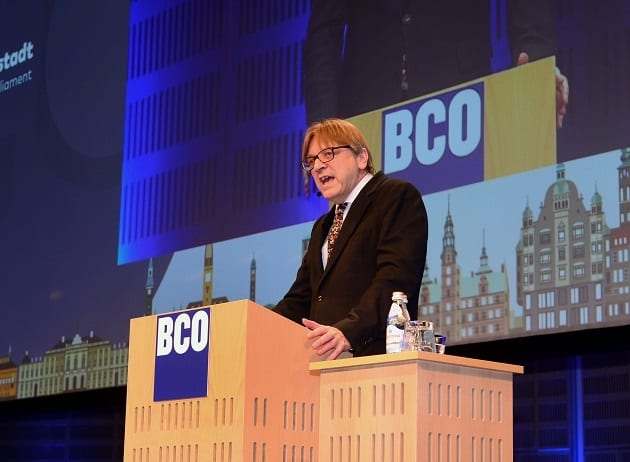 |||
Guy Verhofstadt, the leader of the Liberals and Democrats bloc in the European Parliament, got a round of applause from the audience at the British Council for Office's conference on Thursday when he declared, "To be honest, I'm fed up of Brexit."
The former prime minister of Belgium was addressing attendees at the BCO's annual conference, joining fellow speaker William Hague, former leader of the Conservative Party, to discuss Brexit and its potential impact on Europe and the world.
The two former politicians both presented their thoughts on Brexit, the future for the process the UK's exit and also the historical context for the planned split. Verhofstadt referenced his speech to the BCO Conference, just before the UK's referendum on EU membership, reiterating that he still thought Brexit was a "stupid idea" and reminding the audience that the poll taken of the room that year had 90% suggesting they were in favour of remaining in the EU.
Guy Verhofstadt and William Hague discuss Brexit with the BCO CEO in Copenhagen
Verhofstadt's speech had a strongly federalist theme, with him calling for reform of the EU to create greater unity, particularly on defence, but also in terms of regulation and business. "Europe is behind in the tech stakes," he said, comparing the stock market value of companies in the US and China to the comparably tiny amount in Europe. "Why is there no European Google, Facebook, Amazon? Because of the regulator – in the US you go to the FCC, mobile providers and get your product out there; in Europe you have 28 different regulators and mobile providers in every country."
Asked about the potential benefits of Brexit, there was disagreement between the pair, with William Hague, the former foreign secretary and leader of the House of Commons, suggesting that if immigration pressures on Europe rose, the UK could be in a position to control what skill level of people to accept, mor ein line with a US or Australian system. However, Verhofstadt made the case that the application of the EU's four freedoms – of people, goods, services and capital – only affected movement within the bloc and leaving wouldn't change the larger impact.
However, Hague did argue for reform of the wider system, suggesting that capitalism and ultimately businesses needed to reform how they worked in order to combat the rise of populism. He noted how his own euroskeptic position had now been overtaken by the right of his party, who now saw him as a "dangerous EU fanatic" and said that Brexit posed a threat to the survival of Britain's two main parties, suggesting they would ultimately have to resolve the issue through a no deal exit or second referendum.
The conversation was part of the wider conference looking at issues affecting the workplace, from design, working culture and business perspectives. Earlier in the day, BIG's Bjarke Ingels had discussed his practice's projects, including the Google "neighbourhood" in Silicon Valley and the office in King's Cross, discussing the importance of mixed use spaces and finding a balance between public and private, to "invite the public in" to seemingly private buildings.
Discussing the impact of Brexit on European and global business at the BCO Conference, the EU MP didn't hold back