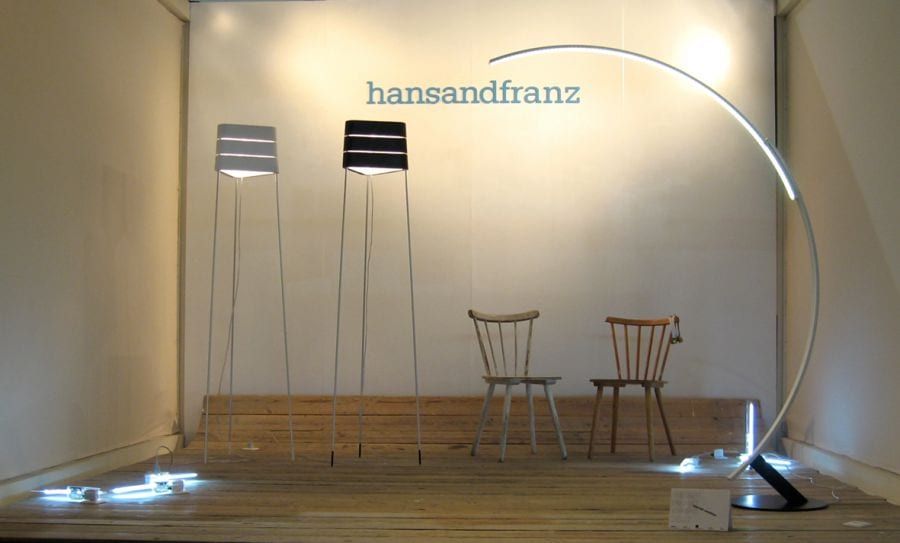 When thinking of the inner circle of European signature designers – apart from Konstantin Grcic and, of course, Dieter Rams in his day – big names seldom emerge from Germany. For the contract market, at least, that is most probably because most German furniture companies work with anonymous in-house designers – similar to the US model.

One exception in the US is Bernhardt Design, a company which is distributed in Europe through Danish firm Danerka. It stands out due to its creative director Jerry Helling, who has composed an eclectic collection of products by inviting international super-designers, such as Yves Behar, Arik Levy, PearsonLloyd and Shin Azumi, to create a global contemporary furniture range. And among that long list of established designers now stands Hansandfranz, Germany's answer to BarberOsgerby.
No surprise really that Helling was the one to discover the young design duo, as he is rumoured to have an eye for talent in the way that Rolf Fehlbaum is a reliable source for commissioning the next big hit. Not least due to the name, Hansandfranz, these two Bavarian boys manage to make a lasting impression and are happy to do what it takes to make it big. "People always ask who is Hans and who is Franz?" says Horst Wittmann. "So one year I'm Hans and the next we alternate." Konstantin Landuris continues: "We just came up with the name, to prevent the usual contamination of surnames and to communicate that we're young, fresh and, I guess, German. It's about mixing our roots with an international outlook." They've got a point; Wittmann/Landuris certainly doesn't have the same ring to it.
Hansandfranz launched two years ago after the pair finished their studies at the Academy of Fine Arts in Munich and decided to exhibit at the Salone Satellite in 2007, as most aspiring designers do. "Because it was the year of Euroluce, we felt it best to show some lights to fit in with that year's theme," says Wittmann. "But we didn't want to dilute our design by cramming loads of pieces on to the stand," explains Landuris. "So we focused on displaying just two products and concentrated more on designing the stand itself. We had fallen for the flooring at our university which was about to be ripped out due to refurbishment. In a 'Sturm und Drang' action, we broke in at midnight and took enough flooring to create an impacting stand." The plan worked. Their LED lamp Troja, which arches like a bow, received a Special Mention from the Milan jury. That catapulted the boys on to the news pages of lifestyle magazines such as Elle Décor, Playboy (yes, they have a design page too) and Contract Magazine in the US.
But the biggest boost came from catching Helling's attention. "I remember seeing this man on our stand," recalls Wittmann. "At the time, we didn't even know who he was. But you could tell he had a certain authority. Then he came up to us and asked whether we'd be interested in exhibiting at New York's ICFF in three weeks' time. To us, it was a rhetorical question."
So Hansandfranz packed up the Three and Troja lamps and took them across the Atlantic. They weren't paid or sponsored in any way, but they had just met the man who was about to give them their first commission. This would land them their breakthrough into furniture design, the Cycle stool, which was on show at Neocon in Chicago and at the Design Post during Orgatec late last year.
"Jerry Helling gave us an open brief," says Landuris. "He just told us to look at the current collection and see what was missing." Hansandfranz decided a "comfort" piece would be the ideal addition, plus something fresh and young. The result was a low bench, Cycle, for breakout areas and public seating in museums, with a clear form and geometrical design language that seems to be emerging as their signature style. Their original design is the large, circle-shaped cushioned stool in red, but it was exhibited in pastel-coloured leather in Chicago. At Orgatec, it was presented as a series of benches/stools in different rounded shapes with coloured felt fabrics.
"We felt the polished chrome base was very Bernhardt Design, and the way the base loops in a cross is our clean interpretation," says Wittmann. If trying to pinpoint a Hansandfranz style, it would be the focus on proportions: the cushion to the base and the concept idea that the round stool invites anyone to sit at any side of the product, delivers a young, democratic piece of design. The design duo, despite admitting that they are still new to this game, have quickly understood the realities of the commercial market. "We chose neither the colours nor the fabric. Our vision was always to have a red top, but we are happy to let our design go. After all, the manufacturers have experience of the market – not us."
Honestly, I was glad to hear it because the colours – a crass purple, orange, green and red – made the stools look more Ikea than high design. It was not just the tone of colour, but also the felt fabric itself that made the exhibited versions look a bit cheap, especially among the other products on show at the Danerka/Bernhardt Design stand, which sported quality finishes with wood and chrome combinations. Yet Hansandfranz was reluctant to agree; if Herman Miller's Embody is anything to go by, it could just be that bold bright colours on a contract piece is a US attempt to look European.
For Wittmann and Landuris, the challenge lies in the complexity of corporate design. "If you design for BMW, you must follow the chief executive's corporate vision. The furniture industry is one of the few industrial design fields where creatives still enjoy artistic freedom and aren't expected to bow to corporate norms. In the end, you can't be too precious about your design because it exists on the market only in collaboration with the manufacturer."
Either way, the design of Cycle itself is simple and smart. And the enthusiasm that Hansandfranz demonstrates suggests the duo will go far. Its next project is the German Design Council's 3D competition, for which it has already made the shortlist. The entry is another lamp, which is challenging the typological multi-layers between the floor and the ceiling, a filigree telescopic light.
Despite a speedy start to their career, they still have their feet on the ground. "It is an amazing experience for us to meet all these established designers we really respect. We are learning so much, but think it's important not to be too serious."
The design duo like to let their hair down. But don't mistake their fun attitude for immaturity. They are just part of a new generation of German designers that doesn't want to be overlooked by European design critics any longer. And if they are happy to drop their pants for a photo shoot, whoever could?