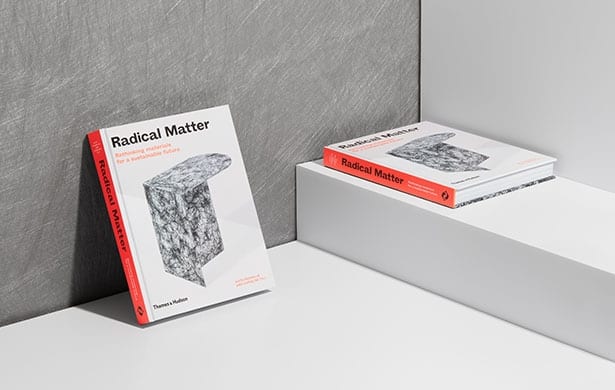 |||
By looking into shit, hair, dust, soot, soya, and sawdust as material alternatives, Radical Matter presents various projects and innovations from a vast ranging selection of designers who are currently at the forefront of revolution. In its eight chapters, the book is intertwined with leading industry voices and expertise from the authors and agency founders: Kate Franklin and Caroline Till.
Contributors include Joni Steiner from Opendesk, who discusses the potential for co-creation and distributed manufacturing, and architect Anders Lendager who argues the necessity for developing new materials from existing waste sources.
We spoke to Caroline Till about the reasons for starting the agency, her thoughts on the current trends shaping workplace design and the inspiration behind the new book Radical Matter.
Photography by Luke Evans
Run us through the reasons for starting FranklinTill – was there a particular moment that inspired you?
Kate and I met at a global research and trend-forecasting agency where we delivered insight reports to major global brands on a regular basis. We often felt frustrated that once these incredibly insightful reports were delivered to the client that was the end of the project. As creatives, we felt there was a huge opportunity to help clients understand what to do with all this insight and research: how could we bring it to life for them? What could it look like? How could it inform product design, retail concepts, material innovation and even colour? And so that was when we realised there was an opportunity to launch a design and research studio – that is, a studio that worked with clients to bring strategic research and insight to life through design outputs. Our key aim is to make what can be quite exclusive, in terms of inaccessible research and insight, into something more accessible and digestible.
Our core focus is on colour and material futures, which are areas that have previously been overlooked in the creative industries. We consider material to be the building blocks of design, which means the impact these decisions can make in terms of product innovation, sustainability and relevance to the market are massive. The core of our work is always about presenting research and innovation for a more sustainable future, creating publications, exhibitions and events as platforms to provide insight and information to a very broad audience.
Photography by Luke Evans
Can you point out any notable workplace trends shaping the industry at the moment?
Some of the major shifts impacting the workplace at the moment are the desire for flexibility and nomadism. The world is becoming more urban, but its city inhabitants are becoming more nomadic. Millennials, in particular, are increasingly delaying the day they put down roots and are moving homes, cities and countries more than ever. Having wholeheartedly bought into freelance and gig culture, and having grown up in the connected age, 'digital nomads' are free to work from anywhere at any time. They are comfortable with the concept of the portfolio career, which may encompass many jobs rather than a single career. They are also not tied to any particular location.
This mind-set generates a new set of needs and desires based around flexibility.
The other major area we have been exploring within workspace design is the biophilia effect and the increased concern for bringing nature into the office space. According to the biophilia hypothesis, humans have an innate tendency to seek connections with nature, so this is translating into design changes within the built environment. As we become more urban, designers, planners and city dwellers are seeking increasingly inventive ways to find a home for nature in the city.
From the cultivation of houseplants, window boxes and home mini ecosystems to allotments, pop-up green oases and even vast vertical gardens, contemporary city dwellers are striving to re-wild the city, one shrub at a time. In working environments, it has been proved that biophilic design not only creates a cleaner, less toxic atmosphere, but also leads to an improved sense of wellbeing and greater levels of focus. We recently brought this idea to life creating a 'Green Workspace' as part of our exhibition 'The Future is urban' at leading textile trade fair Heimtextil in Frankfurt.
Photography by Luke Evans
What were your reasons for publishing Radical Matter?
As a futures research studio we believe design research and design thinking has the power to approach some of the major social and environmental challenges we are facing in the 21st century and beyond. We wanted to turn the current and rather gloomy global context on its head and convey a positive view: that we are potentially on the brink of a materials revolution that could help to rebalance our relationship with our planet and reshape society for the better. Up to now, we have relied on a supply of natural raw materials that we transport to large factories and turn into products.
We then ship those products around the world, where we enjoy them all too briefly and discard them when we no longer require them. This model is obviously now reaching its physical limits. We need a better, smarter, more cyclical approach, in contrast to our current linear 'take-make-discard' relationship with materials – and a new future seems to be within our reach. Thanks to a raft of exciting designers and makers who are fostering disruptive approaches, we are beginning to see that alternative systems of production and consumption are possible – and we are recognising that material innovation will be crucial to achieving this.
Radical Matter aims to champion the designer and the maker as an agent for change. These designers and makers are not taking 'sustainability' as a set of limitations, but using the challenges of the 21st century as a starting point for a more radical and disruptive approach. The case studies, designers and makers we feature are all linked by a very hands-on approach, researching through making and allowing the process of making to inform output. This proactive, can-do attitude encourages us to regain mastery over technology and places emphasis on process as well as on output.
We are certainly not suggesting that this forum offers a global panacea, or anything approaching it, but we believe that small movements generate momentum and inspiration for wider action. Radical thinking on any scale can lead to great change.

Love this? Subscribe to OnOffice for plenty more like it.
Radical Matter – a publication from the agency FranklinTill that explores new and experimental approaches to materials, while tackling problems of 21st-century consumption – comes out March 8