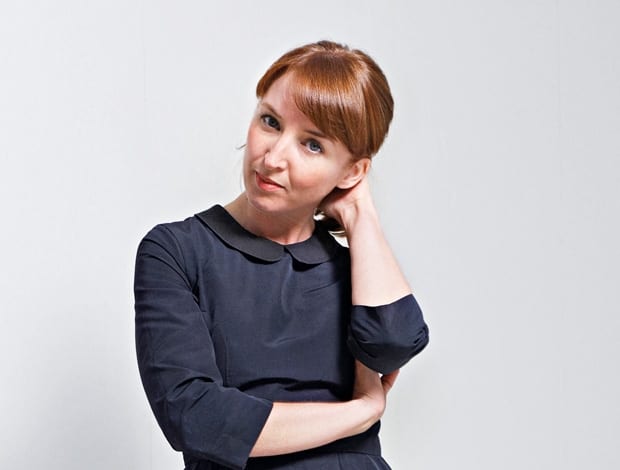 Fiona Kennedy – a star is born|A view of the canteen area at the Revolver office in west London|Another view of the canteen at Revolver, where Kennedy was charged with creating an environment in which workers have a new idea each day|The quick-turnaround project gave birth to a cool, fluid workspace|In the office area, the accounts department and directors sit on an elevated level. And what office would be complete without a palm tree?|The Cambridge EF offices, with wood fittings aplenty, call to mind a country home|Vaulted ceilings and clean white walls in the office space|Many original features have been retained, and have been complemented by art and subtle lighting|Polished floors are a striking feature of the EF San Francisco project|The building was created for the Hult International Business School|Splashes of colour distributed among blacks, whites and greys make for an uncluttered, elegant aesthetic|The building's address, 1355 Sansome, is a recurring theme in the interior||
The indefatigable designer's young company was born into tough economic times – but hard
work and an entrepreneurial spirit have helped to make its first year a resounding success
A light dusting of snow settling over the houses and squares of King's Road has made this picture postcard area of West London seem almost too perfect. Shoppers are shopping, old gents stroll along with Labradors and well-to-do women in amusingly pouffy winter headgear chat. Slightly removed from this winter wonderland on Chelsea Manor Street, I find interior designer Fiona Kennedy and a stylish cohort in the London branch of Education First (EF). It's a Kennedy-designed workplace and is now a de facto HQ for the young design team as their work continues for the company.
The practice is in its infancy, having started in March 2010, but Kennedy is a familiar name on the design scene – she was previously senior designer at tasteful minimalists Sevil Peach.
I first met her a year ago at the Kvadrat Showrooms for the launch of ThemThere, a loose collective of design-related professionals. The party had a curiously exuberant atmosphere, supercharged by a recession-induced "here goes nothin'" spirit.
Today, despite the more formal settings, she is how I remember. Chatty, quick to find humour and, at this particular juncture, a little tired. This is not surprising given the heroic amount of work the four-strong company has been ploughing through. The team are currently working on a project in Waterloo at the same time as formalising a design blueprint to be rolled out across the company's schools worldwide. A mammoth undertaking, considering EF's scale, and one that's led Kennedy to design projects in San Francisco, Milan, Moscow and Cambridge.
"I realised I loved design, so I stayed, and stayed … and stayed"
But all this happened almost by accident. While enjoying a break from academia after completing a history of art degree at Sussex, Kennedy took a job with Sevil Peach in 2000. Intended as a stopgap before she tackled a masters degree, the work awakened a hitherto undiscovered talent for interior design.
"I was already savvy with that world, but obviously I wasn't a trained designer. But Sevil was really creative with the people that she employed. She didn't specifically employ designers: there were fashion designers, theatre designers, and architects. She got everyone involved. It was good, a really good time." Thriving in this creative democracy, she saw no reason to leave. "I realised I loved design, so I stayed, and stayed … and stayed," Kennedy says, dissolving into laughter.
The warmth towards her former employer remains strong and by the time she left a decade later she had risen to become a senior designer. Stepping out into the uncertain freelancing world amid the collapsing scenery of the UK economy can't have been the easiest of decisions – but it was the only realistic option.
"I absolutely couldn't see myself moving to another design company that had the ethos that I had there. And what's the worst that can happen? You have to get a job, that's the truth of it." Happily for Kennedy, that worst-case scenario never played out.
Even as she nursed a hangover from her Sevil Peach goodbye party, Kennedy was on site at her next job. Continuing at a similar pace, she landed a contract to design film company Revolver's office in west London.
A testing project, it may prove the achievement that truly puts Fiona Kennedy Design on the map. As always, aspirations were high, but time and money were short. The company director wanted a workspace that would inspire every one of his 60-strong workforce to have a new idea by the end of each day. The finer points of achieving this he left to what had become Fiona Kennedy's design team.
"It was a really big project on a 12-week programme. We were designing stuff on site as it was getting built and being super-economical at the same time," she says.
The results, however, are undeniable. Kennedy and her compadres transformed a 658sq m warehouse into a cool fluid workspace with audition rooms, collaborative spaces, little nooks for privacy, a canteen, events and screening area and a cinema, setting what must be close to a design speed record. It was a resounding success – built on the intensely personal relationship that Kennedy forged with her client.
"You have to get to know a company to design for them. You need to get to know the staff very quickly, what they do, how the business is going to progress. I was seeing them all the time and I think they described my design process as like working with a psychologist."
"You have to get to know a company to design for them"
It's been a similar tale at EF, where Fiona Kennedy has invested time understanding the different functions and mindsets of the workforce. It's a substantial part of her MO and undoubtedly a strength.
So too is collaboration with other architects and designers, demonstrated in the recently completed Hult International Business School project with Tsao Design Group for EF in San Francisco. The project features clean polished spaces animated by splashes of colour, making for an uncluttered, elegant aesthetic – and Kennedy's influence is apparent. Of course, having a personable nature helps.
"Do I have much of an ego? It doesn't come across that way does it? I might be a complete bitch in a couple of years, who knows?" she laughs. "No, I'm very open to collaboration, the same with the team, I think. I'm certainly not the boss."
Away from interiors Kennedy is looking to break into product design in a venture with furniture company Capellini. There are also murmurs of a collaboration with BarberOsgerby to develop a school pavilion for EF. But, as Kennedy points out, these projects may have to stay on the backburner, workloads being what they are. "I've never run a business before and I want to grow slowly so I still have the time to work with my clients. They are the focus and that's the way it's going to remain."