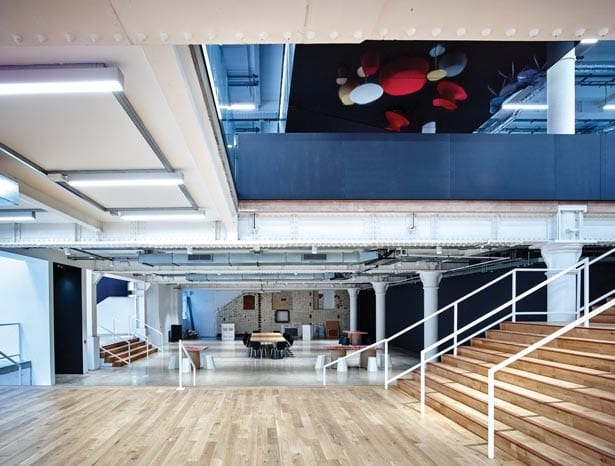 Coffey's wooden staircase maximises communication|||
U+I is a property developer on a mission to move away from the me, me, me attitude often associated with the profession and has enlisted Coffey Architects and designer Ab Rogers to help its new offices convey that message. Its Howick Place HQ, a short hop from London's Victoria, is in an area that once felt like just one big bus and coach park. Nowadays, the likes of Google have offices there, so U+I is in good company.
I meet Phil Coffey, founder of the eponymous practice, on a bright spring morning. Coffey's naturally effusive manner and the perky reception staff's demeanour are matched aesthetically by the ad agency-like reception area featuring some deliberately mismatched soft seating and exposed surfaces aplenty. There are models of the building too, complete with a mission statement about the "creative, open and brave" office design reflecting the values of a company that "challenges convention and is looking to the future with confidence".
The boardroom appears to float above the open office
U+I came about as a result of the merger of Development Securities, a FTSE-listed property company which it's probably fair to say represents the old guard of development, and Cathedral Group, founded by Richard Upton, to be a firm specialising in regeneration.
"U+I wanted to give an offering to the public," Coffey explains. This area is also home to temporary exhibitions and is currently displaying Coffey's Exposure exhibition, first shown at the RIBA last autumn. This demonstrates his passion for photography, travel and the built environment, featuring work by the practice which ranges from small extensions to a 40,000sq m complex in China.
Ab Rogers and Phil Coffey
Passing through reception, there's a lively seminar in a large space to the left with the motto "Be United and Industrious" emblazoned on one wall. This is being led by U+I chief executive Matthew Weiner who, on seeing Coffey, asks him to give an impromptu precis about the space and its premise, which naturally he does with aplomb.
"This is a microcosm of what they do," Coffey goes on to explain afterwards. A few weeks later, at the opening party for this year's London Festival of Architecture (LFA), Weiner gives soundbites aplenty in a rousing opening address, explaining that, far from being mere money collectors, he sees the role of the property developer as a catalyst for socio-economic change, something Rogers alludes to when we speak: "Developers are becoming the bridge between the public and private sector – it's very interesting."
Meeting room names display a playful touch
U+I's £4bn portfolio includes: Brunel Place, a 32,500sq m space by Sheppard Robson, next to Slough Crossrail station; Vertium by Henry J Lyons Architects, a large speculative office scheme in central Dublin, and the Deptford Project in London, an ambitious public-private partnership featuring a new apartment building, restaurants, commercial workshops and new public space. At Howick Place, the old is also connecting with the new.
The architects have intervened structurally in this former Post Office, dating back to 1894, with its original columns still visible as a powerful reminder of the building's former use. Coffey Architects has introduced a ramp at the back, as well as extending the entrance to the back, to "introduce further movement and intrigue while maximising natural light". The ramp circulates around the space and as you go round, there is a bank of lever arch files neatly stored away. With the number of stakeholders involved – from local councils to funding bodies to architects and designers – there's no way this is ever going to be a paperless office, so best embrace it with this kind of large-scale practical storage solution. The main material of the ramp is a black, coloured-through MDF, giving a dramatic monochrome backdrop.
Black MDF provides a dramatic background
Splashes of colour, among other interior interventions, come courtesy of Ab Rogers. A pink fringed stand-up meeting room immediately catches the eye. A wall of a similarly shocking shade leads the way to the toilets and also does the trick. "Our job was to corrupt the architecture of the space, to bring in a series of interventions that challenge and provoke," Rogers explains.
Two "towers" in the middle of the floorplate certainly do that – they lead to places to break out. "By being elevated, you can change your perception and that can help you think in a different way. I love sitting up high," says Rogers. Elsewhere a Moooi horse on a meeting table plays with proportion, and at the top of the stairs a pop art-like structure implores visitors to "Make Happy Those Who Are Near And Those Who Are Far Will Come".
Monochrome stairs emphasise the interior's clean lines
Further meeting rooms congregate adjacent to the circulation ramp, a mix of enclosed and open spaces with elements of bright yellow to contrast with the black MDF. Their names can all be prefixed with the word "in", so on the ground floor you have Five Minutes and Doors and upstairs there is Habit, Land and Dex – geddit?
Rogers also designed the generously-sized desks. While talking about the stairs from the public-facing ground floor space to the first floor working office Rogers says this, "maximises communication through the use of light, which brings opportunity for serendipity between the first and second floors". This stairway, designed by Coffey, is crucial to how the space works: "It becomes a meeting space, a social space a gathering space and a sitting space," Rogers adds.
A Moooi horse on a meeting table plays games with proportion
Inspiration came from a variety of sources. "A lot of our thinking came from our learning during the Venturethree office project in Duke of York Square in SW3," says Rogers. With his client, U+I deputy chief executive Richard Upton, he undertook a variety of field visits – ranging from the RCA's Work in Progress show to Second Home on Brick Lane, which Rogers describes as a "space filled with fine coffee, fantastic colours and layers of transparency". Similarly, Julio Le Parc's 2015 show at the Serpentine, he says, was "inspired by light movement, kinetic energy and animated reflectivity from passing air".
Meanwhile, Coffey talks of Upton giving him a DVD of Charlie and the Chocolate Factory as part of establishing a brief "to create the idea of excitement and difference". As we enter the AV-ready boardroom, he likens it to the lair of Mike TV – the tech-obsessed kid from the Roald Dahl book.
Rogers' provocative use of colour is apparent throughout the interior
Phil Coffey's effusive manner is echoed in his design
The boardroom is another element of structural dexterity, appearing to float above the rest of the space. It's up a dark and moodily lit route from another staircase, giving an element of theatricality rather than buttoned-up corporate decision-making. Clients can either ascend the wooden staircase and then the smaller one or come up around the ramp to the boardroom, past the vinyl towers and the bank of important-looking files and the staff with their document-festooned desks. Whichever way one chooses, it offers some architectural drama and a window on to the world of what the company is trying to do, so it must be impossible not to be swept up in the U&I vision.
Despite Rogers' assertions that his role was to disrupt the architecture, both designers have something mischievous about them and this is borne out in the way the workplace looks – whether in the architectural daring of the ramp or that pink, Animal-like fringing.
Though Coffey and Rogers might look an unlikely pairing – the pink T-shirt and cycling garb versus the suit and open-necked shirt – both clearly had a desire to make U+I a rebel of the property development world. And maybe, just maybe, their pinstriped competition will want to do the same thing.
Maverick property developer U+I turned to Ab Rogers and Phil Coffey for a game-changing HQ to embody its radical public-facing role