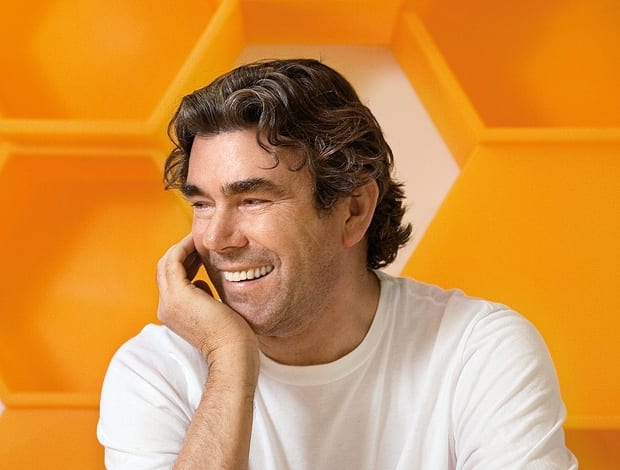 Clive Wilkinson|Macquarie's new headquarters in Sydney|Clive Wilkinson's 'working clusters' and 'meeting pods' cantilevered over the atrium space|Google Headquarters, Silicon Valley, 2005|TBWA/Chiat/Day, Los Angeles, 1998|Mother, London, 2004||
California's workplace guru moves on from designing for creatives to tackle a major project for banking giants Macquarie
Clive Wilkinson has always been big news. His first workplace project, the TBWA/Chiat/Day complex in Los Angeles became known as 'advertising city' on account of its main street, central park, basketball court and billboards: it rewrote the way we viewed the workplace.
Since then there has been the Google Headquarters in Silicon Valley; helping to establish Mother studio in London as the mother of all creative agencies; and, at the end of last year, his project for marketing giant JWT's HQ in New York (see onoffice issue 26).
It's not all workplace design, he points out. He first came by his client TBWA incidentally when working under Frank Gehry, and was commissioned in '97 to recreate their workspace. What he liked about designing offices from the outset is that you work with "non-professionals who think about space in exactly the same way that we (architects) do."
Ad agencies have always been an obvious match for Wilkinson. "The focus is on how people behave, and how this improves the end creative product, without which they would go out of business."
But, having worked on all the big ones, he came to feel he had exhausted creative agencies to the point that they were not such a big challenge.
His latest project, designing workplaces for Macquarie, Australia's biggest investment bank, goes against the grain of all of his clients until now.
"This is the other side of coin for us; it's the opposite type of business. Ordinarily we wouldn't go near them; they're a finance service, a different animal. But they reached out to us," he says.
"They may be a more conservative, conventional institution, but they are forward thinking in the way they work. They see themselves in a different way, and wanted to morph into something new."
In terms of scale and complexity, the project represents Wilkinson's biggest challenge to date; at 330,000sq ft, accommodating 3000 people, it is three times the size of TBWA. "I was working on that project ten years ago, but it was not as radical as this."
The new project is built around activity-based working, a concept that the financial services firm was turned on to by a visit to Interpolis in the Netherlands, an insurance company that has done away with designated desks, where employees continually move around facilities and environments.
"They had Dutch consultants (Prooff) on board to convert to this way of working, and we were prescribed a detailed brief," he says, "which we interpreted for the building."
Does it still look like an office? "Not really," he muses, "more like an airport, or a business lounge." Hard to believe, with Wilkinson's unconventional force at the helm.
"We had creative input into the building, as well as the fit out," he moves on to explain the stunning ten storey atrium, with working clusters and meeting pods cantilevered over the side at the centre of the building. "It is a dramatic, vertical space and built area": this sounds more like it.
The working ethos is "very radical, very unusual", so does it work, in practice? As occupancy hasn't taken place yet (the project completes in October 2009) it's hard to tell. But the process was piloted before the leap was made with a test run floor that staff were rotated through, which got a 'high thumbs up'.
It's nice to have "that change of environments," Wilkinson points out. "Companies in the dot com era ten years ago tried to do this open desk policy, but they didn't think intelligently about it; if you got in early you ran for the best desk and if you got in late you had nowhere to sit."
The paperless office may be a long way off, Wilkinson reckons, but the management at Macquarie for example are making a concerted effort to reduce it and it's definitely headed that way.
What Wilkinson looks forward to now is the rest of the world's reaction to the project. "A lot of businesses will be sceptical, which is why the post occupancy survey will be interesting. It's a big story, because it's such a large model, and it's this company.
"When ad agencies change working practices it's easy for other businesses to believe 'it won't really apply to us'; with this company other organisations like it will be taking closer attention, and wondering if it could benefit them.
Wilkinson is a key player in championing the move into open architecture, and "rarely does anything other than fight for it" when drawing up plans with a client.
"You can have both, private workspace and collaborative space. If you had 20sq ft per person, our approach would be to minimise the personal space each person has to maximise public space: meeting rooms, club house areas, break out spaces, anything that keeps people moving around the office, making it interactive.
"The strong case traditionally made that offices should be built one third collaborative space, and two thirds private, is exactly wrong."
The inappropriate focus on private space is a paradigm Wilkinson wants to see put to bed altogether. "Open environments encourage transparency, you can overhear, see what goes on around you." It seems a relevant cause in today's climate, when academics predict the survival of the office in the face of emerging technologies on the fundamental basis that we, as humans, are a social race.
"When academics predict the survival of the office in the face of emerging technologies it is fundamentally because we, as humans, are a social race"
Getting to know a client well, and realising other people's vision of themselves, is key to Wilkinson's approach, as much as helping to create the identity they want.
"Corporations often have such a fragile identity and sense of brand. They may have a logo, but their relationship with it is completely abstract, it's not a genuine representation of a community of people."
His agenda however, pushing for highly collaborative and identifiable spaces, only works with the right client.
"It's not easy to get these projects," Wilkinson acknowledges of Macquarie, "Gensler and HOK are seen as safer options. There is more risk in going with us. But the clients that come to us regard that as an essential part of our approach. They want to move into the future without the baggage of the present."
As it brings different groups from across Australia into one building Macquarie was a very complex project, he explains.
"There were many different leadership teams involved. It's a process of negotiation and navigation. We had to present to many different groups in Australia. It's a complex, human, intense process. It's highly socialised, you're looking at how people spend their time every day. You can't fail, there is no margin for error, it could be incredibly disastrous for business."
The finished project is "still quite colourful, but not as nutty, it has a sophisticated edge."
Wilkinson takes workplace design seriously, but doesn't see anyone else out there pushing the boundaries in similar ways. "There are a lot of architects doing interesting buildings, but very few looking at the workplace in a creative way."
Although his approach isn't for everyone, "on the Googleplex project there were two camps, those who loved it and those who didn't, but there were political things happening at the time," he does not see himself as a designer pandering to novelty.
The 2000-gallon fish tank that is talked about at TBWA was something they incorporated that was already there from an advertising shoot, and the indoor basketball was a client request, "there is a banal assumption we author everything," he levels.
Since the recession hit a year ago, he has been applying his approach to new areas, including education, where there are "fascinating parallels". He is also working designs for a radio station in Los Angeles, and a University in Texas. Rest assured, that while this LA firm is in practice, the concept of working space is unlikely to ever reach standstill.