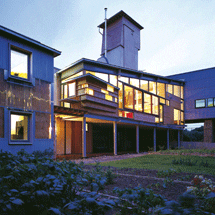 Wigglesworth
"Push the gate, go through the pink door and up the stairs," crackles the voice on the intercom. Crunching through the deep gravel, passing the pillars encased in chicken wire with an elaborate lookout tower in the background, it feels more like a Gaudi-esque wildlife visitor centre than an architect's live/work space. This is, however, the base from which Sarah Wigglesworth has run her studio since 2000, designing a range of educational, cultural and office projects, most recently the Cremorne Riverside Centre in south-west London.
The design for Wigglesworth's studio, which is located in an area of north London that she affectionately describes as "a bit of a backwater, near the particularly characterful Caledonian Road", is well documented. Comprising two storeys of office space along with domestic accommodation, it employs several innovative sustainable design features, including straw bales wrapping around the north-east and north-west elevations, sandbags providing acoustic protection from the adjacent railway line and that five-storey lookout tower rising through the roof, providing a reading room and acting as a thermal flue, which catches the wind and encourages natural ventilation. "You don't need a maintenance system for running a building – just open a window!" says Wigglesworth emphatically at one point.
The practice used a checklist for auditing the green credentials of all the products in the scheme, including the birch ply furniture they designed themselves. "We collect rainwater to use in the toilets and the building has quite a lot of thermal mass," says Wigglesworth. "We heat the office for only a few hours in the morning. The warmth then comes from the computers and body heat. The thing about thermal mass is that you do need materials such as concrete or bricks. But the payback is worth it."
Several years on, and a host of TV reappearances and several trophies later, including a RIBA sustainability award and a Civic Trust Award, the building is still visually arresting enough to attract weekend visitors in search of a property porn fix, as well as being a fully functioning office. "We try to practise what we preach – this is a showcase," says Wigglesworth. Does she find it difficult to achieve a work-life balance? "I have worked like this all my independent working life. You have to be quite disciplined, otherwise work can invade your private life. Jeremy [Till, Wigglesworth's partner] will sit in the living room with his laptop. I think I've got the best of both worlds. I've got zero commute, my time is very productive and it gives me great freedom."
One of the practice's most recent projects is the canoeing facility at Cremorne Riverside Centre, which overlooks the Thames, close to a small park in a less salubrious area of Kensington and Chelsea. "When we were appointed, the centre was run out of a container and a Portakabin," says Wigglesworth. "Our designs have ensured a sustainable response to a challenging site to provide an up-to-date facility that accommodates classes of up to 30 children, including those who are disabled."
The centre now comprises two buildings: one for the offices and boat store, and the other providing changing rooms. The walls in both are insulated with sheep's wool from Cumbria and externally clad in Cor-ten steel, a low-maintenance and vandal-proof material. "When we got down there, there was this smell of tar," recalls Wigglesworth. "We wanted a material that would be quite evocative of those old ships' hulls."
She talks of an office culture where there is an appreciation of the history of the sites on which they work, a dedication to research, pushing their knowledge forward and sending ideas round, and regular communication crits to create what Wigglesworth terms a "dialogue with social trends".
"Those early stages are terribly important," she says. "For the Siobhan Davies dance studios, we looked at how the body is used for engaging in the space, which became a key component of the project. We realised that even though we come from different disciplines, there were common themes with dance and architecture."
Sarah Wigglesworth Architects is currently working on a children's centre in Richmond, a visitor centre for a park in east London, and a new workshop space for Swansea Print Workshop, a £4.5m project that is at the outline design stage. It is also part of the team working on the regeneration of Hull's fruit market.
Although the practice describes itself as a specialist in low-energy and sustainable buildings, it claims not to be interested in adopting a "house style". "We consider what the building is going to be used for, what maintenance it will need and who the users will be," says Wigglesworth. "An office is going to be different from a school or a house. We don't want to be tied down. Design should be a real adventure – and we want to play."
Would it be fair to say that the practice is, to some extent, the first port of call when sustainability is paramount? "I think they do come to us," says Wigglesworth. "They feel that we know that subject area for people who don't have a good understanding of what green means. We try to embed certain things in the early stages of a project – the amount of glazing, the heating system, thermal mass and insulation. Once you have done those, it is quite a natural progression."
When it comes to sustainability becoming something of a bandwagon, she says: "It is absolutely essential that it becomes not an issue that should be seen as special, but something that should be integrated. I don't think we are there yet. Claims are being made which are not finding a reality. It is our way of life that is being called into question, when you make a choice as to whether you travel by car or by bicycle, or which foodstuffs you buy.
"We do have to make a cultural value shift. It's actually really empowering."