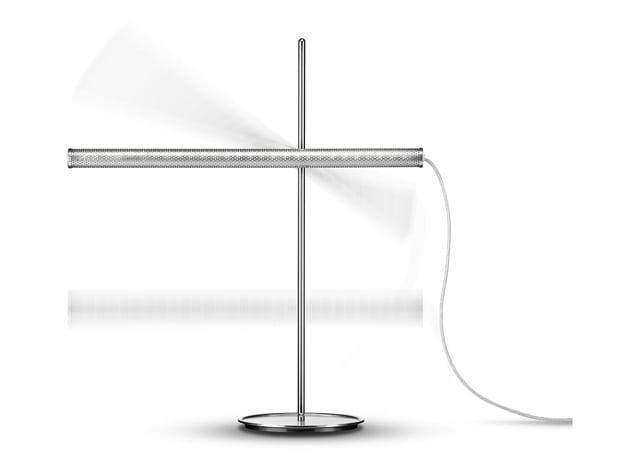 All sketched out: the tenacious Benjamin Hubert, and some of his prolific output|Made from soft 3D woven polyester, Loom shows Hubert's preoccupation with materials|Sketches for Loom|The assemble- it-yourself Roofer pendant|Quiet time: the noise-absorbing Pod chair. Its pressed felt shell is made from recycled plastic|Treis, a pendant light intended to be hung in clusters|The clean and elegant Crane light, for Swedish makers Örsjö|The Maritime chair – which nearly didn't make it, owing to its manufacturers' concerns over cost|Work-in-progress on the Maritime chair|A Year in the Making, the 2009 collection that turned Hubert into everyone's go-to design guy|LED task light Paddle shows the evolution of Hubert's signature style||
With 10 new products on the launchpad for this year's I Saloni in Milan, product designer Benjamin Hubert takes a minute to relax, breathe out and explain how he got so far in so little time

It's a lot of pressure to be labelled one of Britain's most promising design talents, as Benjamin Hubert knows. The resounding success of the 27-year-old's inaugural collection at London Design Festival three years ago, along with the subsequent flurry of awards and publicity, would be enough to petrify even the sturdiest ego attempting to live up to the hype. So far, Hubert has managed to uphold his wunderkind status – but with ten products set to launch in Milan this year, the pressure is definitely on.
When the onoffice team arrives at the designer's north London studio on a crisp, overcast day, he waves us in from the door while balancing a phone on his shoulder, his lanky frame sat amid the organised chaos of the studio he shares with two assistants. It's crunch time – details are being sorted for a number of projects launching with brands like Casamania, Örsjö, Zero, Fabbian, Nava, Kundalini and De Vorm. An iPad bag, designed for Colors Tokyo, has been delayed because of the natural disasters in Japan, but as Hubert says, "There are some things you just can't get upset about." Considering how much he's achieved in such a short period of time, one gets the impression there is very little that could stop him anyway.
After graduating in 2006 from Loughborough University, the designer spent three and a half years working for large consultancies while developing his own projects on the side. It was during this time that he got to grips with the industry – what he could offer it, and what he wanted to achieve.
"You get a bit of 'design by committee' at those big companies and by the end you're just reacting rather than setting out what you think is right," he says. "One of the reasons I wanted to do my own thing is because whether I'm right or wrong, they're my decisions."
He worked at night and on weekends, and began to spend half his paycheck prototyping his own designs. The fruit of this labour was what eventually emerged at 100% Design in 2009. Entitled A Year in the Making, it was a collection of simple, decidedly charming furniture and lighting – included hits like the Labware series for Authentics, Heavy Desk Lamp for Decode and Float, a cork pendant for &Tradition. The types of materials Hubert used – kiln-fired clay, concrete, timber and recycled plastic –
gave the collection coherence but also struck a chord. It was perfectly pitched with what was going on in the economy and people's overall attitude to design.
"I think people 'got' the pieces," says Hubert. "They weren't complicated things to understand. A lot of my work is very simple. You don't have to be told a big story to understand it, or to fall in love with it, or to hate it," says Hubert.
And aside from the fact that the products themselves were so well received, Hubert stood out from other young designers because he had managed to get seven British and continental manufacturers to produce his entire collection.
"I knew exactly what I was trying to do. I was trying to do something about brand association," he explains. "A lot of designers create very interesting and beautiful prototypes but it only gets them so far. People want to know, can I buy this, who is producing it, what's the story that's bigger than the prototype?"
"A lot of what I do now is more in touch with materials, trying to create quite tactile products. I wouldn't call it craft but it's more in touch with the maker and the production process, I think"
Basically, from his first outing, Hubert proved himself to be a standout designer with diligence and frightening business acumen – a combination that has brought him to the fore and kept him there. So what's been pushing Hubert this time around? A big chunk of the designer's current projects derives from a self-initiated development of LED task lights, which he shopped around to manufacturers.
"I liked the idea of working with LEDs. I think it's a very interesting technology – it allows new forms and details. It was an opportunity I thought we should look at," he explains.
"A work light needs to be flexible, I think. There are too many things that pretend to be a task light but you can't adjust them very much."
Much like his first collection, the projects are inherently about the materials and the production process. Details of the Crane task lamp, previewed at Stockholm Furniture Fair, are based on the industrial metalwork associated with its Swedish manufacturer, Örsjö. And even though the shape of Loom lamp for Zero was inspired by Chinese lanterns, the project's starting point was a 3D textile typically used in the bedding industry.
Hubert found the stretchy polyester fabric while trawling through a materials library and became excited because of the way it diffuses light, yet had never been used in that particular market.
"My interest in materials is a bit of a reactive thing," he says. "In my training and in my work at industrial design consultancies, it was fairly hands-off when it came to materials.
It was focused on consumer products – injection-moulded plastics and a lot of theory. It's one of the reasons I started exploring my own work. A lot of what I do now is more in touch with materials, trying to create quite tactile products. I wouldn't call it craft but it's more in touch with the maker and the production process, I think."
This is definitely true of Pod, a new privacy chair for De Vorm, which first partnered with Hubert on his quirky Pebble chair in 2009. Pod uses pressed-felt technology on a large scale – Hubert believes it's the largest segment of heat-pressed felt that has ever been used in a piece of furniture.
"A lot of manufacturers are asking for privacy chairs for office break-out areas or lobbies. The problem with a lot of them is that they are big, very heavy and unsustainably produced," he says.
Because traditional upholstery uses a metal framework, it then needs foam, glue, and finally textile. It is labour intensive, expensive and difficult to recycle – so Hubert's solution is to use a timber framework and self-supporting felt made of recycled plastic. The shape is in tune with the Dutch mentality of slightly caricatured furniture, he believes.
"It's about accessibility and personalization"
But the designer is most excited about his collaboration with Casamania: the Maritime chair is a piece prompted by the shipbuilding process whereby a framework is created and then skinned with a membrane for shape and support.
"It's my personal favourite. I think it's the most mature piece of furniture design that I've undertaken," he says, though he seems equally enthused about his other project for the Italian company – a modular storage system with an eclectic mix of boxes in a thin, gallery-esque framework.
"I love living in London. It inspires a lot of my work but this is quite a direct inspiration, especially walking around the Olympic site and seeing all of the urban redevelopment. I really like seeing the skeletal structure of a building being put up, and that informed this project," he says. "It's not going to be everyone's cup of tea – I think it will be quite polarising and that's fine."
Hubert's LED task light for Fabbian, however, is almost guaranteed to be a hit across the board. Called Paddle for its fluid motion and form, the lamp is a highly resolved piece of design and is eventually revealed to be Hubert's other favourite piece. The idea was to have the same manoeuverability and flexibility as an Artimede lamp, he says, but make it "more human".
Certainly the combination of industrial and natural materials, in this case oak and stamped aluminium, is fast becoming a Hubert signature. "For me, this lamp and the Maritime chair – I'd like to own them. I'd like to have them at my desk," he says. Other offerings in Milan will include two lights for Kundalini – Treis, a pendant of stamped metal with a softened triangular form and Frame, a small cast aluminium architectural wall light.
A second light for Fabbian, called Roofer, is based on the idea of making a shape by fixing rubberised polymer "roof tiles" to a framework.
"It's about accessibility and personalisation," says Hubert. "When this arrives with the user, you construct it yourself, you can arrange the colours as you like them. It's about being able to own something you've had a role in creating."
The three colourways will most likely be slate, terracotta and a green inspired by roof tiles found in north Africa, he adds. Lastly, bag manufacturers Nava will introduce a design from Hubert – a laptop bag that can expand to a small overnight bag, which was inspired by the designer's own business travels.
"A lot of my work is very simple. You don't have to be told a big story to understand it, or to fall in love with it, or to hate it"
A few of Hubert's projects are not making it to Milan, he says, but it's not for lack of effort on his part. The last few years have been a steep learning curve in how the design industry works, it seems.
"I had to go way above and beyond on some projects. Not just designing, or detailing, or talking to the factories or even finding the factories, but getting companies to understand the market," he says.
It was a real struggle to get the Maritime chair pushed through, for example. After the first costing the manufacturer came back and said it was too expensive, which was quite heartbreaking as he'd been working on the project for six months and had already produced two prototypes. "When I got that email, I thought, 'how can an industry work like this?' If somebody says they're not going to do a project, it needs to be a really good reason."
So Hubert went away and put together a presentation about the market – showing price points and some opinions of retailers in London. He returned to the manufacturer with a packet of information and finally convinced them to produce the chair.
"I had to do something to keep it alive – it was quite a significant project for me. The only reason I'm in this position now is just down to bloody-mindedness and hard work. One of the partners I'll be launching with said I was the most tenacious person they'd ever met. I think it's because I'd probably do just about anything to make a product happen, within reason."
This heartfelt admission brings to light the reality versus the perception of successful designers. No matter how much press or kudos a person receives, making it in the royalty-driven furniture and lighting industry is extremely difficult.
"Everyone wants to work for the biggest Italian companies but a lot of that is prestige. You have to go into it realising that you're not doing it for money," says Hubert. So what did he go into it for? "I think you create your own opportunities. I feel very lucky to have a working business that I can control, in an area that I'm passionate about, with clients that will support my ideas. That, for me, is what success is."