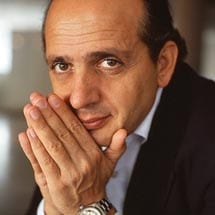 hadi
Kerstin Zumstein meets architect and designer Hadi Teherani, master of silver and gold
What would the design industry be without primadonnas – those architects with such inflated egos they seem to believe themselves to be superior beings?
Hamburg-based architect and designer Hadi Teherani is a perfect example. He travels only with his mysterious entourage, so interviewing him at Interstuhl's impressive Orgatec stand meant entering a balloon-type tent to find the Iranian-born architect sitting at the head of a large table surrounded by five bottle-blondes. Admittedly, they may have been his wife and children – no one dared to ask – but it painted the perfect picture along with the Arabian theme set by his 24-carat-gold-plated Silver chair exhibited at the stand.
His manner was as suave as the Silver chair's finish – sleek, clean and absolutely no chance of seeing what lies behind the smooth exterior. Having launched the Silver chair for Interstuhl at exactly the same spot two years ago, it still remained the strongest exhibit on the stand. The ugly functional parts usually visible in task chairs are skillfully tucked away under the aluminium shell (which is inspired by the Sydney Opera House). The two handles, beautifully embedded into the finish, are easy to use and can be reached comfortably. The chair glides perfectly, seeming to float along the floor. When asked about its engineering, Teherani sniffs at the idea of exposing his work of art: "Why don't you just get one of the Interstuhl guys to take it apart for you, if you want to know."
Teherani may not want to talk about his office chair's technicalities, but he is a talented designer and a creative force. His designs are simply beautiful. In 1991, he joined forces with Jens Bothe and Kai Richter to found BRT Architekten, having met while studying architecture at the Technical University in Braunschweig. The practice's office designs have since transformed Germany's cities, and Hamburg in particular, with the imposing glass facades and strong shapes of buildings such as Doppel XX and the Deichtor office block. The recently completed and award-winning Dockland project (completed in December 2005) demonstrates how BRT has picked up on Hamburg's harbour theme by designing a glass monument shaped like a ship on its way out to sea. The Berliner Bogen building in Hamburg (2001) made BRT a household name across Germany, and recently the practice has started building abroad. The Dubai Business bay is due to be completed in 2008 and will mark a new area for BRT's workplace design.
In 2003, Teherani decided to diversify from his architectural focus with BRT and move into product design. He founded his solo project, Hadi Teherani AG, and launched various bathroom products, seen in many major hotels. He started revitalising the Interstuhl product line in 2004 – and with that Germany's interior design market, which traditionally was famed for good manufacturing but often lagged behind the Italians in terms of stylish design. Teherani, however, has an eye for classy office furniture. "With the Silver chair I have created a cult object, it has gained cult status in only two years," he states, modestly. "We are regularly contacted by film production companies who are keen on placing the chair on the set, for instance [German actor/director] Til Schweiger's new film."
Materials are paramount to Teherani: "It's all about top quality finishes. Whether in your living or working space it's about haptics, the look and feel of the surface. Take the Silver chair's shell, for instance – it is carbon-coated aluminum available with a brushed, lacquered and high-gloss finish. The seam of the upholstery is flawless, the joints of the shell run smoothly and the transparent castors and glides suggests a certain lightness."
The new gold-plated version of the Silver chair with red silk upholstery is up for grabs at €50,000. Does Teherani think people will buy it? "There has been a lot of interest," he says. "I see the office furniture market going in the same direction other consumer markets have: towards custom-made products. It's a phenomenon of our time that people with money want to spend it on something unique, something personalised. For instance, with cars, a rich person won't simply order a Bentley, they want ostrich leather seats or their initials in the dashboard."
Teherani's prediction of customer-specific office furniture is one to keep an eye on – a truly ergonomic table formed to your individual body shape, or maybe just diamond studs in your pencil sharpener. His gold-plated chair, which, unsurprisingly at that price, wasn't sold at Orgatec, is now on display at the "Millionaire's fair" in Dubai. Who would have thought office furniture could be so glamorous?