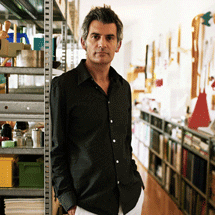 Alfredo Häberli lives and works in Zurich, but was originally born in Buenos Aires and, working for just about every one of the design greats (Alias, Edra, Driade, Zanotta, Moroso and others), spends much of his time Italy-bound.
Last in London for the Schiffini Primo Anniversario party in February, he returned in March for an exhibition of his work for Alias at the Coexistence showroom in Islington. It was also a chance to showcase Häberli's new Plein Air chair for Alias, which boasts a characteristically minimal frame and removable stretch-over "jacket".
Among the compendium of Häberli-designed office chairs that line the showroom wall is one of Alias' bestselling products, Taormina, and the TT sofa, which has taken home in many receptions, hotels and public spaces. It is hardly the cosy Laura Ashley style of sofa that we may lean towards in this country, (understandably, considering the stormy weather March has to offer), but building heavily upholstered sofas from huge clumsy wooden constructs is "very strange", according to Häberli. He is far more taken with lightness, and the ability to give the impression that a piece of furniture is "almost floating". Looking at the Classicon table for Skaia and the Take Off chair for Moroso, this is an illusion he comes considerably close to achieving, not a mean feat in the art of furniture design.
Over a decade ago, Häberli was busy collaborating with Christophe Marchand on the SEC shelf system for Alias, pioneering the way in interlocking mutable storage for the office. Working with the brand back when there was only one product developer is what brought on the silver hair, he jokes. His long-standing relationship with the company is obviously one that is valued on both sides. He describes his colleagues there as great friends, and great critics. "Unless it is a project we both want to work on, we won't do it," he says.
While accruing a client list ranging from Camper to Volvo, Häberli carefully manages to sustain the roles of both international and hands-on designer. In his office in Zurich, which he describes as "not like an advertising agency" but "full of normal things: books [he is a self confessed book 'maniac'], models and materials", he works with six other people, meaning that around 12 projects hang in the balance at any one time. "This is a good number. It gives me control over what is happening, and means it is my way of thinking that goes into each project. Too many people and I would not be able to follow everything that goes on."
It's also a question of economics. "We can all work on a good salary and have a good life; if we employed more we might have to take on work we didn't want to do," says Häberli – a strict faux pas in his work ethic. Current projects underway at the Häberli studio include a dedicated 1,000sq m exhibition at the Museum für Gestaltung Zurich, beginning 26 June – "A thank you, I think," he says, for representing Switzerland in the International sphere – and the fit out of a cafe in Copenhagen, involving everything from furniture to decor.
Projects leading up until now have ranged from everything from furniture and fit outs to tableware, footware, jewellery and bags. Next on his agenda is an upholstery design for Dutch company Kvadrat. "You don't recognise my handwriting immediately, in the way you might with Marc Newson or a Ross Lovegrove," he says. "But if you look twice, you may be able to tell from the way something has been designed."
"Personal experience," he adds, plays a big part in informing his way of thinking and method of working. Designing a range of bags for German leather designers Colins, for example, made perfect sense to Häberli. "As I am on the move a lot I often arrive somewhere for two nights, with presentations, working papers and a change of clothes. I want a bag that looks cool, but is not too much like a travel bag and not too much like a business bag or briefcase.
By my side [his design for Colins, about to be followed up with a new range] is not a fashion bag, it's quite graphic."
Ginger Stool, for Spanish company BD Ediciones – designed with a shelf underneath to keep your personal belongings safe when in public spaces – similarly comes from experiences of being on the move. "I like to bring extra value to a product, add extra secrets," Häberli explains, with an almost mischievous air.
Often, it is this close observation, and experience of lifestyle, and workstyle, and the subtle changes in each, which leads to his discovery of "different typologies" in furniture design. Or, in simpler terms, his experimentations in "gluing different furniture ideas together."
These new typographies have included the Wing "sofa and table in one" for Edra, designed ten years ago when people began to use the internet at home and surf around on their laptop for short bursts of time. While the Solitaire, designed 15 years ago for Offecct, is the fusion of a low chair with a small table; an evolution of the auditorium chair to fit the aesthetics of the office. "It came from when I was in Stockholm; I was always in meetings on sofas using low tables, and I just thought about a piece of furniture which would fulfil both needs," says Häberli.
"You could use one now," he points out, as I scribble notes on to the low table in front of the low chairs we are seated on. Of the projects underway in the studio at the moment, many can take anything up to two years from conception to final product. "It's long distance, a marathon you might say," he explains. "It is important to keep good conditions, mentally. The first step is always the heavy one; you are searching for the idea and creating prototypes." This is the stage where he is most heavily involved. "Then there is a lot of to-ing and fro-ing. It is a complicated process."
At this point (in his 40s, running multiple concurrent projects from the studio), closing down the studio three days a week to teach, for example, is not an option for Häberli. He does, however, fit in guest lectures where possible, and has published a book ("more like a pamphlet") for students, containing his secrets of success in the design world.
His latest book, published to coincide with his guest of honour appointment at the Interieur Bienale 2006 in Belgium, is more typical of his ability to see things through new eyes. Seven of Switzerland's top contemporary artists were invited to take pieces of his furniture and create art installations from them. "It has my furniture in it, but it is a book about the artwork, what the artists do with it," says Häberli.
"The Swiss don't want to be stars," he explains. "They just want to work, have freedom and remain down to earth." In the middle of explaining this, he spots a friend, and colleague, through the window outside, pulls a crazy face and waves a crazy wave. It's disarming, and revealing of the playful streak that runs through what he does, despite his serious international status.