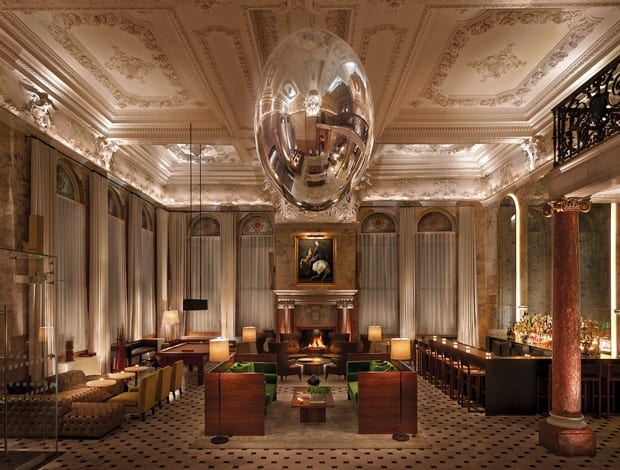 The London Edition, Ian Schrager's opulent ode to the city|Edition's cosy rooms are simpler than the public spaces|Sea Containers House: The Mondrian will open here in 2014|Ace's east London's location asks for a laid-back aesthetic|Vintage and contemporary furniture mixes at Ace|Guests can pin up notes and ideas on their own magnetic shelf||
Last month, two hotel chains with some serious clout, Edition and Ace, hopped over the pond to London for the first time, and another, Mondrian, is due to follow suit next year. One thing that can be inferred from their almost simultaneous arrivals is a thriving market – a bolster for the city's tourism. A closer look makes for an enlightening comparison of how those with the cash, inside knowledge and the eye for a trend have chosen to interpret the same city in different ways.
The London Edition (part of Marriott) has industry godfather Ian Schrager at the helm, a man cited as inspirational by almost every next-generation hotelier (including Ace's Alex Calderwood – more from him later) for inventing the designer boutique hotel in the 1980s. This project is Schrager's first work in London for 15 years: he says the city "has always been a 24-hour international gateway, but right now it is bursting with energy, one I haven't felt in quite a long time. It's experiencing a cultural explosion in art, fashion, music, design… we tried to tap into that zeitgeist."
Edition does so in a way that meets traditional opulence with contemporary details. A case in point is the entrance lounge, with its a jaw-dropping stucco ceiling and huge Ingo Maurer-designed stainless steel orb light, and the reception area, which is clad – a bit like a garden shed – in overlapping wood panels, decorated with both a classical tapestry and a purple neon light artwork. Even the rooms, more pared-down with wood cladding and white linens, have a fur throw for added luxury. It is ornate and theatrical, but with elements of cool thrown in by the Studio 54 creator. "It's a little bit of organised chaos when it all comes together; it goes to some unanticipated place," he says. "That originality and willingness to take a chance is what resonates with people."
The whole vibe fits rather well with the hotel's location in Fitzrovia, home to a mixture of old and new industries, heritage architecture and Soho bars, and looks to attract a fashionable clientele looking for something sophisticated and unique, says Schrager ("The same kind of people who buy Apple products," he quips).
A few miles east is the Ace hotel, whose clientele were probably buying Apple products back when they were niche. Like its sister hotels in the States, Ace London has rejected more touristy locations in favour of somewhere more edgy, namely Shoreditch, and is likely to attract a more cutting-edge crowd, many of whom are linked to the booming local new-media industries such as technology, advertising, graphic, web and interior design. These people, explains Ace co-founder Alex Calderwood, would choose the Barbican over Buckingham Palace.
"I like to refer to them [Ace clientele] as cultural enthusiasts," he says. "There's a misperception it's all young hipsters, but that isn't the case; it's a wide range of people, all with a common passion or curiosity for things like film, design, visual arts, food and technology, who are going to love exploring this rich neighbourhood."
Inside are unpretentious, unfussy environs where creative types will feel at home. Opting out of a historical recreation, which Calderwood says would have been disingenuous in a ten-year-old building (formerly the Crowne Plaza), the interiors are more honestly minimal. The brief to Universal Design Studio (UDS) – Edward Barber and Jay Osgerby's practice and the same team behind One Leicester Street (see p18) – was to reflect the local area without any Brit cliches that might repulse its design-aware visitors. "We didn't want to fall into the trap of getting a wingback chair in Union Jack fabric," laughs Calderwood. "The connection had to be more cerebral."
UDS went for a mix of vintage pieces and contemporary crafts, aiming to channel old-school East End trades through a modern lens. Max Lamb made the zinc-clad restaurant bar; craft-led manufacturers Benchmark and Ercol supplied furniture; industrial-look steel-framed windows and other metal details were made by Crittall, an Essex firm that has been doing so since 1889; and brickwork was used expressively on the street facade and lobby, inspired by the local history of nearby Brick Lane. Whereas many designers claim to reflect the locality, Ace seems to have genuinely thought through every detail.
Coming soon is Mondrian London, part of the Morgans Hotel Group, which the brand says also aims to "link to the local neighbourhood… working with local producers and artisans to create an authentic vibe." That is TBC until its opening in 2014: the project is much anticipated, not least because it will transform one of the Thames' glummer landmarks, Sea Containers House, but also because Tom Dixon's practice, Design Research Studio, is behind the interior. With a massive 359 rooms (compared with Ace's 258 and Edition's 173) it's the biggest of the lot, and you can't argue with its location, a stroll from Tate Modern, the Southbank Centre and the National Theatre.
Perhaps more akin to the aesthetic fusion of Edition rather than Ace, Mondrian promises a mix of "glamorous 1920s transatlantic travel combined with 1980s postmodernism" – aka Tom Dixon does Titanic – with a running theme of brass finishes and a giant copper-clad wall in the lobby inspired by the hull of a ship. By the sounds of it, Mondrian's approach is all-out decadence, a bold outing that it says is justified by a "surprisingly robust market, especially since the success of the Olympics." Long may it continue.
Alex Calderwood and Ian Schrager are both speaking at the Sleep conference, which is on from 20-21 November; see the Sleep website for the full schedule.
This feature is part of onhotel, a yearly publication put together by onoffice, available at Sleep.