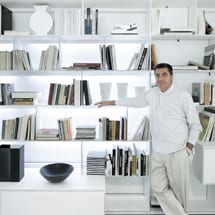 Antonio Citterio fights off the label of a signature designer. "I'm a banker, you know, or like a guy who works in insurance," he says. But with 36 years at high-quality brand B&B Italia under his belt, and having made waves in office design in the early 1990s with his Ad Hoc system and the revolutionary T-Chair for Vitra – the first furniture to introduce colours, stripes and domestic fabrics to the workplace – his modesty seems displaced.
At Orgatec alone, he is launching two new ranges for B&B and Vitra. Citterio has become a brand in himself and sets the mark high for what contemporary furniture design should be: a response to the vision of how we will live, work and play.
"My role here at B&B, for example, is not just to design, it is to drive a vision based on what is needed – what the market requires." Citterio is part of B&B Italia's board and a driving force behind its recent move into the contract market and especially office furnishings. His AC Executive range from its Project Collection, with a massive desk in ebony and oak veneers, is on show at Orgatec, and radiates quality with its powerful yet old-school feel. Not much has changed then – executive office still means a big wooden table? "The democratic idea of everyone working at the same bench, putting their feet on the table, was a dream," says Citterio. "Sure, the bench was the most fundamental shift in the past decade regarding workplace interiors, but the fact remains that we still work at a desk in front of a computer [be it a laptop] with a phone [be it a mobile] – and that is how the office will stay." And the big boss making the big dosh still gets to sit at an über-sized oak table to express his success, and put his feet up whenever he likes.
Citterio is a realist. He is not interested in designing sculptural objects with shock value. His belief is that design is merely an integral part of industrial culture. "Design is an intrinsic value, part of an industrial process – it is not an additional value." He compares furniture to cars and says that if you buy a Mercedes, you know what you are getting. The relationship between the price and product – the mechanical detail and the design – is an intrinsic value; it is not that a Polo is badly designed, but a Mercedes is simply another class. And by that logic, B&B Italia is the Porsche – and that is why it didn't launch an operational desk range, it could only ever be executive. For Citterio, being a designer means providing a package. Observing, seeing what products are needed, while taking production, manufacturing and commercial viability into account – a classic functional approach, with no glam nor frills.
"Nowadays, I design in the factory. I take the ideas for new or modified products from my architectural projects when I notice something is missing in the market."
As a name, Citterio is associated with the furniture design market. His clients include Hansgrohe Axor, Flos, Kartell and Vitra, yet Citterio's architectural projects complete his work and are spread across Europe. He says his latest office build, the Zegna headquarters in Milan, is "the expression of the group's culture" – and "it's fantastic". In Hamburg, Citterio changed the face of the city's architecture with the Edel HQ and office build Neuer Wall 59 in 2002, which sparked a flood of new builds (see onoffice cover issue 15), not least in the new Hafencity area by the river Elbe. "The building changed the city's palate for modern architecture, and looking back, you can see how a new quality of architecture evolved, discovering the transparency of modern materials now distinctively Hamburg," he says.
Yet with furniture design, Citterio finds it difficult to talk of revolutions. "Changes happen one step at a time. Looking back over five years, you may be able to say that a product was revolutionary, but in general, an evolution takes place slowly through minor shifts in typology that merge into a new style over time. Magazines and museums pick out only the big changes in shape and form, but they don't recognise the underlying change in typology evolving in each product."
Despite his products forming part of the MoMa permanent collection and being exhibited at the Centre Pompidou in Paris, Citterio's aspirations lie in the commerciality and long-term value of his products. He takes pride in the subtle modifications he has made to products such as the Frank sofa over the years and explains their importance. "When I first designed the island to go with the sofa, no one got it. But I observed how family life was developing on the sofa. It wasn't just about sitting, it includes eating and sleeping on the sofa. Today, most sofa systems come with an island piece."
And that is the key to Citterio's design talent. He predicts long-term change and knows to subtly shift typologies without rupturing present products. His Flat C for B&B Italia, for instance, is a new type of cabinet. "The idea is to respond to the increase in flatscreens in the home and office, which firstly calls for flatter cabinets, at maximum as wide as a book, and secondly for flexibility for electrics," says Citterio. "Clever cable management is still key. We are not all wireless yet. Often media will run away with a new invention before it has actually spread accordingly on the market. But the importance of the screen fitting flat on to a wall, the reality of flatscreens getting bigger and remaining a central focus in the room, calls for a flexible cabinet system to fit around it."
The symmetry of Citterio's furniture products is a central theme. "You won't find anyone more symmetrical than me," he laughs. "I was born in between Como and Milan, in the middle of the 1950s [1955], in the middle of the year [June], in the middle of the month [16th]." And, indeed, he seems completely balanced. Having lived and worked in Milan all his life, still doing his first job as a designer/architect, I ask whether he has ever wanted to break out of the legacy of Italian design. "I am too old now," he says with a cheeky smile. "But to be honest, I have travelled so much and work internationally, nowadays it is difficult to talk about Italian design. I think it is much more interesting to talk about European design culture. Look at B&B, Vitra, Moooi or Morrison and the Bouroullecs. What is driving European design cannot be dissected into separate nationalities – it's a collaborative business. And some production is returning to Europe, like ceramics from Morocco to Sweden."
So, there is no need to be scared of China? "Well, if a company decides to outsource the entire production to emerging countries, that is a big mistake," says Citterio. "Design is part of an industrial process, which is inherent in European culture, so we need certain factories to stay here. But if certain parts are made abroad because it is cheaper, then that make sense. Europe has always had a culture of production and I believe our social structure will ensure that link is never lost. We are not like the States, where they can just cut it off. I mean, look what happened to design culture in the US. It practically doesn't exist any more, apart from some craft. When you go to ICFF, you see young student craftsmen, which is interesting, but it isn't an industrial or commercially viable place. Why? Because they outsourced all the production.
"Of course, the challenge is that cost drives decisions nowadays. In the 1960s, designer products were the elite. Even in the 1970s, when I started, only six per cent of the furniture on the market was contemporary design. Today, contemporary design is the market." When asked what he makes of limited-edition design, Citterio says: "Well, it's not for me. But it is part of our design culture and celebrates craft values, so in a way, it is like antiques for collectors. Maybe limited-edition designs are the contemporary antiques."
Citterio's designs aren't the eye-catching talking points of such designers as his friend Ron Arad, but rather a sober design language of a high standard, with a meticulous attention to detail. He says: "Ron is a star. He is an artist. I have his designs in my own home. But there are two types of designer – and he is one and I'm the other." Citterio likes to step behind his designs. He likes anonymity, a simple appearance. His dress is Milanese standard smart casual – polo shirt and beige trousers with loafers. As he gets ready for his portrait shot, he empties his pockets. "My jacket luggage," he jokes, including black Ray-Ban sunglasses, reading glasses, Audi car keys, a black wallet and a black Moleskin notebook. All essentials – nothing flamboyant. They could potentially be the contents of a bank manager's pocket. But as much as Citterio tries to portray himself as "normal", looking at his output, from his furniture designs to his exterior/interiors architecture, if Jasper Morrison's credo of returning to super-normal design is anything to go by, then Antonio Citterio has been doing it all along.