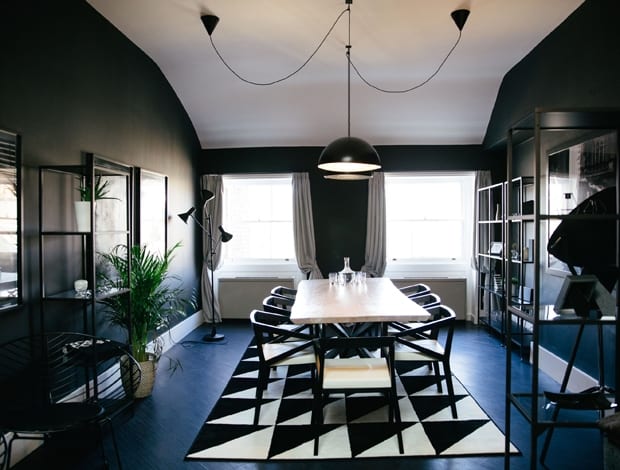 ||
The Den and the ensuing projects we'll be featuring in this series each have their own distinct approach to design, with a few unifying factors: flexibility is highly prized, so furniture can be easily swept aside for those all-important social and networking events; even private offices are given a sense of openness, divided up with glass, for example; and the furniture is clubby, informal and/or domestic (you'll have to look hard to find a task chair), better reflecting the drop-in, move-around nature of members' working days, as opposed to more sedentary behaviour. Between them, these four offer some hint as to the direction in which co-working might be heading.
The Den, Bedford Square, London
Don't be fooled by the very traditional exterior: inside The Den, it's very workplace circa 2015. This is the latest incarnation from The Collective, the brains behind the New London Award-shortlisted Pop Brixton workspace.
The Collective's CEO, Reza Merchant, was being shown some offices and as soon as he saw this particular space, put in an offer on the spot, despite it being too big for the Collective team (who now occupy the first floor). He saw the space's potential to create a centrally located environment for start-ups and entrepreneurs.
Like its south London sister, The Den adheres to the 'Collective Elevator': a company manifesto that provides not only a physical space for working, but a platform for networking, access to capital through its Elevator investment fund, plus events a-go-go. Speakers through the doors at Bedford Square are as diverse as the former Conservative MP Steven Norris and the guys
from online industry bible Techcrunch.
As regards the aesthetics, Collective's in-house head of design Irina Listovskaya explains: "We wanted the reception room to showcase the beautiful Georgian building, but with an innovative twist." Hence an original fireplace is retained, enhanced by contemporary features such as a bespoke halo-shaped chandelier by design practice DH Liberty.
The games room is the work of creative events agency Bearded Kitten and includes the de rigeur table football as well as Lego pictures, a roof terrace and a living wall consisting of hanging macramé, in front of a painted mural.
The lower floor annex is where you'll find a timber-fronted bar as well as an assortment of workstations made from scaffolding poles. "The idea behind this was to make the space as flexible as possible so all furniture can be moved around; it converts easily from a hotdesking space to an events space," says Listovskaya. The theme for this area was the 'urban jungle', hence the groovy
Cole and Sons palm-tree wallpaper on one wall, a motif replicated under the glass coffee tables.
The finishing touch here is a lighting installation that runs all along one wall, made from metal pipework. As well as adding to the overall look, it was, says Listovskaya, important for members to have visibility when working – and then the lights can be dimmed for mood lighting during special events.

Read more from our co-working takeover series:
Pt 2. The co-working takeover series: Danish firm Spaces
Pt 3. The co-working takeover: The Office Group
Pt 4. The co-working takeover: WeWork Devonshire Sq
This onsite co-working series will explore four projects in London that have opened within just one month, all of which will most likely be fully let by the time you read this