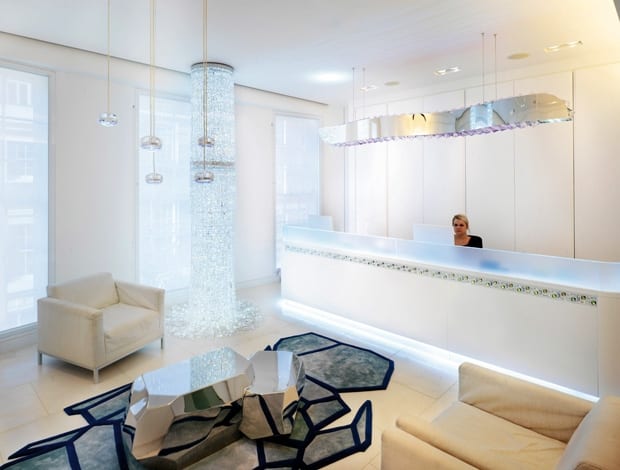 Swarovski's London HQ is a showcase for its sparkling wares|The firm's many facets – jewellery, fashion and interiors – are all represented|Bespoke joinery is used extensively throughout the refit|Crystal-free-zone: simple Vitra desks instead|Glittering Swarovski luminaires hover above a meeting-room table|Occasional shots of colour break up some of the neutrality|Jewellery displayed to its best in custom-made niches|Loads of storage – and some stiletto-proof flooring – prove that glamorous can be practical, too||
Woompf! It's the scent that hits you first. We're in Swarovski's second-floor offices near London's Piccadilly Circus and I suspect my nostrils are being treated to a very expensive kind of scented candle. Having outgrown its previous offices in nearby Conduit Street, the brief here was to create a vibrant space for both users and visitors alike. Visually, the reception area is bright white and sparkling, and the magpie in me doesn't know where to look. There's the Cascade chandelier on one side of the reception for starters. It's a handsome, nigh-on ten-footer of a thing, weighing nearly half a tonne. "It came through the window and it was then fully assembled and connected," remarks James Langford, principal of his eponymously named architects practice, which was responsible for the design of this workplace. Above the reception desk another suspended piece of lighting snakes through the air. Look underneath and large pieces of crystal change colour, thanks to some nifty fibre optics. The bespoke reception desk is inset with a strip of crystal and opposite that there is a display cabinet, made of lacquered MDF, showcasing several other products like an oversize upended jewellery box, made especially in Swarovski's Austrian HQ. Then there's a glitzy Arik Levy-designed Rock table and even a crystal-shaped carpet, while a series of hand-held lights that look like blinged-up yo-yos sit atop Zaha Hadid's Serif 1 wall shelf complete the introduction to the space. There's certainly no mistaking what they sell here.
The office had to function partly as a showroom, but not so much that it felt like crystal claustrophobia. "It's a fairly neutral backdrop, which allows Swarovski's different coloured items to be displayed," says Langford. Staff sit to the left of the entrance at white Vitra desks, with adjoining cabinets along one wall. "The office was all about storage and efficiency," adds Langford. Structurally, he has made some subtle yet fundamental changes. The existing ceiling levels have been raised and the air conditioning system has been made more efficient, countering the down-draught from the windows. The lighting system was also altered, so it now adjusts according to the amount of natural light coming in. Tord Boontje's gorgeous Blossom light and a large Union Jack artwork break up the white space here; along the other wall are the directors' offices, where you can glimpse a large-scale landscape of Wattens, the Austrian village where the Swarovski story began, bringing a bit of humble Tyrolean charm to an otherwise terrifically sophisticated environment. "It's like a panorama and is achieved by screen printing onto film, which is then mounted onto the existing glazing. Nadja grew up there and she selected this," explains Langford. Ah yes, Nadja Swarovksi, the client, and the woman who in the last decade has brought in a design-orientated desirability to her ancestors' business as vice president of Swarovski Crystal Business. Its list of collaborators runs like a veritable who's who in contemporary interiors and architecture from Tom Dixon to Ron Arad. At last year's Crystal Palace exhibit in Milan, for instance, there were installations from, among others, former onoffice cover star Yves Béhar, Belgian-born Vincent van Duysen and Tokyo-based Tokujin Yoshioka, while 2010's Design Miami saw an installation by cutting-edge London practice Troika. Nadja's office is at the far end and is unsurprisingly spacious. Ms Swarovski likes her bright colours if this is anything to go by – a zingy lemon-coloured task chair here, a highly patterned rug there, mixed in with some modern artwork. This must be one highly stimulating office.
At the other end of this floor there is a series of meeting spaces, with more jewellery displayed in niches built into the wall of the corridor. Storage was again an important function here: each of the meeting rooms has a teak-lined treasure trove full of samples to show clients and potential collaborators. Swarovksi's Elements brand is dedicated to using loose-cut crystals in interior design – on textiles, walls, home accessories and furniture – so it's important to have many different products to hand, to demonstrate all the possibilities. The meeting rooms have four light settings, depending on whether staff are demonstrating the crystals' light-reflective properties, using AV facilities or simply requiring bright light for reading and interaction.
There are mannequins dotted here and there too, as fashion is another market the brand maintains strong links with, working with the likes of Balenciaga and Viktor & Rolf. Entertainment is another area where the firm has had a long association, from Bond (the chandeliers in the Ice Palace in Die Another Day) to ballet (Natalie Portman's costumes for Black Swan) to any number of A-list pop stars' costumes. In the space next to the meeting rooms, there's even a 'hall of fame' where photographs of Prince and
Tina Turner in their finery are displayed alongside another snap of Wattens. And as if to reinforce the point that this is a company that doesn't forget its heritage, there's a portrait of Nadja's grandfather Daniel, the firm's founder, looming large on an adjacent wall. This is a much softer area, complete with armchair, low seating, rug and bookcase with smoked, mirrored glass. Upstairs is the project's most recently completed phase, which originally started on site in August 2009. It's home to more workstations and new glazed screens to maximise the light. There's another bit of Zaha greeting guests here in the form of her Moon sofa, surrounded by a series of dramatically suspended lights, as if to demonstrate once again how seriously they take design, and designers. Flooring-wise, while there are areas of pale grey carpet, the main traffic area has a white stone floor. "It's a Spanish limestone," says Langford. "It had to be tough enough to withstand stilettos." "Really?" I ask, whereupon as if on cue, a spectacularly shod specimen emerges from one of the meeting rooms, perfectly illustrating his point. So it seems that behind every glamorous office, there's a strong sense of practicality, making the workspace function.