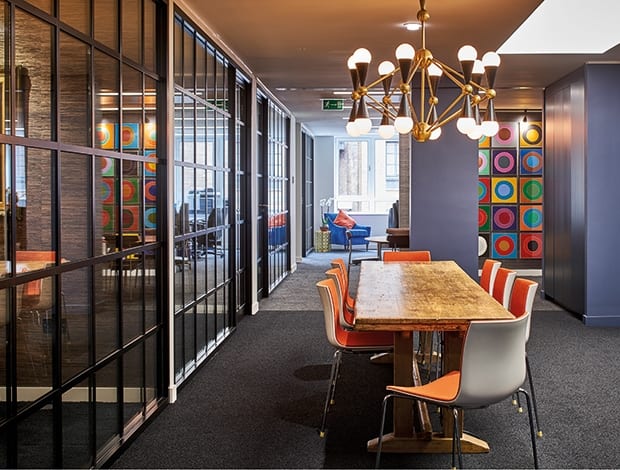 KKS Strategy applies personality models to design|||
Collaborative, open, vibrant and bustling – just some of the high-energy buzzwords recently used to describe an aspirational workplace. But in reality the workplace industry has been creating increasingly flexible settings for years, to accommodate the needs of a wide variety of workers. Architects and designers are applying insights from the field of psychology to the workplace, and we are seeing offices provide zones for contemplation and collaboration – spaces that meet the needs of both introverted and extroverted employees.
When we talk about introversion and extroversion we are referring to "the quantity and intensity of energy directed outwards into the social world", explains occupational psychologist Rachel Lewis of Kingston University. "Those higher in extroversion display a high level of interest in others, preference for the company of others, a faster pace and a need for environmental stimulation. Those higher in introversion are essentially the other end of the scale, so may prefer to not be in crowds, may prefer to work alone, are reflective rather than fast paced and direct their energy internally rather than externally."
These two categories of personality were introduced by Carl Jung in 1921 but are still used by psychologists today. More recently the needs and preferences of introverts and extroverts have been brought to new audiences, the office industry included, thanks to writer and lecturer Susan Cain and her bestseller Quiet: The Power of Introverts in a World That Can't Stop Talking (2012) and a TED talk of the same year which has been viewed by 17 million people.
TOG's Albert House mixes up different types of space
This office I described above is typical in its promotion of what Cain describes as the "extrovert ideal" (admiration for extroversion in Western culture was solidified at the turn of the 20th century with the rise of big business). The majority of experts I spoke to were aware of Cain and many were fans of her work. A quick online search on introverts in the office comes up with endless results. This media focus begins to explain where a growing commitment to the introverted worker is stemming from.
Architect Ben Adams also raises the effect of a historical focus on openness and transparency in the workplace, which has meant "less energy has gone into thinking about how people actually want to work and what variety they need in order to find somewhere comfortable to get things done". Now we are likely to see the "emphasis going into quiet spaces and one-person rooms where you can hide yourself away and get things done".
Introversion and extroversion is a good place to start, but delve a little deeper and it's clear that user-driven office design is far more complicated than these opposing sides of the spectrum. First, many of us have a mixture of introverted and extroverted traits and preferences; we might be more of an "ambivert", taking our energy from a variety of settings and situations. Lewis warns against focusing on just one type as large bodies of research show the most effective teams and workplaces are diverse ones.
Several other personality models are being applied to the workplace. Environmental psychologist and workplace consultant Nigel Oseland discusses the relevance of the Big Five or five factor model, which looks at openness, conscientiousness, extraversion, agreeableness and neuroticism (high levels of conscientiousness might drive an employee to seek out fixed desk areas over alternative settings, for instance). The Myers-Briggs Type Indicator (MBTI) is one of the most popular personality models and has been used in various office studies.
The influence of activity type on spatial needs is equally important. Your preferred work style might be bouncing ideas off your team in a breakout area, but if you're writing a complex report you'll likely be on the lookout for a quiet, calming space just like one of your more introverted colleagues. As Oseland observed in his 2009 paper "The Impact of Psychological Needs in Office Design" in the Journal of Corporate Real Estate, our "preferred environment depends on other factors such as the type of activity being conducted and mood".The Leesman index, the largest independent database on workplace effectiveness, hasn't measured employee personalities but it did create employee activity profiles in a recent study into activity-based working and spatial preferences.
Open areas at Albert House enable more social working
In essence this new movement has been about providing a choice of settings for staff, such as balancing a collaborative open plan with focused spaces, or complementing quiet cellular offices with engaging breakout seating and meeting points. As Leesman's MD UK & Ireland, Chris Moriarty, puts it: "Everyone approaches different modes of work in different ways; it's just critical that workplaces cater to it, and the key to this is undoubtedly variety."
Adams suggests that the movement towards co-working has helped shift design focus and encouraged office providers to ask more questions about different users' preferences: "The answer is that we need lots and lots of variety. We don't just need big open-plan spaces and hot-desking where everything is the same," he says.
His practice, Ben Adams Architects, designed Albert House in London's Shoreditch for workplace specialist The Office Group – a space that places equal value on different-sized businesses, activities and types of worker. It features a huge variety of spaces "from deck chairs at one street to perfectly conventional conference rooms at the other" and plenty of others in between. "At its simplest, we're trying to make the workplace a more enjoyable place to be. Sounds simple, but happier people are going to be more productive. You don't need statistics to prove common sense," say TOG co-founders Olly Olsen and Charlie Green on their highly successful approach.
London-based architect KKS Strategy is one practice that directly applies personality models to spatial design, maintaining that "if we understand the personality profiles within our workplace we are better able to design the right distribution of work settings". MBTI results for lawyers show a ratio of 4:1 introversion to extroversion, knowledge that formed the basis of its new office for international law firm CMS in Glasgow – a "next generation of legal open plan to reduce barriers, promote lateral connectivity and increase productivity" that reinforces the brand after its high-profile merger with Nabarro and Olswang.
In this example a focus on introverted working styles was an obvious place to begin but the practice establishes that "the workplace has to support a diverse range of personalities" and should also cater for the many variations in between extroversion and introversion.
Woods Bagot was one of the first practices to discuss these trends with OnOffice in June, with its "Designing for introverts" industry roundtables. The theme was an engaging starting point but, rather than a pure focus on introversion, director Sarah Kay and workplace interiors innovation leader Amelia Saberwal's key message was about providing "the freedom for people to choose their own settings".
The initial solution favoured by the practice was activity-based working (ABW), seen in its flagship project for Macquarie bank in Sydney. More recently it has explored "ABW 2.0": team-based working, which encourages workplaces to adapt to their teams, with flexible, shared desk areas surrounded by a variety of alternative settings – Macquarie will pilot this approach too.
Individual booth spaces for focused work at Albert House
A movement away from the "one size fits all" open-plan working historically adopted by many is gaining momentum. Linzi Cassels, design director at the London office of global architecture firm Perkins + Will, tells me that it has been wrongly "assumed that open environments are suitable for everyone regardless of working style or personality type". One alternative that Oseland and others have recommended is the Bürolandschaft (landscaped office) which breaks up the open-plan office into a range of clustered meeting, breakout and focused spaces using vertical separation and zoning. "What I think tends to happen, particularly in the UK, is that the landscaped office has been hijacked by people who are mostly focusing on space efficiency and associated cost reductions, and therefore create high-density open-plan environments rather than well-designed open-plan spaces," he tells me. It's not that open plan has failed different staff personalities and work styles in the past – universal design has.
Office furniture manufacturers are on board with more personal design too. Steelcase collaborated with Susan Cain in 2014 to create five diverse workspaces that empower introverts and its researchers have been busy "delving into the findings of neuroscientists and cognitive researchers… into workers' behaviours and the changing nature of work," says Serena Borghero, editor of the firm's 360 magazine. Steelcase's Creative Spaces partnership with Microsoft (see OnOffice August) is a natural progression, focusing on creating different spaces for staff to work – "alone, in pairs and in different size groups throughout a creative process".
Manufacturer KI Europe and personality expert OPP teamed up to explore the relationship between personality types and workplace preferences, surveying 311 people of various MBTI types. Among several interesting findings, the research, Love Your Workplace, displayed the negative effects of "large, high-density open-plan layouts" on certain types and recommended partitioning and punctuating these spaces. The research also found that quiet zones provide a much-needed oasis for extroverts too.
Beyond clever work systems and choice of settings, there are other improvements that can benefit the psychological wellbeing of staff. The growing field of evolutionary psychology, which connects our human behaviours and preferences to the needs we developed in our historical environments, has several interesting applications in the workplace. As social animals we seek places to gather; we also look for private spaces where we can relax and restore. We are highly sensitive to a lack of natural daylight, poor ventilation and limited control over temperature and noise levels; we respond very positively to biophilia (design inspired by nature – or literally bringing the natural world inside). Quite simply, we are happiest and most productive in working environments that are closer to outdoor conditions.
As for the future, staff wellbeing could be heading further towards the field of neuroscience. Josh Artus is the director of built environment strategy and co-founder of the Centric Lab, which "provides companies with scientific research, analysis, and insights in how to increase health, wellbeing and productivity in people through a more human-centred design brief". Its insight has informed designs for Google, Aecom, the NHS and Urban Thinkscape.
Lab director Araceli Camargo, who developed the analytical frameworks, explains further: "Informed by empirical neuroscience research, The Centric Lab have developed a bespoke analytical framework to understand the relationship between space and experience. It defines the sub-components of human experience and relates these to specific aspects of the built environment."
This growing focus on the minds of employees and its application to spatial design presents an exciting new future for the workplace. Greater knowledge-sharing between a range of experts – from scientists and psychologists to strategists and architects – could lead to a new wave of offices which are designed to make each member of staff more comfortable, happy and productive.
Workplace strategists and designers are applying lessons from psychology to create spaces that can be enjoyed by all personality types