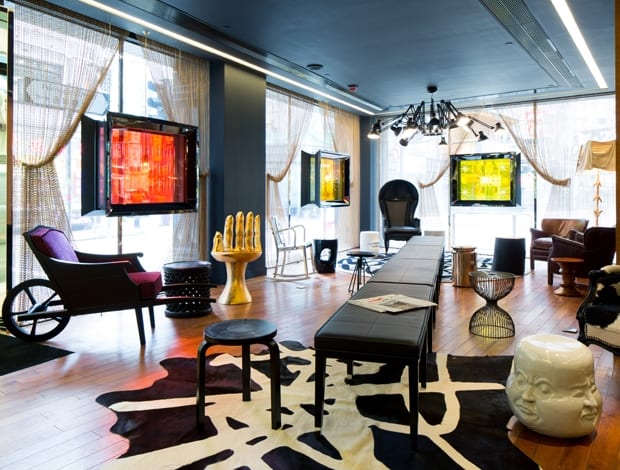 An opulent black, white and gold scheme greets the hotel's visitors|The lobby was largely white, dotted with aluminium and white and grey furniture…|The breakfast bar against the inky walls resembles a Northern Renaissance painting|Pedro Friedberg's Hand chair|All the bedrooms have been souped up and saturated|A paper chair in one of the bedrooms|Graffiti vinyl stickers on the ceiling add that all important street-art adornment|Serene white bedrooms have ben injected with slashes of colour|Graffiti4hire gave the facade a classical overhaul with columns and swags|A figure that closely resembles Raphael's Lady with the ermine decorates a facade||
Hong Kong's J Plus hotel has undergone a typically gung-ho revamp by Philippe Starck, with graffiti, colour and a touch of the surreal
After ten years as a monolithic grey block, the Philippe Starck-designed J Plus hotel in Hong Kong has been given a new faux-architectural skin as part of a £770,000 spruce-up. Now part of the Yoo hotel group (founded by Starck and John Hitchcox), the building's exterior makeover also signifies an nterior revamp – a proclamation that it is keeping up with its fast-changing environs.
Its refreshed look has a street-art theme, starting with its new fascia, which has a trompe-l'oeil design (by UK-based Graffiti4hire) of stone columns and architectural detailing and, more surreally, a drawn-back curtain. On the adjacent facade, peeking from behind another 'curtain', is a Renaissance-style portrait, meant to imply the hotel's own rebirth.
The lobby, previously a largely white room dotted with aluminium, white and grey furniture, now has a darker, more intense colour scheme. The ceiling and some walls are now black, as are the Moooi Dear Ingo chandelier, the wheelbarrow chair, the long bench and Babette chair by Fratelli Boffi, with glitzy gold elements in the Pedro Friedberg Hand chair and the Jake Phipps Shell stool.
Ornately framed orange, yellow and red tinted glass panels are mounted on the windows, inscribed with traditional motifs of coins, dragons and bamboo to bring good fortune. In reception, a Louis XV-style sofa is upholstered in fluorescent paint-splat Timorous Beasties fabric that ties in with the graffiti theme.
All the bedrooms have also been souped up and saturated. It's in keeping with the hotel's new 'urban' aesthetic, albeit in a way that's more sensitive on the eyes: serene white rooms have been injected with splashes of pink, orange, yellow or blue, with graffiti vinyl stickers on the ceilings adding that all important street-art adornment.