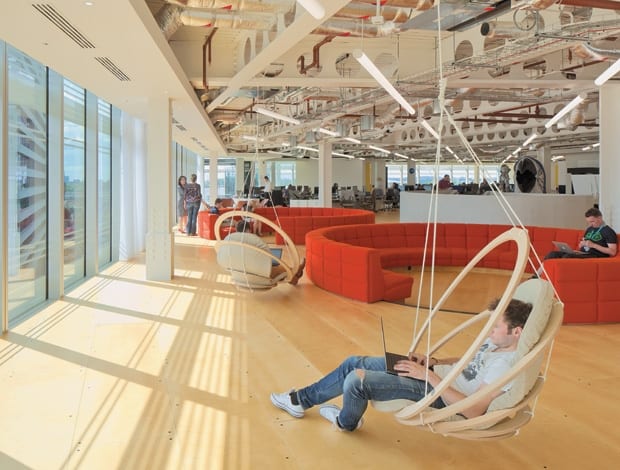 Every staff member has been supplied with a laptop synced to UKTV|Mid-century furniture mixes with contemporary seating from Sedus and Hay|Staff gather on and around the sweeping staircase for weekly planning sessions|a Meeting rooms have been named after the way you describe them, such as Over There, and the One With the Big Pink Sofa is a strong focus on techy de-cluttering throughout|Long XAL Tubo lights bring uniformity to open-plan areas|Meeting rooms have been named after the way you describe them, such as Over There, and the One With the Big Pink Sofa||
UKTV take the 'slow design' approach to create an innovative new HQ with just the right amount of twee
The slow movement is on-trend right now, just take a look on Instagram – slow living, slow cooking, slow fashion – it's all there, demonstrating how taking time allows for authentic moments, a certain mindfulness and space to think in all actions. So perhaps it was only a matter of time before we got to slow office design. 'Slow interiors' has been a thing for a while in residential terms, the idea being that it can take years of organic purchases, natural shifts of furniture and layering of finishes to create a home that is visually interesting, with genuine character and comfort. Is it now the turn of the office? UKTV's new London HQ, a collaboration between stalwarts Penson and UKTV facilities director Sarah Nelson, could be a pioneer.
"We just didn't want it to be too contrived," says Nelson of the 3,019sq m space at new development 10 Hammersmith Grove. "We wanted it to evolve over time, like a house, no gimmicks or trying too hard."
Yes, there is a 4m-high head of a dead parrot looming over us, a creature synonymous with UKTV's channel Gold, which celebrates the best of British comedy and exclusive re-runs of Monty Python episodes. But it was actually a model which already existed as part of a brand awareness event, rather than a gimmicky design for this space in particular. And there are more installations to come, including the neon light from Rik Mayall's Crackanory.
Just as you would when moving house, the company are bringing pieces from their history into their newly designed shell. And just as with a new home, the team have used this fresh start to assess and improve the way they work within it. For Penson and UKTV this is just the first phase, with the aim of adding more layers in a natural way – a 'slow design' way – that will evolve over time.
"We acted as the guiding hand in making these imaginings possible," says Asta Bijeike, senior designer at Penson. "It would not be the project it is without all the members involved, which was Sarah, us and Aldworth James & Bond. We worked together equally to make it happen."
The three floors of wide open space are slightly industrial, with exposed structural posts and overhead wirings that gain uniformity from clean-lined Tubo lights by US company XAL. But far from being just 'another' warehouse-style media company's HQ, the personality of the brand is evident throughout. With five of UKTV's 11 brands focused on nostalgic programming, including Gold, Dave and Yesterday, marking history and heritage is key to the project, as well as a healthy dose of British
humour and eccentricity.
The flooring is a bespoke Penson design, made with 0.6m x 1.8m boards featuring prominent rivets, an oversized homage to traditional wooden floor boards. There are other conscious touches of homely or ironic naffness, such as brown leather wingback
'Dave' armchairs souped up with speakers, and sections of corporate carpet taken from their former office residence, which have been placed under meeting tables. The glass-panelled meeting rooms themselves are on the perimeters of the space, with bright yellow doors. Some feature acoustic panelling or curtains when privacy is needed. There is also a prayer room. Throughout the space there are several mid-century furniture pieces from a Belgian company called Funky Vintage, as well as contemporary seating from Sedus and Hay.
But where there is twee, there is also innovation. In fact, as a new workspace for the fastest growing commercial broadcaster in Britain, whose tagline is "Imagine more", technological innovation was a huge part of the brief, and Nelson's objective was to introduce a modern, collaborative and interactive way of working through her design ideas.
On a simple but effective level, Penson's signature use of round tables promotes more interaction and there are plenty of breakout spaces for spontaneous meetings, including wooden swing seats suspended from the ceilings and large semicircular seating in retro orange upholstery. To allow the desired creative and interactive way of working to flourish, advanced mobile, cloud-enabled IT technology has been implemented.The new system means a whole desk of functionality is now compressed into a MacBook Air or PC tablet which will work anywhere with a wi-fi connection. The team will move desk space every three months to keep things interesting and every single person has been supplied with a laptop that is synced with the TV monitors in the meeting rooms, which is certainly an improvement to the previous set-up of each person having a Sky box on their desk.
One of the biggest statements is the bespoke, central, sweeping concrete staircase that visually explodes into the brand's nebula-shaped logo as it hits the lower floor. It is a physical link between two floors of staff, not only in the obvious sense but it is here that every Monday morning all the staff come together to take a seat on the stairs or surrounding it, without hierarchy, to discuss the week ahead.
"This interior is part and parcel of the next stage for our company," concludes Nelson. "It is the catalyst for an active change we wanted to apply to our way of working, but with a continued sense of history and place for our brand."