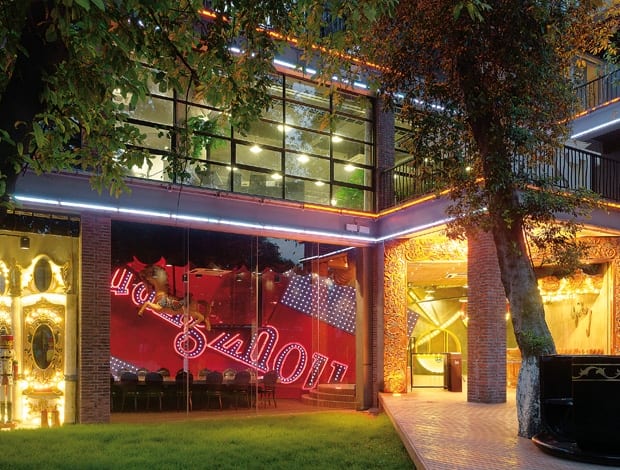 The themed boardroom and entrance capture the carnival spirit of the project|Merry-go-round elements decorate the reception area|Giant 3D letters spelling 'PLAY' set the tone in the reception area|Soft seating and suspended carousel horses decorate first floor break out area|The ground floor boardroom sits alongside a new red staircase with the 'Guangzhou' sign in lightbulbs|The main open plan work areas are more neutral than the communal spaces||
International branding agency Ogilvy & Mather opted for a bit of carousel chic at their Guangzhou outpost. Come one, come all…
We've all encountered (or endured) corporate lingo like 'blue skies thinking' and 'thinking outside the box'. But the designers of Ogilvy & Mather's new Guangzhou offices have upped the ante on inspirational work mantras by applying 'carnival of ideas' quite literally across the design scheme.
Whether the result is seen as a dazzling sensory feast or an anxiety-inducing nightmare is down to personal preference. One presumes if an employer is doubling the commute time of much of its workforce, as is the case here, the new space had better knock some socks off. And yowza, this interior tries its hardest.
"They were looking to revitalise their brand image in the southern China market," explains Annie Chan – a designer for M. Moser Associates. "The idea of a 'carnival of ideas' came from the client at the very beginning. It was time to change, to stretch its own creative ground. They wanted a fun and vibrant workspace that celebrates ideas and inspires staff to think out of the box." (There's that phrase again.) "They also want to retain key staff and attract new talent. The space inspires Ogilvy's 360 degree thinking," she adds.
"The idea 'carnival of ideas' came from the client. It was time to change, to stretch creative ground"
Once you've waded through the jargon, what you're left with is an office space that defies you to feel indifferent. There is so much going on here that it's hard to know where to start.
Situated in the new Fang Cun arts district just outside of the city, the three-storey industrial building (of which O&M have two) faces the Pearl River and is a decided shift from the corporate skyscraper the company was in before – not least because the design is influenced by amusement parks, stage sets and fun fairs.
The glazed wall on the front of the building reveals the ground floor, which is where much of the theme comes to life. A boardroom adorned with a suspended merry go round horse, sits in front of a diagonal 'Guangzhou' sign made of LED bulbs. Just past the lovely wood decking of the entrance (extended from the exterior) lies the reception area, with its concrete walls and floors and white 3D letter blocks spelling 'PLAY'. A pantry and miniature cinema for movie-watching are situated very near to the 'meeting town hall' – and just beyond is a work area for marketing and admin. The only private office is for the financial controller.
Merry-go-round horses and mirrored elements, sourced from a local prop company, mingle with life size nutcrackers in the break out area. In fact, all fixtures and materials are from Guangzhou. "As a team we were amazed that we didn't have to import anything," says Chan. "We used local vendors for everything."
For circulation, the architects introduced a diagonal staircase (lit by a red lightbox) connecting the ground floor to a newly created mezzanine and the top floor. "It makes a connection between the creative staff and everyone else," says Wendy Leung, project leader for M.Moser. It also sets out to 'send people on a journey of exploration' with its viewing panes, openings and bridge connecting a balcony to the mezzanine.
The mezzanine has bleacher style levels with coloured pillows for lounging and impromptu meetings, but also a small meeting room, 'think tank', edit room and store rooms. The first floor holds the creative team in open plan work zones with exposed ceilings, plus a library and recreation area.
Oversized slogans, coloured light bulbs and playful carnivalesque items can be seen on all three levels of the office. "We believe that playful environments make people happy and good ideas usually come when you're in a relaxed mood. The carnival elements are introduced everywhere and the enriching variety of spatial experiences becomes a source of inspiration for all staff," says Chan.
Leung agrees: "Moving to this new space is quite a dramatic change. It's more team oriented now. In the old days they were just in a normal office space but now the office is something to be proud of – they all enjoy coming to work even though it means double their commuting time." And, she adds, it's not just the staff that is willing to trek the longer distance. "Clients really love the space and take the time to travel here too."
Surely all will be delighted to sample popcorn from the old-fashioned cart waiting near the welcome desk – though it is sincerely hoped that the receptionist is not a bearded lady.