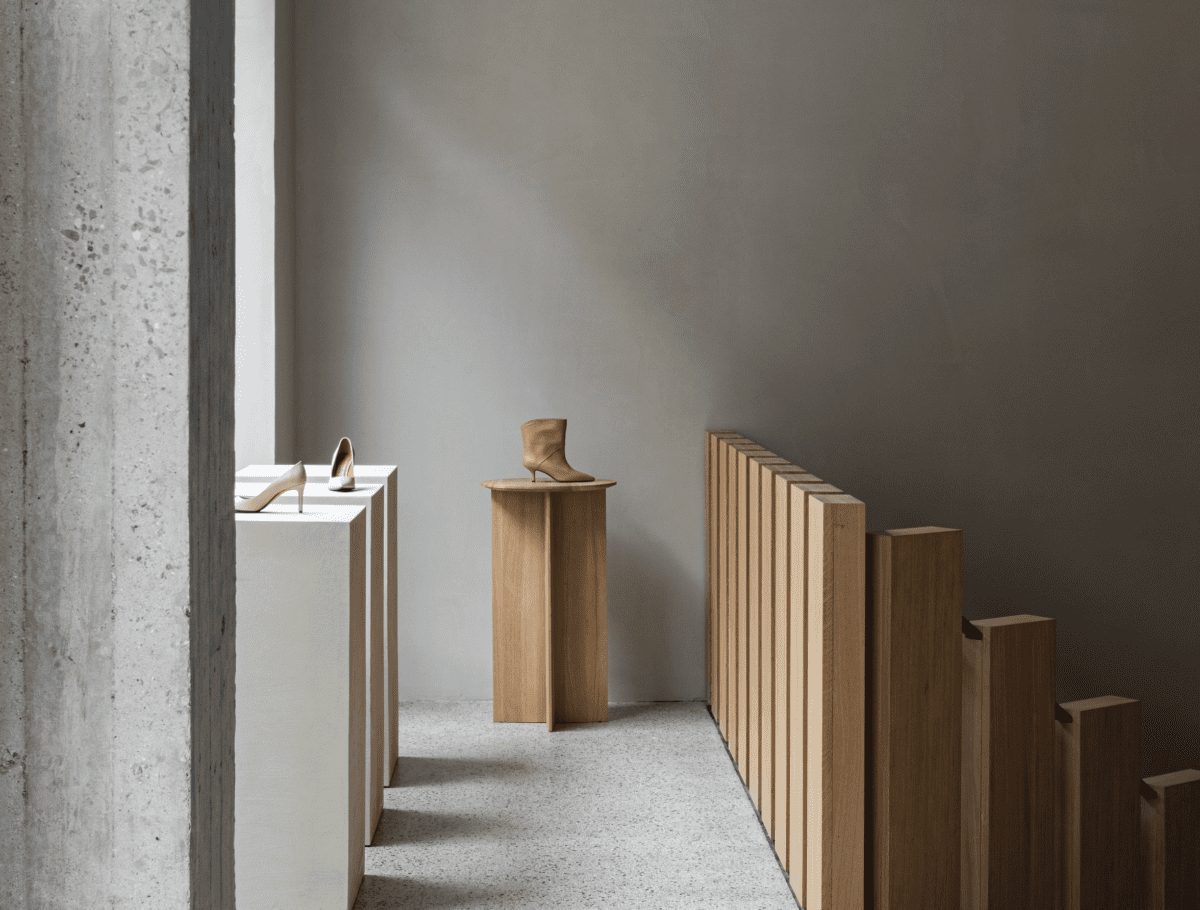 The designers blend bespoke pieces crafted by Karimoku Case Study and a neutral colour palette at the new Copenhagen-based concept store
While optimistic shades and barely-there hues are the colours du jour after a year of uncertainty, for Copenhagen-based practice Norm Architects a clean, sanctuary palette provides a strong architectural backbone all year long.
And if its recently completed project Notabene, a dazzling concept store dedicated to high-end footwear, is anything to go by, the architects confidently demonstrate why soft shades lend a calming feeling to interior spaces no matter the season.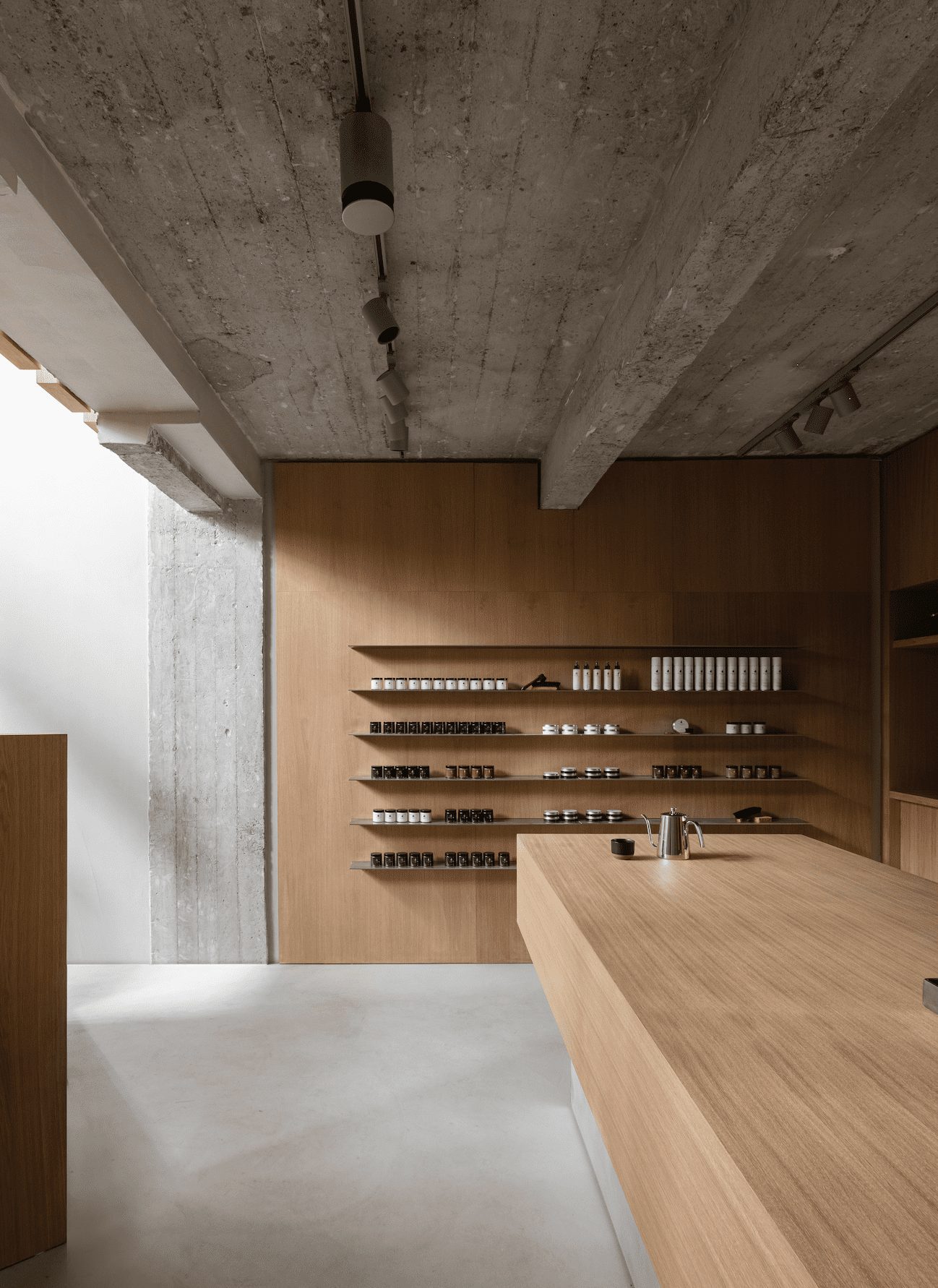 With over 20 years of experience, Notabene's offerings focus on select materials, craftsmanship and comfort. Designed in Copenhagen and manufactured in select family-owned workshops in Italy, the shoes combine Scandinavian minimalism with traditional craftsmanship. Challenging the fashion industry's fleeting trends and throwaway culture, Notabene creates seasonless pieces designed to last a lifetime.
Located in the heart of Copenhagen's Old Town on the vibrant Møntergade street, surrounded by an eclectic mix of boutiques and hip restaurants, Notabene, much likes its footwear, exudes a quiet sense of confidence. Earthy shades and organic textures like warm woods sit alongside minimal open shelving and bespoke pieces crafted by Japanese lifestyle brand Karimoku Case Study, creating a soothing and understated interior.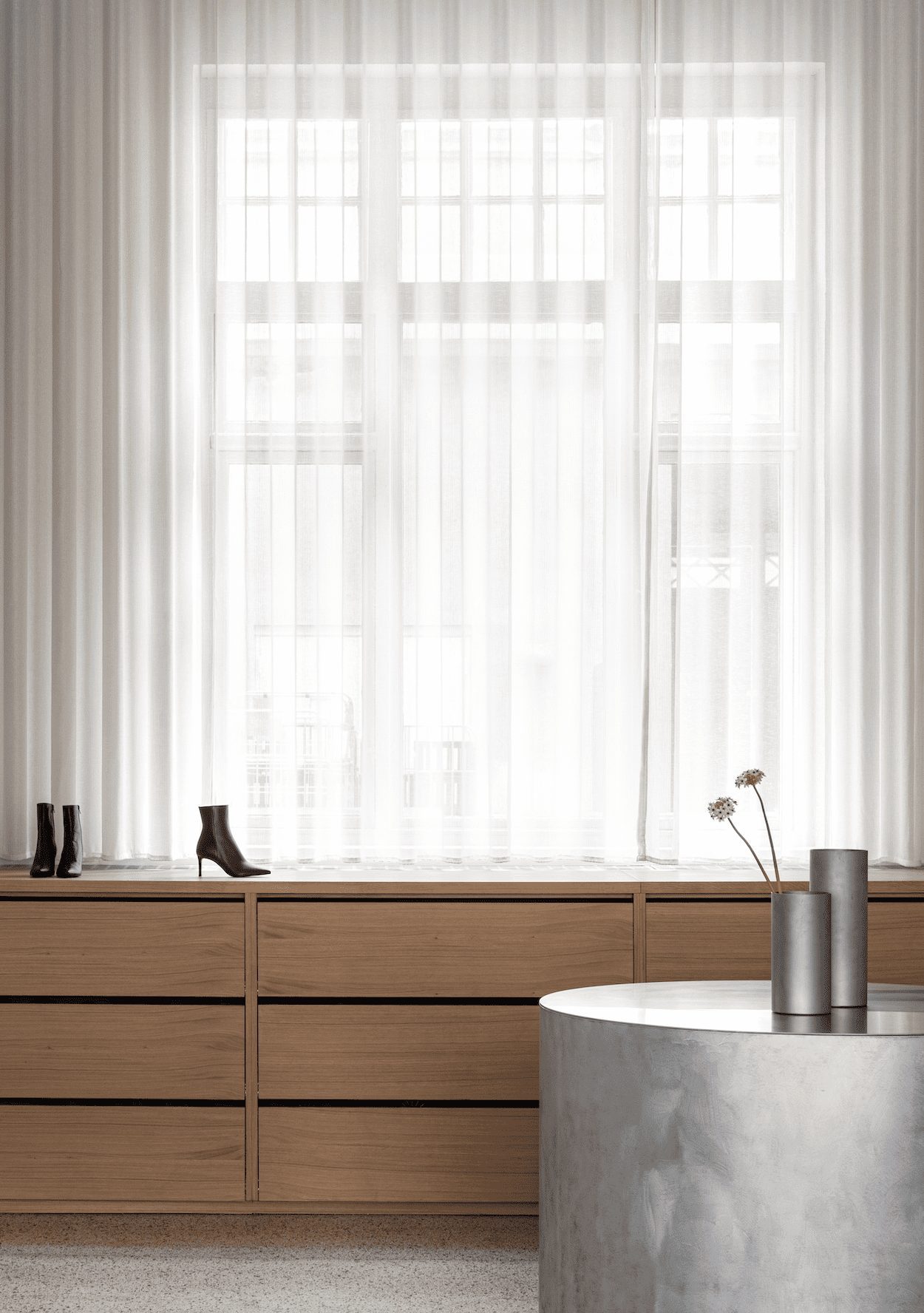 The project sees Norm Architects and Karimoku Case Study continuing its ongoing collaboration. Since the founding of Karimoku Case Study in 2019, five case studies have been completed, including the inaugural Kinuta Terrace Apartment Project in Tokyo in 2019; the Azabu Residence Project in Toyko in 2021, both by Keji Ashizawa Design and Norm Architects, among others.
Spread over three floors, the high-end footwear store contains a retail space and fitting area on the ground floor, a shoeshine bar for shoe care, as well as a coffee shop and lounge area in the basement. Furthermore, a creative Shoe Lab can be found on the mezzanine floor where sketches, material samples and prototypes of the upcoming collections can be experienced by visitors.
A play between curves and lines is central to the design concept. Providing space for a wide range of activities within the boutique while also visually connecting all areas and floors for a cohesive store experience, Norm Architects implemented a coherent design language with a focus on using select materials and colours that recur in the interior furnishings.
By preserving the architectural characteristics of the space, including the double height ceilings and seamless terrazzo flooring, the architects conceived an elegant space that looks characterful but classic. This was achieved by combining light oakwood, as seen on the bespoke pieces such as a custom-designed sofa and matching lounge chair in smoked oak by Karimoku Case Study, with sumptuous bouclé fabrics, hand-brushed aluminium surfaces and rippled concrete.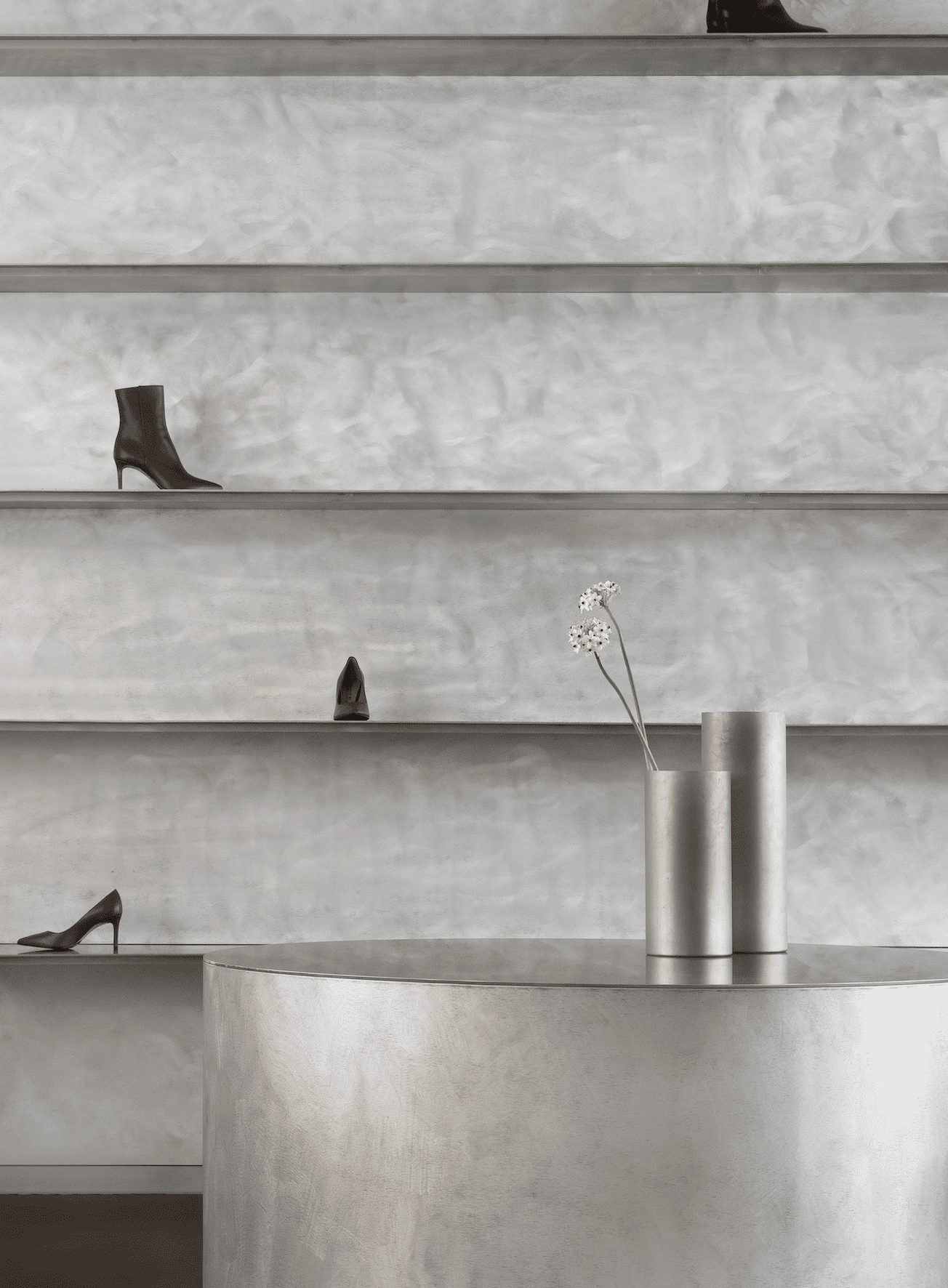 These raw concrete surfaces are paired with stainless-steel shelving to create an industrial yet tactile feel. As a contrast to the brutalist spacial construction, softer elements including transparent curtains, sculptural display stands featuring a leather or clay finish and rich oak wood provide a more intimate, haptic spatial experience.
To invite visitors to further explore the store and the Notabene product range, Norm Architects worked with free-standing display items and clay podiums that stand out in the otherwise industrial space. Meanwhile, the existing stair construction connecting all three floors of the store has been cladded with wooden slats, highlighting the architectural structure while simultaneously creating a dynamic effect.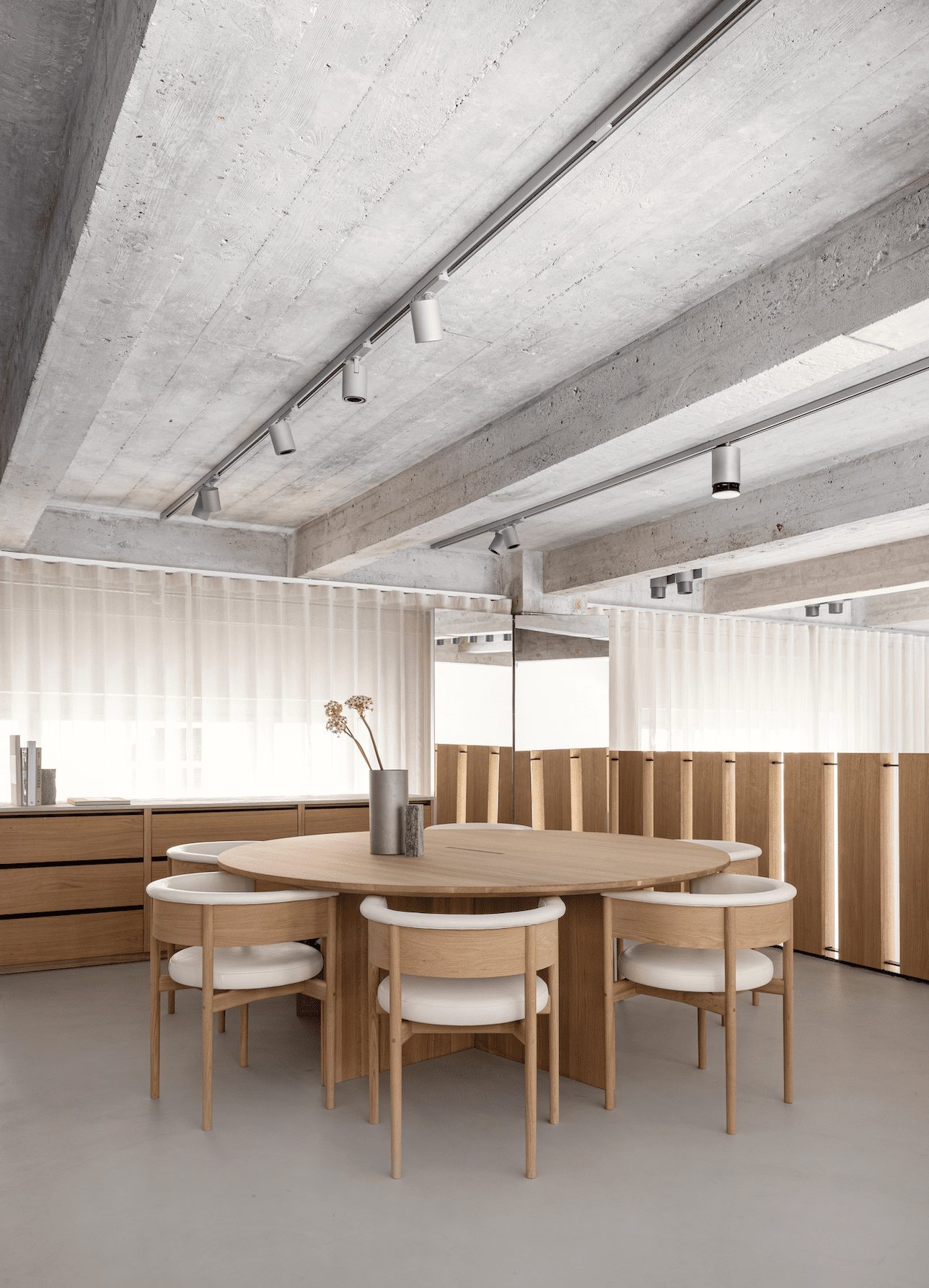 Through the strategic use of contrasting materiality, the architects created a sophisticated interior and retail concept that invites visitors to linger by providing a holistic brand experience of the Notabene universe.
With its demure tones and bespoke pieces by Karimoku Case Study, Norm Architects add elegance and refinement to this exquisite boutique while also providing the perfect backdrop to allow Notabene's goods to steal the show. The result is a stylish space with timeless appeal.
Images courtesy of Karimoku Case Study